2018 World Cup Finals Betting Advice: Best Bet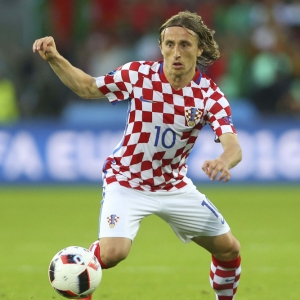 Croatia and France - the final which, I am confident, no one outside of those two countries could have possibly imagined. Both teams have very much done enough to deserve to be here, though, and they set up to be a great finish to what has been an unpredictable and shockingly good tournament. It has been a wild ride from a betting perspective with so many favorites looking so undeserving of the respect that they were given. I wound up taking Croatia both to win and draw, so I came out slightly ahead on the semifinals round, and am one winning bet away from securing the smallest of profits for the whole tournament. So, what will that bet be? I've gone back and forth on things several times, but have finally settled on one price from Bovada:
July 15, France vs. Croatia (Draw +245)
There are five reasons I have settled on this bet as the hill I will die on in this tournament:
Three times is a trend: Croatia has played three elimination games. They have gone into extra time in all three games. I might not be the sharpest tool in the shed, but I am smart enough to spot that there is a bit of a tendency here that Croatia has, and that it isn't a totally ridiculous suggestion to believe that it could happen again. It's soccer, not basketball, so seeing well matched teams play a game that is tied for a long time would not exactly be a shock.
The Croatian cockroaches: This team just never quits. In all three games in the elimination rounds they have had excuses to quit, but they just haven't. The game against Denmark was intensely emotional, and they were facing a red hot goalkeeper, but they just dug deeper. They had an entire nation against them in the Russian game, and faltered a couple of times, but settled down and got right back to business. And England scored early and seemed to be rolling towards their destiny, but Croatia shook it off, took over the game, and crushed the dreams of a nation. This team has faced a whole lot of adversity, and haven't been bothered by it, so I'm not ready to count them out just yet. A lot of people are pointing out that they have played a whole extra game more than France because of all the extra time, but given their grit and the emotion of the situation I'm not too worried about that, either.
The French are so young: This French team is scary going forward. They are so young and so ridiculously talented that the success in their last two major international tournaments is no fluke. They are fully and completely back. But they are very young, and this is a whole new level of insanity for them. Look at a guy like Kylian Mbappe. He is one of the best players in this tournament and he is only 19. It's terrifying to think of what his future holds. But his actions at the end of the semifinal as he was trying to waste time and run out the clock were so infantile it was insane. Maturity is a question for him and others on this team, and in this stage I just trust the Croatians a touch more.
Croatia is better than people think: As soon as the semis ended the shared narrative seemed to be that France was going to roll. Mainstream media - the type that only pays attention to the sport once every four years - has since doubled down on that opinion. It is a done deal in the eyes of many. France is very good, and probably the better team. But Croatia is very good, too, and teams don't get into a World Cup final by fluke. Public betting feels like it is giving France too much credit, which opens opportunities elsewhere - like on the draw.
How can you not cheer for Croatia?: We have an establishment team against an upstart. France's capital region has three times the population of all of Croatia. France made the semis three times before 1991 - the year Croatia declared independence - and the finals twice since. The greatest prior success for the upstart Croatians came in 1998 when they shocked the world by making the semis in the World Cup in France before losing to this same French team. This is a chance for some long simmering success. There are so many reasons to cheer for Croatia. And there is almost never a good reason to cheer for France. Have a heart!
Read more articles by Trevor Whenham