2018 World Cup Long Shot Teams with Betting Value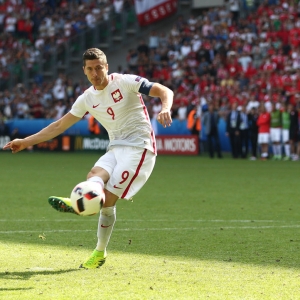 As I write this I am sitting here watching the opening contest in the 2018 FIFA World Cup. I'm not sure I could imagine a less-interesting, less-likeable matchup than Russia and Saudi Arabia, but it is still good to have things officially underway after months and years of lead up, speculation, and anticipation.
This is a very top-heavy tournament this year, with two groups of six teams serving as strong favorites - Brazil and German up top, Spain and France a little behind them, and Argentina and Belgium in the third group. There is a strong chance that the eventual winner will be one of those six teams. But there is always the chance that something crazy can happen in a single-elimination tournament. We've looked at long shots along the way, but as things are set to get started it's a great time to take one last look at four live long shots - teams that offer some value in their futures price and that could be useful in betting at least in the round robin and their first elimination game. If nothing else, since most of us reading this don't have a home team to cheer for, these could be fun bandwagons to jump on. ( Odds are from Bovada ):
Peru (+15000): I like this team a lot right now - probably a bit too much if I am being honest and self-reflective. They played Argentina to a draw twice in qualifying, so they clearly aren't afraid of big-name teams. They don't have top-end talent, but they play with relentless aggressiveness on both sides of the ball, and they aren't afraid to take risks. That makes them very tough to play against. They have a lot of heart, and that is a potent thing for a team like this that has nothing to lose. France is very likely to advance out of Group B, but Peru has a strong chance if they can beat Denmark. And once they do advance then they will meet a team in the weak Group A that features Russia, Egypt and the like, so that is certainly an advantage for them if they can make the elimination round. I don't think that this team is going to win the tournament by any means, but they are going to be better than we would naturally be inclined to think a squad like Peru would be.
Poland (+8000): When a team is very dangerous offensively they can make things happen. In a tournament like the World Cup goals are often at a premium, so a few well-timed goals can help a lesser team win and do damage. Robert Lewandowski is a special offensive talent - he scored 16 times in 10 qualifying games - so his presence here makes a big difference. But he doesn't have to work alone on this squad. It's a well-built squad with veterans complemented by youth and plenty of depth all over the field. They have a decent chance of winning Group H - Colombia is the biggest threat, and the Polish squad matches up well though they will likely be underdogs at kickoff. If they do that then they would most likely face England in the first elimination game, and we all know that there have been scarier things in the World Cup over the past few decades than playing England. Things set up well for this team to be fun to root for.
Serbia (+15000): Things have been a little rocky for the team getting here - they won their qualifying group, which incidentally was incredibly weak, but then fired their manager for issues with personnel management. They are back on track now, though. What stands out most with this team is the depth. They have guys at the top end who play at a high level in Europe, but they are not a team just built around a couple of international superstars. They have few holes and are going to be tough. And they play much more like a cohesive team than some ego-driven units can. They do have a big issue - they aren't likely to beat Brazil for first in their group, so advancing would likely mean playing Germany in their first elimination game. We are due for a good David and Goliath story, though, and a deep and balanced team like this one could be a good candidate to pull off the kind of miracle that would really shakes things up in the tourney.
Mexico (+10000): It seems like Mexico always finds a way to advance out of the round robin and then always loses their first elimination game. If it seems like that it's because it is that way - they have done so six tournaments in a row. But this team is very talented this year, and their top three players - Carlos Vela, Javier Hernandez, and Hirving Lozano - are as good as a group as any they have brought to the tournament. They face a similar problem as Serbia - unless they can find a way to get ahead of Germany in the round robin standings they will likely run into Brazil in the first elimination game. But they don't have to be a team that will just roll over and die against a big team, so they could make things interesting.
The World Cup is the biggest betting event worldwide, and Doc's Sports expert handicappers have been handicapping the matchups for months. They will have winning picks all throughout the tournament, and you can get $60 worth of premium members' picks free .
Read more articles by Trevor Whenham