2018 World Cup Soccer Odds and Expert Picks: Group B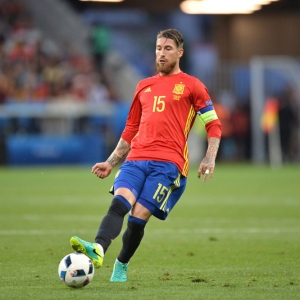 There is an opinion out there that the draw for the World Cup this year, and therefore the tournament in general, isn't as exciting as it has been in some years. It's hard to strongly dispute that notion, and this group is a good example of why. There are two elite teams in Spain and Portugal, so we should be excited. But in Morocco and Iran we have two hopeless outclassed teams. So, while there could be some drama in which team wins the group (though likely not a ton), it feels like it would require a miracle for the advancing teams to be anything beyond the obvious two.
It should be a group of death with two neighbors and bitter rivals matched up, but it feels like far from it. Maybe we'll be surprised - the strange things that happen are the biggest reason to play the round robin portion of the tournament. But you can color me cautiously pessimistic about anything unexpected happening here - and not really that cautious.
Group B at a glance
Best team: Spain is probably the answer here - the odds certainly reflect that. Spain is coming off a rough few years, though, with some major tournament disappointments, while Portugal somehow won Euro 2016. But the trajectory is stronger for the Spaniards, they have more offense, and the talent runs deeper. Their success is no lock, though.
Worst team: Iran. They have good coaching, and they get credit for having qualified for the World Cup twice in a row. The talent is a bit of a mystery, though, and good coaching can overcome only so much. They were solid in Brazil in 2014, but they weren't nearly good enough to advance - and that should be the case again.
Best game: Obviously it is Spain and Portugal. They are neighbors who aren't great friends all the time, and they really don't like each other on the pitch. It is the game that should define the group winner, and it should set the tone for the tournament for both teams as it is the first game the teams will play.
Predicted order of finish: Spain, Portugal, Morocco, Iran. That's the chalk, but I don't have good enough reason to go against that here. Things could be different than expected, but I'll shop elsewhere for a likely shocking upset.
Team-by-team Breakdown (odds to win Group and tournament from BetOnline.com )
Spain (+700 to win tournament, -170 to win Group B): This is a tough team to understand right now. After being so dominant for so long they have struggled to transition to the next generation. They humiliated themselves in the 2014 World Cup when they didn't advance and then lost their first playoff game in Euro. So now we have to have faith that this combination of players in their last hurrah and youngsters trying to learn how to win will be able to remember how to win again. In terms of depth and talent they are the best team here by a fairly wide margin. They dominated their qualification group, but it was also a truly pathetic group aside from Italy. I tend to have some real faith in this team to be a factor, but it's quite possible I am just longing for their exciting glory days in the face of a tournament short on too many compelling stories.
Portugal (+2500, +175): Euro is the second most significant tournament in the world, so Portugal gets credit for coming into this tournament as the defending champions of that event after winning in 2016. But not as much as you might think - that was just a weird, weird event. Portugal advanced despite never winning a game in the round robin - they played Iceland, Hungary and Austria to draws while scoring just four times. Then they needed extra time to beat Croatia and penalty kicks to beat Poland. They won the semifinals clean, but that was bizarrely against Wales, so it doesn't really count. And then they again needed extra time against France, which had coasted to the semis, and then seemed to burn everything they had in a win over heavy favorites Germany. It was the least-inspiring win of a major tournament ever - except, perhaps, for Greece winning the same event back in 2004. On the plus side, it proved both that they play very strong defense and that they don't panic when things get tight, and both of those traits are very handy here in this event. And then there is Cristiano Ronaldo, who is still at the top of his game but is now 33 years old. He is self-aware enough to know that this is his last kick at this tournament - at least as a top performer. He's the third choice at +1200 to win the scoring crown, and I wouldn't bet against him. But that's not enough - they will advance but won't excite, and I don't expect them to threaten when things really matter. But then I really didn't expect them to win Euro, either.
Morocco (+25,000, +1000): This team hasn't been relevant for a long time -- they last made the field in 1998 - but they are opening some eyes lately. They didn't allow a single goal (!) in their qualification process, so they obviously play with great defensive tenacity. That makes them dangerous - especially against a team like Portugal that doesn't score in bulk. But if it comes down to it they just aren't as talented as the top two - winning in Africa is very different than winning against Europeans. They can't be totally discounted, but neither can they be taken completely seriously.
Iran (+25,000, +2500): Carlos Queiroz, a two-time former manager of Portugal, is in charge and could be looking to shock his national side. And again they are defensively-stout, which makes them dangerous. But they really don't have the talent or firepower - one goal allowed would be too many. It's pretty easy to pass on this team.
Get free picks from any Doc's Sports handicapper - there is no obligation for this offer and no credit card required. Just sign up for an account, and you can use the $60 in free picks for any Doc's Sports expert handicapper and any sport. Get $60 worth of premium members' picks free .
Read more articles by Trevor Whenham