2018 World Cup Soccer Odds and Expert Picks: Group D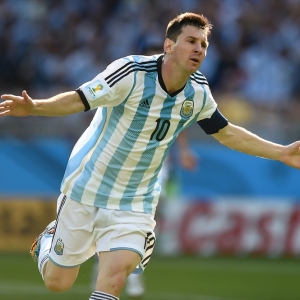 Lionel Messi is one of the finest soccer players the world has ever seen. He has won the Ballon d'Or, given to the world's best men's player, a record five times. He would have won it more, too, if it weren't for the fact he has finished second five times to Cristiano Ronaldo, the only other player to win the award more than three times. In his highly decorated career, though, Messi is lacking the one trophy he would happily trade all the rest in for. He enters his fourth World Cup having lost the finals in 2014 and been knocked out in the quarterfinals in 2006 and 2010. And while the 30-year-old has plenty of ball left to play, he's closer to the end than the beginning now, so any chance to finally get that title - his country's first since 1986 - takes on increased urgency. In a tournament that feels wide-open, Argentina is a contender. But they have to be sure to get through a sneaky-tough group in round robin play without too many scars.
Group D at a glance
Best team: Argentina. But it has been a rocky four years, as we'll discuss in depth later on. There is no question that this is the most talented and dangerous team in the group by a wide margin, but trusting them entirely is tough right now.
Worst team: Iceland. They have been a great story the last couple of years, and their run in Euro 2016 was the most exciting in that tournament since Greece won the thing. But they are the smallest nation ever to make the World Cup, they lack depth as a result, and they are short on international experience.
Best game: Argentina vs. Croatia. These are two very talented teams that don't always come through like their supporters and backers hope they will. This is the second of three games that the teams will play, so it will very likely play a large role in determining who wins the group.
Predicted order of finish: I'll go pure chalk in the group ultimately - Argentina winning, Croatia advancing, and Nigeria getting their lone win over Iceland.
Team-by-team Breakdown (odds to win Group and tournament from BetOnline.com )
Argentina (+700 to win tournament, -130 to win Group D): Top teams hate drama, and the Argentinians have faced more than their share since the runner-up appearance in the 2014 World Cup. It all starts with the manager. Alejandro Sabella led them in Rio, but he retired from managing at the end of that tournament. And then the revolving door was installed. Gerardo Martino took over from Saballo but resigned in the summer of 2016 after twice losing to Chile in the finals of the Copa America in 2015 and 2016. Edgardo Bauza took over in August of 2016 and was fired in April of 2017 after a disastrous qualification campaign. The team was sitting fifth in CONMEBOL qualifying when he was fired, and only the top four teams are assured of World Cup participation. Impressively, Bauza also went on to be hired and fired by both UAE and Saudi Arabia during the qualifying process. And now Jorge Sampaoli runs the show. Sampaoli tightened things up somewhat during his tenure, and the team wound up third in their region. Better, but still a major disappointment. Despite having Messi, this is a team that struggles to score and really struggles to play with any consistency. Remember, even though they made it all the way to the finals in 2014, they scored only eight total goals. They are so much better on paper than any other squad here in this group that there is no choice but to favor them to win the group. But it feels like it wouldn't be shocking to see them falter, either. Make sure you have a good dose of antacid on hand if you bet on them because you'll probably need it.
Croatia (+3300, +200): This squad made a shocking run in the 1998 World Cup, which was the first the nation was able to play in. They lost to Argentina in the group round but stunned Germany 3-0 in the quarterfinals before losing to hosts and eventual champs France in the semis. They finished on a high note, though, beating the Dutch for third. Since then they have been a popular underdog pick in every tournament they have played, and they have burned a lot of money along the way. They haven't made it out of group play in three World Cup appearances since, and they have never taken advantage of all their opportunities at Euro. This is perhaps their most talented squad, with a ton of talent in the midfield and some really promising younger players on the back end. If they can come out of the gate firing on all cylinders they certainly have a chance to beat the Argentinians - they have all the scoring they need to match the oft-impotent Argentinian attack. But that success is far from assured because they are a team that is 20 years removed from meeting expectations internationally. Beating Argentina is a lot to ask, but not advancing would be a major disappointment.
Nigeria (+15,000, +700): The Nigerians only played in their first World Cup in 1994. In five appearances they have made the Round of 16 three times, including last time, so they cannot be discounted. And they didn't lose a game in a tough qualifying group, either. There is some nice talent on this team, but defensively they are suspect under pressure, and that is going to be a big problem against the top two teams in this group. Realistically they need a draw against whichever team loses when Croatia and Argentina play, and then they need to beat Iceland. The latter is likely, but the former is a whole lot to ask. They are +240 to advance to the knockout stage out of their group, and that's just not enough value to be interesting.
Iceland (+20,000, +1000): As of the end of 2017 Iceland had a population of 348,580. By comparison, the United States has 56 cities with bigger populations. So playing the national team of Iceland is like playing the all-star squad of the city of Bakersfield, California. They play very tough, and they have done remarkable things lately between doing damage at Euro and qualifying here. But to even consider betting them to do anything in a group as good as this one is just admitting that you hate money. Cheer for them with your heart if an underdog story makes you feel weepy and warm, but use your head when it comes to betting on them.
Get free picks from any of Doc's Sports expert handicappers - and with no obligation or credit card. You can use these free picks for any sport, and you will never deal with a salesman. Get $60 worth of premium members' picks free .
Read more articles by Trevor Whenham