Terrible Tuesdays: Thunder on the Brink of Elimination, Pacers Out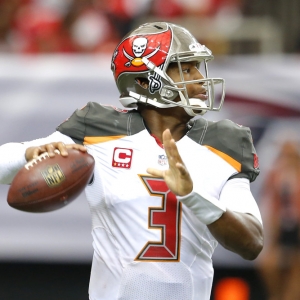 The NBA playoffs are starting to take shape, with a second-round showdown between Golden State and Houston seemingly a lock. Milwaukee vs. Boston is already a guarantee. The Pacers and Pistons, on the other hand, can already start making their offseason tee times and the Thunder may not be too far behind. Meanwhile, the Stanley Cup playoffs have been hard to believe and the 2019 NFL schedule release produced some head-scratching stuff.

All odds provided by Bovada Sportsbook.

Russell Westbrook . Westbrook shot a horrendous 5-for-21 from the floor and scored 14 points during Oklahoma City's 111-98 loss to Portland in Game 4. He also continued to give Oklahoman reporter Berry Tramel the cold shoulder, with various forms of "next question" answers. "First of all, that's unprofessional," said TNT analyst Charles Barkley said. "Part of [a player's] job is to talk to the press. [They] don't make $30-40 million just to play basketball. People are gonna interrupt you when you have dinner. You have to sign autographs. You have to take pictures. Some of the other stuff is talking to the press. Russ has got to do better." He will have to be better on the court, too, as OKC now trails the series 3-1. The Thunder are +3 road underdogs in Game 5 on Tuesday.

Nate McMillan . Indiana's head coach is out in the first round for a seventh time in eight playoff appearances. The last-and only-time he advanced was when the Oklahoma City Thunder were still the Seattle Supersonics (in 2004-05 McMillan led them past Sacramento before falling to San Antonio in the Western Conference semifinals). With the Pacers missing Victor Oladipo, McMillan did not have much to work with in this postseason and he was going up against a formidable foe in Boston. The Celtics finished off a sweep by beating Indiana 110-106 this past Sunday. Boston is a +290 third choice to win the Eastern Conference.

Oshie, T.J. The Capitals have been pushed to a Game 7 by underdog Carolina in their Eastern Conference first-round series. Adding insult to injury-or vice versa-for the for the defending Stanley Cup champions, Oshie won't be around to play in it. The 32-year-old forward, who contributed 25 goals and 29 assists during the regular season, suffered a broken collarbone last Thursday and will almost certainly miss the remainder of the playoffs. The Hurricanes have won three of the last four contests in this series, including via a 5-2 rout on Monday. Washington is a -145 home favorite in Game 7 on Wednesday.

Aaron Judge . The Yankees were already the most banged-up team in baseball, and things only got worse on Easter Sunday. Judge suffered a strained left oblique in this past Saturday's win over Kansas City. The star outfielder went on the injured list one day leader and is expected to miss a considerable but indefinite amount of time. "It's tough," said Judge, who missed 45 games during the 2018 campaign due to a wrist injury. "One of my goals was to not get back on [the IL]. It's especially tough at times like this when we have a lot of guys beat up…. There's no need to put a clock on it because that's what we did with the wrist last year. There's no need to go down that road again." The Yankees are +115 favorites to win the American League East.

Tampa Bay Buccaneers . The NFL could use a do-over following last week's schedule release. Both the Bucs and Raiders will go six weeks without playing a true home game during their respective regular seasons. After the Bucs host the Giants on Sept. 22, they do not play again in Tampa until Nov. 10. Oakland hosts the Chiefs on Sept. 15 and will not play in front of the Oakland faithful again until Nov. 3. Both teams have a "home" game in London and a bye during those stretches. "This is one that the NFL would love to have back," the league's vice president of broadcasting, Michael North, admitted. "It's certainly not unusual for an NFL team to have one home game over a six-week stretch, but when that one home (game) isn't actually home, this is likely something that the NFL would seek to avoid in the future. I'd love a redo on that one." Tampa Bay is a -1 home favorite over San Francisco is Week 1.

Manchester City . Man City beat Tottenham Hotspur 1-0 during English Premier League action this past weekend. But it will take a lot more than that for the Sky Blues to avenge what happened earlier in the week, when they lost to the Spurs in the UEFA Champions League quarterfinals. Man City "won" the second leg 4-3 at home, but having previously fallen 1-0 at Tottenham it lost a 4-4 aggregate on the away-goals tiebreaker. City led 4-2 in the match and 4-3 on aggregate before giving up what proved to be a crippling goal during the 73rd minute. FC Barcelona is a +150 favorite to win the Champions League.

Dustin Johnson . Johnson held a one-shot lead going into the final round of last week's RBC Heritage. He finished 28th. That's right; the world No. 1 plummeted a ridiculous 27 spots down the leaderboard with a disastrous 6-over 77. He was 1-under through six holes on Sunday at Harbour Town before going 7-over the rest of the way, including a hard-to-believe 7-over stretch from holes 11 through 15. C.T. Pan ended up prevailing by one stroke over FedEx Cup leader Matt Kuchar. Johnson is a +900 second choice to win next month's PGA Championship; Masters champion Tiger Woods is a +700 favorite.




Read more articles by Ricky Dimon