Case of the Mondays: Maximum Security Wins Kentucky Derby and Then Gets DQed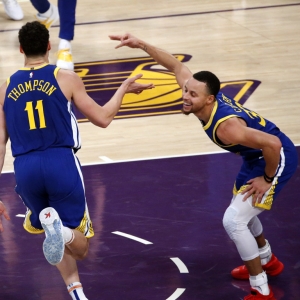 Following a review that made even basketball, baseball, football, and hockey seem like they work quickly, the Kentucky Derby finally ended. Or did it? An appeal is in the works after Maximum Security won the race only to get disqualified for impeding a couple of competitors on the final turn. Uncertainty also abounds on the hardwood, as the Warriors and 76ers have failed to secure a stranglehold on their respective conference semifinal series.

Odds provided by Bovada Sportsbook unless otherwise indicated.

Maximum Security . Favored earlier in the day before going off as the second choice, Maximum Security appeared to win the Kentucky Derby. But a "hold all tickets" announcement came shortly afterward, and following a 20-minute review the winner was disqualified for veering off his line as he rounded the home stretch. "It was literally like the old TV show, 'The thrill of victory and the agony of defeat,' all within a 22-minute period of time," owner Gary West explained. "Winning it was the most euphoric thing I have probably ever had in our lives, and disappointment when they took the horse down for the first time in history, we were stunned, shocked and in total disbelief. It had never been done before." West is appealing and has also said that his horse will not race in the Preakness later this month. Maximum Security's team is +600 to win its appeal; Country House is +1800 to win the Triple Crown.

Stephen Curry . By his lofty standards, Curry has been a disaster through three games against Houston. He is averaging just 18.3 ppg, has not scored more than 20 on any occasion, is shooting only 36.5 percent from the floor, and has made a mere 25.1 percent of his three-point attempts. In the final two minutes of overtime in Golden State's 126-121 Game 3 loss this past weekend, Curry missed a wide-open lefty layup and botched a dunk. The Rockets are -1 home favorites in Game 4 on Monday.

Joel Embiid . The 76ers had home-court advantage on Sunday with a chance to take a 3-1 series lead over Toronto. Embiid, however, endured a rough day the office on all counts. In addition to his ongoing knee issues, Philadelphia's star big man woke up sick and texted head coach Brett Brown that he was uncertain to even play. Embiid played, but he finished with just 11 points on 2-for-7 shooting in a 101-96 loss. "At the end of the day, it's on me," Embiid admitted. "I got to be more aggressive. Today wasn't the same as [Game 3]. Staying aggressive, especially offensively, I've got to help my teammates better." Philadelphia is +215 to win the series.

Dallas Stars . The Stars also played at home on Sunday and they had an opportunity to finish off their series against St. Louis. Instead, they lost Game 6 by a 4-1 margin and now have to go on the road for Game 7. The Blues broke open a 1-1 tie by lighting the lamp once in the second and twice early in the third. "We have to have a mindset better than we had today, and we have to be excited about it," Dallas forward Mats Zuccarello said following the Game 6 setback. "It's going to be fun. It's always fun to play in Game 7s in the Stanley Cup playoffs. Whatever happens before, in the past, is the past now. You got to focus on the next game." St. Louis is a -135 home favorite in the decider on Tuesday.

New York Islanders . Seven teams remain in the quest for the Stanley Cup, with the Islanders being the latest to suffer elimination. New York engineered a sweep in the opening round-disposing of Pittsburgh in four games-but proceeded to get swept by Carolina immediately thereafter. The Isles dropped the opener 1-0 in overtime and their offense did not get much better the rest of the way, finishing with a total of five goals throughout the four-game set. The other Eastern Conference semifinal series continues with Game 6 between the Bruins and Blue Jackets. Columbus is a -120 home favorite on Monday.

St. Louis Cardinals . The Cardinals enjoyed a somewhat healthy lead in the National League Central when last week began, but they are now in the midst of a four-game losing streak. St. Louis dropped its finale against Washington and then got swept by the Cubs this past weekend. Their own struggles, combined with Chicago's seven-game winning streak, suddenly have the Cards in second place in the division. They are only 2.5 games ahead of the fourth spot, as Milwaukee has won three straight and Pittsburgh has won two in a row. The Cardinals (Mikolas) are -130 home favorites over Philadelphia (Velasquez) on Monday.

Liverpool . At various points in time not too long ago, Liverpool was favored to win both the English Premier League and the UEFA Champions League. Both chances seem to be slipping away for the Reds. They need to win their final EPL match and must have Manchester City lose or draw at least one of its last two matches. As for the Champions League, it is all but over Liverpool following last week's 3-0 setback at the hands of Lionel Messi in leg one of the semifinals. Barcelona is a -225 favorite to win the Champions League title (MyBookie.ag).



Read more articles by Ricky Dimon