Case of the Mondays: 76ers Bounced Out by Kawhi's Buzzer-Beater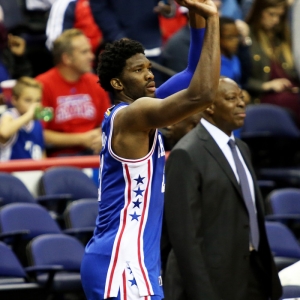 Losing Game 7 at home is bad, but the Nuggets-who fell to Portland in the first of two deciders in round two of the NBA playoffs-still didn't endure the most significant pain on Sunday. That distinction belonged to the 76ers, as the nightcap saw Kawhi Leonard and Toronto prevail in an incredible buzzer-beating finish. The road has also ended for Liverpool in the English Premier League, while Carolina may be on the way out of the Stanley Cup playoffs.

All odds provided by Bovada Sportsbook .

Philadelphia 76ers . With a shot that won't soon be forgotten, Leonard sent the Raptors to the Eastern Conference Finals at the expense of the 76ers. He let fly with prayer from the right corner just before time expired, watching it bounce on the rim four times before going in to give Toronto a 92-90 victory. Joel Embiid, who was the closest defender to Leonard, left the court in tears. "As painful as it feels now, it'll help him," Philadelphia head coach Brett Brown said of Embiid. "It's hard to be the last man standing. To see him have the emotion he has…it is painful for all of us, but he'll look at the rear view and remember this." Toronto is a +6.5 road underdog in Game 1 at Milwaukee on Wednesday.

James Harden . It was not necessarily Harden's fault, but the Rockets' superstar could not lead his team past Golden State even though Kevin Durant missed the fourth quarter of Game 5 and all of Game 6. The Warriors pulled out a 104-99 home win for a 3-2 series lead before going on the road as seven-point underdogs to upset Houston 118-113 for the clincher on Friday. Harden averaged 34.8 points per game during the series (including 31 and 35 on 51.2 percent shooting over the last two losses) but failed to keep up with Stephen Curry (33 points-all in the second half-in Game 6) as Houston once again got booted out of the playoffs by Golden State. The Warriors are -165 favorites to win the NBA title.

Justin Williams . The Hurricanes came back from a 2-0 deficit in round one of the Stanley Cup playoffs to beat defending champion Washington. They will have to do the same in the Eastern Conference Finals after dropping the first two games in Boston by a combined margin of 11-4. The Bruins' 6-2 win on Sunday was highlighted by an incident between Williams and Brad Marchand, with Marchand using his stick to poke Williams after which Williams retaliated with a headlock-like move. Naturally, the retaliation was what got penalized and Boston scored for a 4-0 lead while Carolina's captain was in the box. "Sometimes you've got to eat a poop sandwich," Williams quipped. "It doesn't taste good, and you have to chew on it for a little bit, and we'll have to do it for a couple days and get the taste out of our mouths next game." The 'Canes are -115 home favorites in Game 3 on Tuesday.

Milwaukee Brewers . There is obviously a long, long way to go, but things are escalating quickly in the National League Central. Once saddled with a 3-8 record, the Cubs suddenly find themselves leading the division at 24-14. Their current 12-2 stretch includes victories over Milwaukee on Saturday (2-1 in 15 innings) and Sunday (4-1). The Brewers had won seven in a row prior to those setbacks at Wrigley Field. They now face a rough seven-game road trip through Philadelphia and Atlanta. Milwaukee is a +200 second choice to win the NL Central.

Telvin Smith . The Jaguars' linebacker announced last week that he is taking a year off from football to get his life in order. Smith, a fifth-round pick out of Florida State in 2014 who was Jacksonville's leading tackler last season, returned to Instagram a few days later to address the ensuing backlash. "Why is it so crazy I want to step away from the game?" Smith said in an Instagram story. "Y'all just chill. Everything's solid, you feel me? Stop going crazy. It's getting aggravating. You feel me? Football ain't everything. Y'all better wake the f--- up." Jacksonville is +375 to win the AFC South.

Rafael Nadal . Nadal is now an alarming 0-for-3 in clay-court tournaments this season. He lost in the semifinals in Monte-Carlo (to Fabio Fognini), Barcelona (to Dominic Thiem), and in Madrid (Stefanos Tsitipas). With the French Open less than two weeks away, the second-ranked Spaniard remains the betting favorite but his shot at a 12th title looks far from a sure thing. Moreover, top challengers Thiem and Novak Djokovic are in fine form. Thiem captured the Barcelona title and reached the Madrid semis, while Djokovic beat Tsitsipas on Sunday to lift the Madrid trophy. Nadal is +120 win at Roland Garros.

Liverpool . The past few weeks have been a roller-coaster for Liverpool-and basically every other notable soccer club in the world. Improbably, the Reds are alive and well in the Champions League. If they can win that title, they will have no trouble whatsoever getting over what happened in the English Premier League. Liverpool topped the EPL table most of the way, but Manchester City took control late and the former needed a Championship Day miracle to triumph. Man City gave its chief 2018-19 rival some false hope by conceding an early goal to Brighton, but the Sky Blues dominated from there en route to a title-clinching 4-1 victory. They finished with 98 points to Liverpool's 97. Thus the Reds came up short despite losing only once in 38 matches (30-1-7). Liverpool is a -200 favorite to beat Tottenham in the Champions League final next month.



Read more articles by Ricky Dimon