Case of the Mondays: Celtics No Longer Looking Like Beasts of the East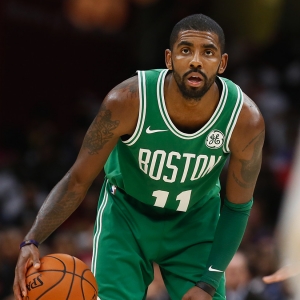 While everyone around them in the Eastern Conference seemingly improved (most notably Philadelphia, Milwaukee, and Toronto), the Celtics were innocent bystanders at the trade deadline. They have also been talking to the media more than they have been winning, so it's safe to say there is turmoil in Boston. Meanwhile, the Penguins are slumping, Virginia lost to Duke (again), and Paul Casey left the door open for Phil Mickelson at Pebble Beach.

All odds provided by MyBookie.ag .

Boston Celtics . The Celtics are coming off back-to-back home setbacks against the two Los Angeles teams. This stretch started with last Thursday's 129-128 loss to the Lakers on a Rajon Rondo buzzer-beater and it continued with Saturday's 123-112 loss to the Clippers in which Boston blew a 28-point lead. Adding insult to injury, Kyrie Irving is day-to-day with a strained right knee and Marcus Morris is griping. "For me, it's not really about the loss," Morris explained. "It's about the attitude that we're playing with. Guys are hanging their head. It's just not fun; it's not fun. We're not competing at a high level. Even when we're winning, it's still not fun. I just don't see the joy in the game." The Celtics are fifth in the East, 6.5 games behind first-place Milwaukee. They are +270 to win the conference.

Pittsburgh Penguins . The Penguins have won it all twice in the last three years. Another Stanley Cup may not be walkin' through that door. Pittsburgh is just one game over .500 (28-20-7), mired in eighth place in the Eastern Conference-just one point from being on the outside of the playoff cut line. Things have gone from bad to worse of late for the Penguins, who are in the midst of a four-game losing streak with only one of the setbacks coming in overtime. This stretch includes a dreadful 4-0 home loss to Carolina. Pittsburgh is +260 to win the Metropolitan Division and +1000 to win the East.

Virginia . Virginia is 20-2 this season; it is 20-0 against everyone not named Duke and 0-2 against Duke. After falling 72-70 on the road to a Blue Devils team that did not have Tre Jones on Jan. 19, the Cavaliers lost 81-71 at home last Saturday to Jones, Zion Williams, R.J. Barrett, and the rest of the higher-powered Devils-who shot 57.8 percent from the floor and a ridiculous 61.9 percent (13-for-21) from three-point range. "It's a little bit deflating when they're banging threes and you're trying to keep them out of the lane," Virginia head coach Tony Bennett noted. "You can't beat a team like Duke-especially when they're shooting at that clip-without playing a really sounder, cleaner game." Things don't get any easier for the Wahoos, who have to pick up the pieces right away and visit North Carolina on Monday night. Virginia is a -1 favorite over the Tar Heels.

Kansas . Death, taxes, and Kansas winning the Big 12 regular-season title under head coach Bill Self…. Those are the three certainties of life. The Jayhawks have won 14 in a row to be exact, but No. 15 suddenly looks like a longshot after they were once heavy favorites. Star center Udoka Azubuike was lost for the year in early January, sophomore Silvio De Sousa has missed all of 2018-19 due to an NCAA eligibility issue, and now Lagerald Vick is out indefinitely for personal reasons. Self's squad at least managed to beat Oklahoma State this past weekend, but it is 3-4 in its last seven outings. Kansas is +2000 to win the National Championship; Duke is a +190 favorite.

Francisco Lindor . The Indians' all-star shortstop is out for two months and will likely miss the start of the regular season because of a strained right calf. Lindor sustained the injury while working out last week in Orlando, Fla. He batted .277 with 38 home runs, 92 RBIs, 25 stolen bases, and tied the major-league lead with 129 runs scored. Cleveland's 25-year-old franchise linchpin recently signed a one-year, $10.55 million contract to avoid arbitration. The Indians are +700 to win the American League Pennant.

Atletico Madrid . In the latest Madrid derby this past weekend, Atletico fell to Real 3-1. Alvaro Morata appeared to have equalized things at 2-2 in the second half before VAR ruled him offsides. Gareth Bale soon tacked on an insurance goal for Real to put the match away. "Atletico Madrid lost because of a convincing opponent," manager Diego Simeone admitted. "I don't usually speak about VAR and I believe it's something that will surely get better and make things more efficient for all…. I definitely don't think we lost because of VAR. The opposition were better than us and more convincing. They had a very good game. So we congratulate them and prepare for the next one." Atletico fell to third place in La Liga-seven points behind Barcelona-as Real climbed to second. Real Madrid is +1200 to win the Champions League.

Paul Casey . Casey has a history of final-round struggles when going in with a lead, and those struggles continued on Sunday-and Monday-at the AT&T Pebble Beach Pro-Am. The 41-year-old Englishman took a three-stroke lead over Phil Mickelson into the last 18 holes, but it quickly evaporated into the California darkness. By the time play was suspended on the 16th hole, Mickelson had seized a three-shot advantage with a 6-under round in progress. Casey was slumping at even-par; no one else in the top six on the leaderboard carded anything worse than 3-under on Sunday. Mickelson easily finished it off on Monday morning for his fifth triumph at Pebble Beach. He is +700 to win a major in 2019 and +2800 to win the Masters.



Read more articles by Ricky Dimon