Case of the Mondays: Rams Lose Super Bowl with Historically Bad Offense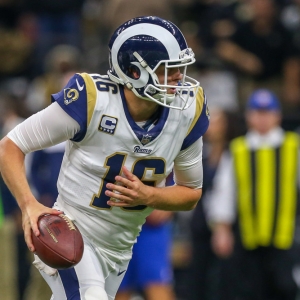 The Los Angeles Rams failed to do what Philadelphia did last year: stop Bill Belichick, Tom Brady, and the New England Patriots from winning a sixth Super Bowl. And it's safe to say the Rams had every opportunity to do so, as time and again their defense put the offense in winning situations and Jared Goff could not deliver. Now it's strictly basketball and hockey season-although those seasons are on either temporary or permanent hold for a couple of injured stars.

Odds provided by Bovada Sportsbook unless otherwise indicated.

Los Angles Rams . In the lowest-scoring Super Bowl ever, New England got the best of Los Angeles 13-3 on Sunday night in Atlanta. That's right; in a contest during which a grand total of one play was run inside the red zone (a Sony Michel touchdown), the Rams scored a measly three points. "I just never enabled us to get into a rhythm offensively," head coach Sean McVay admitted. "They did a good job, and it seemed that anytime we got a little bit of a positive play then we'd end up having a penalty or move ourselves back. I was not pleased at all with my feel for the flow of the game and kind of making some adjustments as the game unfolded and with giving ourselves a chance at some success and put some points on the board. Credit to them, they did a good job, and I certainly didn't do enough for us." New England is a +650 favorite to win Super Bowl LIV; the Rams are a +700 second choice.

Wilson Chandler . The 76ers confirmed this past Saturday that Chandler will be sidelined for at least two weeks, putting him out through the all-star break. Although Chandler is averaging a career-low 6.7 points per game this season, he has been Philadelphia's starting power forward (started 32 of his 36 games prior to a quad strain sustained during last Thursday's victory over Golden State). Philly is +360 to win the Eastern Conference.

David Perron . An upper-body injury to the Blues' defenseman has not come at the right time. Perron had been riding a career-high 13-game point streak that included six goals and 12 assists before going down. The 30-year-old, who is second on the team with 35 points (18 goals, 17 assists), was placed on injured reserve last week, and it is unclear when he will return. St. Louis is +3500 to win the Western Conference; Calgary is a +250 favorite.

Joshua Langford . Michigan State will be without Langford for the rest of the season after he was ruled out last week by a stress fracture in his left foot. The junior guard has missed the past nine games but had been rehabbing and hoping to return. "You can always look at the bright side of things," Langford noted. "And it's always something you can get the good out of a situation…. I'm not gonna say I'm not a human being, like I don't get upset, like I don't want to play. I've cried about this. I've been sad about this. But at the end of the day I understand this is all is gonna work together for my good if I stay positive and don't look at what is, just look at what can be." Adding insult to injury, the Spartans have lost two in a row at the hands of Purdue and Indiana. Michigan State is +1200 to win the National Championship.

Michael Taylor . The difference between $3.5 million and $3.25 million isn't huge, but you still never want to be the guy who loses the first arbitration case of Major League Baseball's offseason. That's what happened to Taylor, who lost his case to the Nationals last week. Of course, Taylor could be doing worse. After all, he made $2.5 million last year and then hit a dreadful .227 and now he's earning three-quarters of a million more! Washington is +800 to win the National League Pennant ( MyBookie.ag).

Lionel Messi . Messi briefly exited FC Barcelona's 2-2 draw against Valencia this past Saturday with an apparent thigh injury. He returned each time after getting treatment on multiple occasions and managed to finish the match, but his status is unclear. It is not good timing, either, because Barcelona has a Copa del Ray semifinal showdown against Real Madrid on Wednesday. "I don't know exactly what he has," manager Ernesto Valverde commented. "We will have to wait to see what medical staff say. If he's in good shape, he'll play on Wednesday." Barca is a -130 favorite over Real.

Matt Kuchar . Kuchar won't be losing too much sleep after what transpired at the Waste Management Phoenix Open. After all, he delivered another top-five performance and remained in second place in the FedEx Cup standings (gained, in fact, on No.1 Xander Schauffele). Still, third-round leader Rickie Fowler left the door wide open for Kuchar to make a Sunday move and pick up what would already have been his third title of the PGA Tour season. Instead, the 40-year-old American stumbled to a 4-over 75-10 shots worse than his Friday and Saturday scores-while slumping from a tie for second into a tie for fourth. Fowler, meanwhile, recovered from being 5-over through 12 holes to birdie 15 and 17 while holding off Branden Grace by two strokes. The 30-yearo-old is +1600 to win the Masters this spring.



Read more articles by Ricky Dimon