Case of the Mondays: Down Goes Duke-and Two Other No. 1 Seeds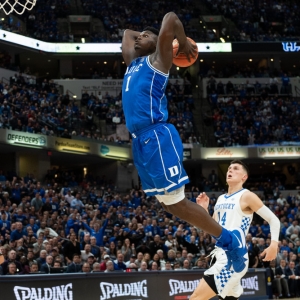 Only once in NCAA Tournament history (2008) have all four No. 1 seeds advanced to the Final Four. This year's quartet did not come particularly close. Whereas Virginia bowed out immediately to No. 16 seed UMBC in 2018, at least this time around all four-including Virginia-reached the Sweet 16. Now, however, only the Cavaliers are still standing in the Final Four following losses last week by Duke, Gonzaga, and North Carolina.

All odds provided by Bovada Sportsbook .

No. 1 seeds . The No. 1 seeds were all part of the Sweet 16-just barely. But the mass exodus began when North Carolina lost to Auburn on Friday. Three remained in the Elite Eight, at which point Gonzaga fell to Texas Tech and Duke got upset by Michigan State. The Blue Devils had escaped Central Florida and Virginia Tech in the final seconds, but they played with fire one too many times on Sunday. In a battle of traditional powers, Michigan State prevailed 68-67. "To me, it's disappointing," Duke head coach Mike Krzyzewski commented. "It's not a [disappointing] year. Like, there's a big difference. This team put themselves in a position to go for it and had a chance for it. And, so, it's disappointing that they didn't get there. But I'm proud of them." Michigan State is a -3 favorite over Texas Tech in the national semifinals.

Purdue . It was all right there for Carsen Edwards to go down in history as having a Kemba Walker-like NCAA Tournament. The Boilermakers' junior guard scored 27 points against Old Dominion, 42 against Villanova, 29 against Tennessee, and 42 against Virginia in Saturday's Sweet 16 showdown. Purdue led by three points in the closing seconds of regulation, but the Cavaliers tied it in miracle fashion by making the first of two free-throws, purposely missing the second, tipping the rebound out, and getting a buzzer-beater by Mamadi Diakite. UVA ended up triumphing 80-75 in overtime, overcoming Edwards' 10-for-19 performance from three-point range. Virginia is a +120 favorite to win the National Championship.

Dallas Mavericks . The Mavericks must give up their 2019 first-round draft pick to Atlanta if it isn't in the top five, stemming from last year's deal involving Luka Doncic and Trae Young. Sure enough, Dallas currently finds itself with sixth-worst record in the NBA, and none other than the Hawks are the fifth-worst team. Doncic and company have been "gaining" on Atlanta in the battle for the bottom of the standings and got even closer when Young hit a buzzer-beater to lead the Hawks past Milwaukee 136-135 in overtime on Sunday. Later in the day, however, the Mavs-without Doncic-upset Oklahoma City 106-103 as +12.5 road underdogs. Dallas (30-46) still "leads" Atlanta (28-49) by 2.5 games. The Mavericks are +7.5 home underdogs against Philadelphia on Monday.

Connor McDavid . Despite having the best young player in hockey (perhaps even the best player, period), Edmonton will miss the playoffs for the 12 th time in the last 13 seasons. The Oilers are 34-35-9 and could be mathematically eliminated early as Monday with four games still remaining. McDavid (114 points) has done his part, but the 22-year-old has not gotten much help from anyone other than fellow center Leon Draisaitl (101 points). "Unfortunately, it is going to be a long summer here," forward Milan Lucic lamented. "We have to go out there and play the right way, play for each other and have fun doing it. It's going to be a long final four games if we play sloppy and careless." Meanwhile, Tampa Bay is a massive +180 favorite to win the Stanley Cup.

Atlanta Braves . There is only one winless team left in the Major League Baseball standings, and it is a team that won its division just last year. The Braves went into Philadelphia this past week and lost three straight to Bryce Harper and friends. They were outscored by their National League East rivals 23-11. Atlanta (Newcomb) is a -105 home underdog against the Cubs (Hendricks) on Monday.

Robert Kraft . It hasn't exactly been an ideal spring for the Patriots' owner. First, of course, he was hit with soliciting prostitution charges stemming from a visit to the Orchids of Asia Day Spa in Jupiter, Fla. on the day of the AFC Championship. Now, his team is officially beginning a post-Rob Grownkowski era after the star tight end announced his retirement from football last month. Gronkowski, 29, racked up 7,861 receiving yards and 79 touchdowns in nine seasons-all with the Patriots. New England is a +700 favorite to win the Super Bowl.

Tiger Woods . It was all going so well for Tiger after he beat Rory McIlroy 2-and-1 in the round of 16 at the WGC-Dell Technologies Match Play. But a much different kind of matchup with unheralded Lucas Bjerregaard proved to be his undoing. The 43-year-old lost that quarterfinal contest when he missed a four-foot par putt on the 18th hole. "No, I'm not," Woods said when asked if he is where he wants to be heading into the Masters, which is a little more than a week away. "I wanted to play (on Sunday). This is going to sting for a couple of days, and I'll get back to it after that." Tiger is a +1200 third choice to win the Masters; McIlroy is a +750 favorite.



Read more articles by Ricky Dimon