Case of the Mondays: It's Panic Time for the Lakers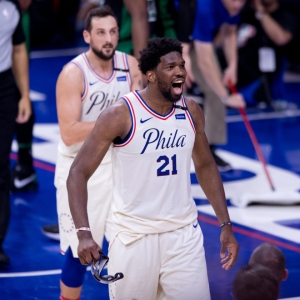 With a flurry of recent losses (and, quite frankly, way too many losses throughout the entire season), the Lakers are looking more and more like they will be watching the playoffs from home. The 76ers will be a part of the festivities, but things also aren't looking great for them with Joel Embiid on the sidelines. Meanwhile, Iowa head coach Fran McCaffery is temporarily on the sidelines, while former Senators head coach Guy Boucher is permanently out.

Odds provided by Bovada Sportsbook unless otherwise indicated.

Los Angeles Lakers . Following this past Saturday's loss to lowly Phoenix, the Lakers are now overwhelmingly expected to miss the playoffs, according to the official odds. LeBron James and company have lost two straight games, they are 1-4 in their last five, they have not won two in a row since Jan. 15 and 17, and their 30-33 record has them 4.5 games back of the eighth and final postseason spot in the Western Conference (currently occupied by San Antonio). "We need to be better; we need to be a lot better," head coach Luke Walton assured. "I am happy with the fight we showed in the fourth quarter, but where we are at in the season, that is the desperation that we need to start the game with." The Lakers are -4 "home" favorites over the Clippers on Monday.

Joel Embiid . With LeBron no longer in the Eastern Conference (and most likely no longer in the playoffs at all), the postseason festivities on that side of the country should be the most intriguing they have been in the past 10 years. Embiid and the 76ers will certainly be a part of it, but right now things are not going well for either the player or the team. The 7'0'' center has not played since the All-Star Game due to a knee injury and he is likely to miss at least another game. The Sixers may have to face Boston in the 4 vs. 5 first-round series if they cannot overtake Indiana for the third seed. Philadelphia is +240 to win the Eastern Conference.

Fran McCaffery . Iowa's head coach is currently suspended two games for going crazy at an official following the Hawkeyes' 90-70 loss at Ohio State last Tuesday. During that game, both McCaffery and his son (guard Connor McCaffery) received technical fouls. The 59-year-old later followed Steve McJunkins down a hallway and called him a cheater and a disgrace while dropping multiple f-bombs in the process. He missed Saturday's 86-72 setback against Rutgers and also won't coach Thursday's road contest against Wisconsin. Big Ten rival Michigan is +1200 to win the National Championship; Duke is a +210 favorite.

Guy Boucher . Ottawa, the worst team in the entire NHL at 51 points, made a move in the head-coaching ranks by firing Boucher last Thursday. The Senators are 23-38-5 and they have given up the second-most goals among all teams (3.73 per game). "I want to thank Guy for his three years of service," general manager Pierre Dorion stated. "He is a good person and has been an excellent representative of the Senators. At this point, however, we need a different set of coaching and leadership skills to guide our team through this rebuild." Assistant coach Marc Crawford was named the interim. Ottawa is a +225 underdog at the Islanders on Monday.

San Francisco Giants . To say last week was rough for the Giants would be a gross understatement. Team president and CEO Larry Baer is taking a leave of absence after video showed him in a physical altercation with his wife during which she ended up on the ground. Moreover, San Francisco lost out on the Bryce Harper sweepstakes when the coveted outfielder signed a 13-year deal with the Phillies. "There was indeed a bidding war for Harper's services and that California state taxes may have played a role in the outcome," a Yahoo News report said. "Even if he preferred California as a destination, cost of living proved to be prohibitive to reach his goal of maximum value. Though on a much larger scale, it's a compromise that many of those who live in California or have considered moving there have had to consider." The Phillies are +850 to win the World Series.

Elijah Holyfield . There are always winners and losers at the NFL combine, and Holyfield was unfortunately among the latter group last week. The Georgia product and son of past heavyweight boxing champion clocked a 4.76 40-yard dash time in Indianapolis, making him the second-slowest out of 23 running backs who participated in the same session. Holyfield is a power back, so speed may not be quite as critical for him as it could be for others-but this still hurts his stock before he can make amends at the Bulldogs' pro day. Former UGA teammate Jake Fromm is +1400 to win the Heisman Trophy.

Vijay Singh . At 56 years old, Singh had a chance to become the oldest winning in PGA Tour history last week. The three-time major champion went into the final round of the Honda Classic just one shot out of lead. He passed third-round leader Wyndham Clark, but little-known Keith Mitchell came from behind and won by a single shot for his first PGA title. Singh bogeyed the 17 th hole and settled for par on the par-5 18th to finish in solo sixth place, three shots from the top of the board. The tour now heads to Bay Hill for the Arnold Palmer Invitational. Rory McIlroy is a +800 favorite; Tiger Woods is a +1000 second choice ( MyBookie.ag).



Read more articles by Ricky Dimon