Case of the Mondays: Pacers Punched in the Gut with Oladipo Injury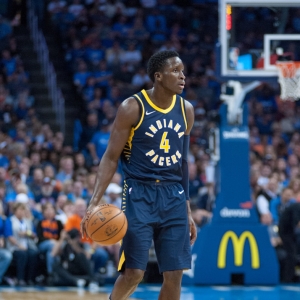 The Pacers are hanging around in third place in the Eastern Conference, ahead of contenders such as Philadelphia and Boston. They will hard-pressed to maintain it, however, as star guard Victor Oladipo is out for the season with a ruptured quadriceps muscle. Meanwhile, it's Super Bowl week in the NFL and the Rams are not looking back following their controversial NFC Championship win at New Orleans.

All odds provided by Bovada Sportsbook .

Victor Oladipo . Oladipo went down with his devastating injury during Indiana's home victory over Toronto last Wednesday. The 26-year-old was averaging 18.8 points, 5.6 rebounds, 5.2 assists, and 1.7 steals per game during the 2018-19 campaign. The Pacers are three games out of first place in the East and would have home-court advantage in a favorable first-round playoff series against Brooklyn if the regular season ended now. "No matter how much hard work and effort you put into perfecting your craft you cannot predict the challenges you'll face ahead," Oladipo posted on Instagram. "But there is always that point in time where you wonder why it's happening to you. You even wonder if there was something you could have done differently to prevent the outcome. The confusion, the contemplation, the anger, the sadness and the tears that flow frequently come, but they never last…. It's going to be tough but tough times don't last tough people do." The Pacers are +8.5 home underdogs against Golden State on Monday.

Nickell Robey-Coleman . Rarely are players fined for a play that did not even result in a penalty. Of course, no one will ever know how the refs did not call pass interference and helmet-to-helmet on Robey-Coleman when the Los Angeles cornerback hit New Orleans receiver Tommylee Lewis late in the fourth quarter of the NFC Championship. A penalty would have allowed the Saints to run out the clock and kick a tiebreaking, game-winning field goal. Instead, the Rams answered a field goal with a field goal of their own and eventually prevailed 26-23 in overtime. Robey-Coleman was fined $26,739 by the NFL this past week. Of course, he probably doesn't care; just ask defensive coordinator Wade Phillips. When asked how Robey-Coleman was handling the fine, Phillips quipped, "I think he's going to the Super Bowl." The Rams are +3 underdogs against New England on Sunday.

Ondrej Kase . The Ducks' 23-year-old forward is out for the season (five to six months, to be exact) after suffering a torn labrum earlier this month in a win over Minnesota. Kase had 11 goals and nine assists for the Ducks, who are just one point out of a playoff spot in the Western Conference. Minnesota is +2000 to win the West; Calgary is a +250 favorite.

Marcquise Reed . Clemson's senior guard missed four three-throws in the last 13.8 seconds of last weekend's game at N.C. State. Reed's final two misses came with 7.5 seconds left before the Wolfpack's Braxton Beverly drained a three-pointer at the buzzer to give his team a 69-67 victory-completing a comeback from six points down with less than 20 seconds remaining. "He's made thousands of free throws for us to seal games and he's our best player," head coach Brad Brownell said. "It was just a tough break. I feel bad for him." Next up for N.C. State on Tuesday is Virginia, which is a +800 fourth choice to win the National Championship.

Everton . These are tough times for Everton, which is currently tied for 11 th place in the English Premier League and got unceremoniously bounced out of the FA Cup by Millwall this past Saturday. There was no VAR during that match because it was played at a non-Premier League venue, leaving Everton manager Marco Silva fuming afterward. Millwall eventually prevailed 3-2 after scoring its tying goal for 2-2 following what the club later admitted was a handball. Manchester City is a +175 favorite to win the FA Cup and a +125 second choice to win the EPL.

Jon Rahm . Rahm was in contention going into Sunday's final round of the Farmers Insurance Open at Torrey Pines, in third place and trailing leader Justin Rose by four shots. But the Spaniard struggled to a 1-over 72 while most of the leaderboard was shooting comfortably in the 60s. He slumped to tie for fifth with Rory McIlroy and Jason Day, seven strokes off the pace. Rose triumphed at 21-under with a closing 69, coasting to a two-shot victory over Adam Scott. Tiger Woods fired a Sunday 67, making birdie on five of his last eight holes to finish T20 at 10-under. Rose is +1200 to win The Masters this spring; Tiger is a +1000 favorite.

Rafael Nadal . Nadal did not drop a single set on his way to the Australian Open final. He lost three in a hurry to Novak Djokovic this past Sunday. The Spaniard went down to the world No. 1 6-3, 6-2, 6-3 in just two hours and four minutes, watching Djokovic capture his third consecutive Grand Slam title. Still, it was a decent result for Nadal after being sidelined with various injuries since last summer's U.S. Open. "He played, I think, fantastic," the world No. 2 praised. "At the same time (it) is true that when he's playing that way, I think I needed something else. I was not able to have that extra thing tonight…. Five months without competing, having that big challenge in front of me, I needed something else. That something else probably today, I don't have it yet…. He was better than me tonight. That's the sport. We can talk a lot, but when the player did almost everything better than you, you can't complain much. The only thing that you can say is congrats to the opponent; well done." Nadal is a -115 favorite to win the French Open; Djokovic is a +200 second choice.


Read more articles by Ricky Dimon