Free Picks and Predictions for August 23 and 24 from Handicapper Doug Upstone
by Doug Upstone - 8/23/2019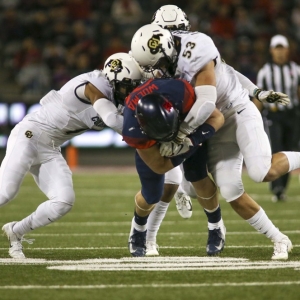 For this weekend, we delve into line moves in baseball, the opening of college football and Week 3 of the NFL Preseason. Take a minute to review all the betting trends, our free picks, and predictions (98-67-3 of late) to see what we are thinking about today. See you back here next week.
MLB - (903) CINCINNATI at (904) PITTSBURGH 7:05 ET FSOH, ATTSNPT
The Reds just won their series over San Diego, while yesterday Pittsburgh lost for the 30th time in 38 tries at home against Washington, Despite this, those betting baseball have flipped Cincinnati from -120 favorite to a +103 road underdog. As to why, Cincy starter Anthony DeSclafani (8-7, 4.40 ERA) has a 6.91 ERA in his past three starts, and lifetime he's 2-6 against the Pirates, with two of those losses coming this year. The Bucs also have a 15-8 record at PNC Park against the Reds since 2017, and Cincinnati is 24-36 on the road. Still, Pitt starter Mitch Keller (1-2, 8.86) will not have Reds batters trembling at the plate, and Pittsburgh is 5-18 after scoring four runs or less in three straight games this season.
Betting Trend - 81% backing Cincinnati
Doug's Doc's Take - Cincinnati wins
MLB - (925) N.Y. YANKEES at (926) L.A. DODGERS 10:10 ET YES, SNLA
For just the second time all year, the Yankees are on a four-game losing streak (back in April) heading to La-La Land. New York was swept by Oakland, where they tallied nine total runs. With the kind of season Hyun-Jin Ryu (12-3, 1.64) is having, and how tough the Dodgers are home, the Yankees could end up with their longest losing streak of the season. However, a group of supporters making MLB picks have helped lower New York from +145 to +130 at Dodger Stadium. With this just a speed bump for the Yanks, it is impossible to overlook that L.A. is 51-16 at home, and Ryu and his teammates are 10-0 as a home favorite of -125 to -175 since last season.
Betting Trend - 76% backing L.A. Dodgers
Doug's Doc's Take - L.A. Dodgers win
NFLX - (265) BUFFALO at (266) DETROIT 8:00 ET CBS (side and total)
The preseason is not an accurate measurement of regular-season results. Yet, one can still see signs of promise or trouble in August. Buffalo is 2-0 and looked sharp on both sides of the ball. Detroit, they are 0-2, and they make a dumpster fire seem like no big deal. With that, the Bills have gone from +1.5 to -3.5, and that might not be the ceiling. With that line movement, one might think the world would be on Buffalo, but they are not. As crazy as it seems, I'll side with the Lions, who are 8-1 ATS if an opponent is off a double-digit victory. The total has also dipped from 42.5 to 41, and I have several systems that support this and I'll follow along.
Betting Trend - 75% backing Buffalo, 65% on Under
Doug's Doc's Take - Leans Detroit covers and Under
CFB - Saturday - (291) FLORIDA vs. (292) MIAMI-FL 7:30 ET ESPN
The college football season kicks off in Orlando with a battle of two rivals from the Panhandle State. Florida has weaknesses but has talent, and the new faces are expected to develop. Miami has a new head coach in Manny Diaz. However, he's not a new face, having been the Hurricanes defensive coordinator. Those generating college football picks have sent the total south, down to 46 from the opening number of 50.5. This comes from the belief of how good the Gators defense is thought of and that Miami can cause a raucous for Florida's four new offensive linemen. There is zero value on the Under at the price. Thus, I'll say a turnover or two leads to 10 or more points making this an OVER play.
Betting Trend - 72% backing Under
Doug's Doc's Take - Lean Over
NFLX - Saturday - (293) ARIZONA at (294) HAWAI'I 10:30 ET CBSSN
The total on this Islands encounter has washed ashore up four big points to 74. The popular opinion is neither defense will be able to contain either offense. Hard to deny this with so many explosive players on each offense, and on defense there are sure to be first game breakdowns which could lead to immediate points. Hawai'i is 11-3 OVER in nonconference games and 7-0 OVER in the first two weeks of the season.
Betting Trend - 81% backing Over
Doug's Doc's Take - Play Over
Public Consensus Record (2019) - 51% to 79% - 163-154-6 ATS
Public Consensus Record (2019) - 80% or Higher - 49-55-1 ATS
Line Movement Direction Record (2019) - 201-201-7 ATS