This Week in Sports Betting, A-Z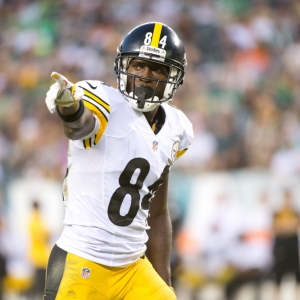 A. ACC . If Duke wins this week's ACC Tournament, the conference has at least some chance to bag three of the four No. 1 seeds in the Big Dance. Pittsburgh is a -1 favorite over Boston College in the final first-round game on Tuesday, per Bovada Sportsbook.

B. Brown, Antonio . Brown and his blonde mustache are taking their talents to Oakland (and then Las Vegas in 2020). The Raiders traded for the disgruntled receiver last weekend and only had to give up chump change in their exchange with Pittsburgh.

C. Calgary Flames . The Flames once had a stranglehold on the Pacific Division, but they suddenly find themselves in second place. That's what four losses in row will do, especially when those are combined with San Jose's current five-game winning streak. The Flames at least managed to end their skid with a victory over Vegas this past Sunday. Calgary is an unbelievably huge -420 home favorite over New Jersey on Tuesday, according to MyBookie.ag.

D. David Irving . Contrary to the ever-present advice of Stephen A. Smith, Irving cannot stay off the weed. As such, he is staying out of the NFL. The former Cowboys defensive lineman posted a video to announce his retirement…while-you guessed it-smoking weed.

E. Embiid, Joel . Embiid wasted no time making an impact after missing eight games due to knee tendinitis. The 76ers' star big man went for 33 points, 12 rebounds, and two steals in 28 minutes of work during a 106-89 victory over Indiana on Sunday. Philadelphia is a +400 fourth choice at BetOnline Sportsbook to win the Eastern Conference.

F. Francesco Molinari . Molinari took down Tiger Woods at last year's British Open, but he didn't have to contend with the 14-time major champion last week at Bay Hill. In fact, the Italian didn't really have to contend with anyone on Sunday. While everyone else-most notably Rory McIlroy-faded, Molinari rolled to another win.

G. Gunners . It's a two-horse race in the English Premier League between Manchester City and Liverpool. But the heat is on in races for top-four spots, and in that effort Arsenal's 2-0 win over Manchester United this past weekend was a big one. The Gunners moved up to fourth with that result, dropping Man U to fifth.

H. Houston, Justin . The Chiefs have released the veteran outside linebacker for salary-cap purposes. Did they forget it was Dee Ford-not Houston-who lined up in the neutral zone?

I. Injury . Tiger was a late withdrawal from last week's Arnold Palmer Invitational due to a neck injury. That news basically broke golf Twitter. On the bright side, his arrival at The Players Championship on Monday basically broke golf Twitter in a much different way. It looks like the 43-year-old is good to go following the brief setback. Tiger is +2800 at XBet.ag to be better than most-and all-at The Players.
J. Ja Morant . Would an NCAA Tournament without Morant be an NCAA Tournament at all? Well, probably yes. The Big Dance may be the only foolproof postseason in sports. But the answer to the aforementioned question is one we won't have to find out, as Morant and Murray State punched their ticket by winning the Ohio Valley Conference Tournament last week.

K. Keenum, Case . The Redskins' ongoing QB carousel continued when they acquired Keenum from Denver last week. Washington once again has multiple "starting" quarterbacks, none of whom are very good. What could possibly go wrong?!?!

L. Landeskog, Gabriel . The Avalanche will be without Landeskog (33 goals, 36 assists) for at least four weeks due to an upper-body injury. That is especially bad news with Colorado currently in ninth place in the Western Conference, two points out of a playoff spot.

M. Michigan State . Is there any coaching job that Tom Izzo can't do? Despite his Spartans suffering a myriad of injuries, Izzo led the team to another Big Ten regular-season title (shared with Purdue) after beating Michigan 75-63 from 12 points down last weekend. GT Bets has Michigan State at +1400 to win the National Championship.

N. NFL Draft . Is there anyone more overrated right now than Charley Casserly? Like…he's a freaking NFL analyst. Who cares what he thinks? Whatever the case, he keeps changing his tune about Heisman Trophy winner Kyler Murray. What hasn't changed is the likelihood that Arizona selects Murray No. 1 overall.

O. Olivier Vernon . The Browns have acquired Vernon from the Giants in exchange for offensive lineman Kevin Zeitler. Vernon, a third-round pick out of Miami (FL) in 2012, has recorded at least 6.5 sacks in six consecutive seasons.

P. Phoenix Suns . Sound the alert when you see an absolutely massive spread in basketball. As a 26-point underdog, Wake Forest basically came within an inch of beating Duke last week. As 17-point 'dogs, the Suns stunned the Warriors 115-111 at Oracle Arena this past Sunday. Golden State is still an overwhelming -210 favorite at Bovada Sportsbook to win the NBA title.


Q. Quick, Jonathan . Quick (13-19-6, 3.28 goals-against average, .891 save percentage) has been one of the NHL's worst goalies in 2018-19. Mercifully, he ended a streak of six straight starts with at least three goals allowed (including two with six) when the Kings beat the Ducks 3-2 on Sunday. 5Dimes Sportsbook has Anaheim as a +140 home underdog against Nashville on Tuesday.


R. Record books . LeBron James passed Michael Jordan for fourth on the NBA all-time scoring list during last week's loss to Denver. Meanwhile, his team is "passing" people left and right in terms of 2019 draft position. The Lakers are -1 favorites at Washington on Tuesday, as indicated by BetOnline Sportsbook.

S. Seattle Mariners . For the first time in more than a decade, Felix Hernandez will not be the Mariners' Opening Day starter. Thus ends a streak of 10 straight Opening Day starts for the 32-year-old. He isn't happy about, but his demotion is well-deserved. Hernandez compiled a horrendous 5.55 ERA last season while going 8-14 and his spring training ERA currently stands at 15.95. He is +35000 at BookMaker to win the American League Cy Young.

T. Towns, Karl-Anthony . The Timberwolves' star big man sustained a knee injury while going for 40 points and 15 rebounds during last Saturday's win over Washington. But an MRI revealed that Towns avoided serious damage and he is listed as day-to-day.

U. United . 2018 was a banner year for Atlanta United, which captured the MLS Cup in its second season of existence. 2019? Not so much. Atlanta trails Monterrey by a likely insurmountable 3-0 margin following one leg of their CONCACAF Champions League quarterfinal match and the club drew 1-1 with expansion team FC Cincinnati in its MLS home opener last weekend.

V. Venus Williams . It's not often these days that Venus makes it farther in a tournament than Serena, but that is the case in Indian Wells. Serena withdrew from her second match with an illness, while Venus picked up an impressive three-set win over Australian Open champion Petra Kvitova in the third round. YouWager.eu has Venus as favorite over Mona Barthel on Tuesday.

W. Will Wade . There is never a good time for a head coach to get caught discussing "offers" made to top recruits. Right when the calendar turns to March is probably the worst time. Wade is indefinitely suspended after FBI wiretaps intercepted phone calls between him and aspiring business manager Christian Dawkins regarding current freshman Javonte Smart. With Wade and Smart out, LSU clinched the SEC regular-season title by beating Vanderbilt 80-59 last weekend.

X. Denotes clinched playoff berth . The first "x" in the NHL standings is in. Tampa Bay, an incredible 17 points ahead of the next-best team in the league, wrapped up a playoff spot last Friday. The Lightning are 53-13-4 overall, including 14-2-0 in their last 16 games.

Y. Yelling . Moral of this story: don't yell at your dogs, even when they're fighting with each other. Nicolas Petit recently lost a huge lead in the Iditarod after he scolded one of his dogs for going all Serge Ibaka-Marquese Chriss on another pack member. "I yelled at Joey, and everybody heard the yelling, and that doesn't happen,'' Petit explained. "And then they wouldn't go anymore. Anywhere. So we camped."

Z. Zion Williamson . Another game missed by Zion, another loss to North Carolina…. The Blue Devils fell to their arch rival 79-70 on the road last weekend, dropping to 3-3 in their final six regular-season games and settling for the No. 3 seed in the ACC Tournament. MyBookie.ag has Duke as a +175 second choice to win the conference tourney and a +240 favorite to win the National Championship.
Read more articles by Ricky Dimon