This Week in Sports Betting, A-Z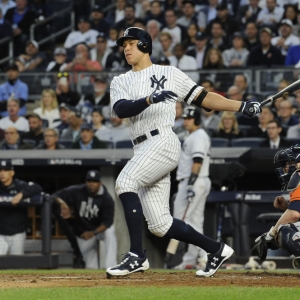 A. Aaron Judge . Judge blasted two home runs in the Yankees' 7-1 spring training win over Detroit on Sunday. He needed an assist on one of them, as the ball went off the glove of right fielder Victor Reyes and ricocheted over the wall. New York is a +450 favorite at GT Bets to win the World Series.

B. Bryce Harper . Harper piled on the woes of the Giants last week when he signed a 13-year deal with the Phillies. Not only did San Francisco lose out on the Harper sweepstakes, but it is also dealing with a domestic-abuse incident involving team president and CEO Larry Baer. The star outfielder is a +400 favorite at MyBookie.ag to win NL MVP.

C. Combine . There are always winners and losers at the NFL combine. Heisman Trophy winner Kyler Murray was one of the winners simply by showing up. He didn't throw, but he was measured at just over 5'10'' and 207 pounds-both numbers bigger than expected. Former Georgia RB Elijah Holyfield was among the losers, as he clocked a 4.76 40-yard dash time (second-slowest out of 23 running backs who participated in the same session).

D. Dwyane Wade . In what will surely go down as the buzzer-beater of the NBA season, Wade banked in a wild three-pointer as time expired to lead Miami past Golden State 126-125 last Wednesday. The Heat are 3-1 in their last four games and find themselves in a three-way tie for the final playoff spot in the Eastern Conference.

E. Eagles . The Nick Foles saga is finally coming to an end in Philadelphia. Foles is expected to sign with Jacksonville when he is allowed to starting on March 13. That may be a big downgrade in franchise quality, but at least he will have no trouble earning the starting job. The Eagles are +800 at XBet.ag to win the NFC.

F. Forty-yard dash . The fact that he looks like a body builder didn't stop D.K. Metcalf from running a 4.33 in the 40. But his physical tools beg the question: why wasn't the former Ole Miss receiver better at playing football while in college?

G. Golden State Warriors . Going into full-fledged regular-season mode, the Warriors have lost four of their last seven games. They haven't won two in a row since a five-same streak from Feb. 2-12. 5Dimes Sportsbook has Golden State as a -9 home favorite over Boston on Tuesday.

H. Honda Classic . At 56 years old, Vijay Singh had a chance to become the oldest winning in PGA Tour history last week. The three-time major champion went into the final round of the Honda Classic just one shot out of lead. He passed third-round leader Wyndham Clark, but little-known Keith Mitchell came from behind and won by a single shot for his first PGA title.

I. Ibrahimovic, Zlatan . Zlatan talked a big game (what's new?) prior to the start of this Major League Soccer season. He backed it up in the L.A. Galaxy's opener, scoring the game-winner in the 80th minute to beat Chicago 2-1 last Saturday.
J. Johnny Manziel . Manziel was not only released by the Montreal Alouettes last week but also banned entirely from the CFL. He reportedly "contravened the agreement which made him eligible to play" in the league. Meanwhile, Manziel's wife recently cheated in the Temecula, Calif. half marathon. That isn't news (people do that all the time in road races), except for the fact that she is Manziel's wife.

K. Kaleb Wesson . Ohio State has suspended Wesson-its leading scorer and rebounder-for a violation of team rules. The sophomore is expected to return this season for the Buckeyes, who without him lost at Purdue by 35 points this past weekend.

L. Lakers . No matter the shop you look at, the Lakers are now overwhelmingly expected to miss the playoffs. And why not? In addition to losing three in a row, they are 1-5 in their last six and their 30-34 record has them 5.5 games back of the eighth and final postseason spot in the Western Conference. Bovada Sportsbook has Los Angeles at +1200 to win the West. Friendly advice: avoid that bet like the plague.

M. March . February is the worst month in so many ways (especially this year since even the Super Bowl was bad and the Daytona 500 wasn't particularly interesting), but it has mercifully come to an end. March-ie: March Madness-is here. Get your popcorn ready!

N. Nadal, Rafael . Nadal played for the first time since the Australian Open at last week's event in Acapulco and lost his second match to Nick Kyrgios. The world No. 2 had three match points before falling 3-6, 7-6(2), 7-6(6). Kyrgios went on to take the title.

O. Ottawa Senators . Ottawa, the worst team in the entire NHL at 51 points, fired head coach Guy Boucher last Thursday. The Senators are 23-38-5 and they have given up the second-most goals among all teams (3.73 per game). Assistant coach Marc Crawford was named the interim. YouWager.eu has Ottawa as a +275 underdog at the Islanders on Tuesday.

P. Philadelphia 76ers . Suddenly things are not going well for any of the top teams in the Eastern Conference other than Toronto. Boston is in shambles, Milwaukee has lost two in a row for the first time since the Wooly Mammoth Era, and Philadelphia is once again without Joel Embiid. The Sixers' star center has not played since the All-Star Game due to a knee injury and he is likely to miss at least another game. Philadelphia is a -4.5 home favorite over Orlando on Tuesday, according to BetOnline Sportsbook.


Q. Quinnen Williams . The former Alabama defensive tackle clocked a 4.83 in the 40-yard dash. Mind you, he is 6'3'' and 303 pounds. That is the fourth-fastest time by a 300-pound defensive lineman at the combine since 2003.


R. Roger Federer . Federer captured his 100th title this past weekend, triumphing in Dubai and avenging an Aussie Open loss to Greek youngster Stefanos Tsitsipas in the process. Who's retiring first: Federer or Tom Brady? Or neither!?!?

S. Suspended . Iowa head coach Fran McCaffery is currently suspended two games for going crazy at an official following the Hawkeyes' 90-70 loss at Ohio State last Tuesday. During that setback, both McCaffery and his son (guard Connor McCaffery) incurred technical fouls. The 59-year-old later followed ref Steve McJunkins down a hallway and called him a cheater and a disgrace while dropping multiple f-bombs in the process. He missed last Saturday's 86-72 home loss to Rutgers and also won't coach Thursday's road contest against Wisconsin.

T. Tiger Woods . Tiger is injured again, and the sports world is freaking out as much as the entertainment world freaked out at the Lady Gaga-Bradley Cooper "Shallow" duet at the Oscars. But the 43-year-old insists that he will be fine. Tiger withdrew from this week's Arnold Palmer Invitational due to a neck strain but hopes to play later in March at The Players Championship. Rory McIlroy is a +685 favorite at BookMaker to triumph at Bay Hill.

U. Under . If you've been taking the under in Bruins' games, you are doing quite well for yourself. Boston has surrendered a grand total of three goals in its last four games and five in its last five. The under is 5-0 during this stretch and 38-24-3 for the season. Boston is a -145 home favorite over Carolina on Tuesday, as indicated by MyBookie.ag.

V. Velodrome . We now live in a world in which soccer players are celebrating their goals on Instagram Live. Unsurprisingly, that player was Mario Balotelli. With his Marseille club hosting Saint-Etienne at the Stade Velodrome last weekend, Balotelli scored on a bicycle kick and promptly pulled out a phone to film the ensuing shenanigans with his teammates. Marseille won the match-and the internet-2-0.

W. Witten, Jason . Witten found out the hard way that he is no Tony Romo in the booth. He surely isn't Tony Romo on the golf course, either. As such, the 36-year-old tight end is leaving his Monday Night Football gig and returning to the Cowboys for one more season. BetOnline Sportsbook has the over/under for Witten's touchdown catches during the regular season at 3.5.

X. Denotes clinched playoff berth . The first "x" in the NBA standings is in. Milwaukee, despite its current two-game skid, locked up a postseason spot last week. The Bucks are 48-16 and lead Toronto by two games atop the Eastern Conference.

Y. Young, Trae . The Hawks' rookie guard is already playing like a star, but he isn't getting star treatment quite yet. Young already had one technical foul in Sunday's win over the Bulls for a minor altercation with Kris Dunn and then got another one-and with it an ejection-when he simply stared Dunn down following a three-pointer. Atlanta and Chicago and played a four-overtime thriller two days earlier, with the Bulls prevailing even though Young went for 49 points, 16 assists, and eight rebounds.

Z. Zion Williamson . Will Zion play on Tuesday or won't he? That is question. Then again, who cares? The Blue Devils are playing Wake Forest. Duke is a -26.5 home favorite over the Demon Deacons, per Bovada Sportsbook.
Read more articles by Ricky Dimon