This Week in Sports Betting, A-Z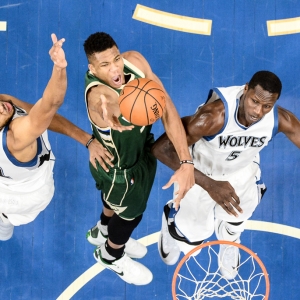 A. Antetokounmpo, Giannis . In a head-to-head showdown of MVP candidates, it was advantage: Greek Freak on Tuesday. Antetokounmpo wasn't great (19 points, 14 rebounds, four assists), but James Harden was terrible (9-for-26, 1-for-9 from three-point range) and the Bucks beat Houston 108-94. Milwaukee is a -9 home favorite over the Clippers on Thursday, per Bovada Sportsbook.

B. Boston Celtics . While the Bucks are running away with the Eastern Conference at 56-19 (best record in the entire NBA by four games), Boston is currently the East's No. 5 seed and would visit Indiana to begin the playoffs. The Celtics had lost four in a row before getting thrown a lob in the form of Cleveland on Monday.

C. Casey, Paul . Casey went back-to-back at the Valspar Championship, triumphing once again this past week with a one-shot victory over Louis Oosthuizen and Jason Kokrak. The 41-year-old Englishman is up to No. 11 in the world rankings. Casey is +2800 at XBet.ag to win the Masters next month; Rory McIlroy is a +750 favorite.

D. Dunk record . Yes, there is such a thing as a single-season dunk record. And Rudy Gobert just set it. Utah's big man recorded his 270th slam during Monday's win over Phoenix, eclipsing the mark held by Dwight Howard.

E. Extension . Not one, not two, not three, not four…not 768, not 769, not 770…not 426,499,997, not 426,499,998, not 426,499,999…. No Mike Trout will earn 426 million dollars over the next 12 years after signing a record-breaking extension with the Angels last week. The Angels are +103 underdogs at Oakland on Thursday, as indicated by BetOnline Sportsbook.

F. Fernando Tatis Jr. Fun (or not so fun) fact: Fernando Tatis was on my fantasy baseball team's bench on the day he hit two grand slams in one inning. But that's neither here nor there 20 years later. Now his son is in the majors, as Junior was officially named to San Diego's Opening Day big-league roster earlier this week.

G. Gronkowski, Rob . It's the end of the road for Gronkowski on the field-at least for now. What's Gronk gonna do now? More like…what's he not gonna do?!?!

H. Holtby, Braden . The Capitals visited the White House earlier this week as part of their 2017-18 Stanley Cup celebration, but Holtby rejected that invitation faster than Instagram models reject most people's DMs. Washington is a +120 underdog at Carolina on Thursday, according to MyBookie.ag.

I. Injury . Jusuf Nurkic suffered compound leg fractures during the Blazers' double-overtime win over Brooklyn on Monday. Nurkic (15.6 ppg, 10.4 rpg) is expected to make a full recovery, but he is obviously out for this season and beyond.
J. Johnny Manziel . Manziel's Alliance of American Football might not last any longer than his marriage to Bre Tiesi-but it may not be his fault. The league is reportedly already in danger of folding following its first year.

K. Kidd, Jason . Luke Walton is not officially out as head coach of the Lakers at this point, but he is a lame duck if there ever was one. Kidd is currently the favorite to take over, and he has confirmed his desire to get back into coaching. "You can't turn that down," Kidd said when asked about potentially getting offered the job in L.A.

L. Lucas Hernandez . Bayern Munich recently signed Hernandez for $90 million from Atletico Madrid. The 23-year-old was part of France's World Cup-winning club last summer. Yes, the real story here is that someone with the name "Lucas Hernandez" is French.

M. Mets . Jacob deGrom just signed his soul away for another five years. In other words, he signed a five-year extension with the Mets earlier this week. Then again, Stephen Curry seemed be destined for NBA irrelevancy when he was drafted by lowly Golden State back in 2008, and we all saw how that turned out…. New York is +310 at GT Bets to win the National League East.

N. Norvell Jr., Zach . Gonzaga, which lost to Florida State 75-60 in last year's Sweet 16, is going to need all the offense it can get this time around against the Seminoles. That means Norvell must get going. The sophomore guard is averaging just 8.0 ppg over the last three games while shooting 8-for-32 from the floor. Gonzaga is +450 at BookMaker to win the National Championship.

O. Oregon . It's not often that a vaunted athletics program from the Pac-12 is the Cinderella of the NCAA Tournament, but that is the case this time. The 12 th-seeded Ducks are in the Sweet 16, and no other seed below No. 5 is still alive.

P. Pearl, Bruce . You know things are mad when Pearl of all people looks like the holy roller among college basketball coaches. "The thing that I'm most proud of is just graduating our kids," Auburn's head coach said after his team destroyed Kansas 89-75 last Saturday night to reach the Sweet 16. YouWager.eu has the Tigers as +5 underdogs against North Carolina on Friday.


Q. Quinnen Williams . With San Francisco reportedly infatuated with the former Alabama defensive tackle, the top two NFL Draft picks are becoming clear: Kyler Murray at No. 1 to Arizona and Williams at No. 2. But there's still time for anyone to channel his inner Laremy Tunsil….


R. Rafael Nadal . After withdrawing from a scheduled Indian Wells semifinal against Roger Federer due to a knee injury earlier this month, Nadal did not play the similarly big event in Miami. Now the tennis tour moves to his clay-court stomping grounds. Will the door be open for other contenders with Nadal possibly less than 100 percent? I don't know; was the door open for Cumberland College against Georgia Tech? Bovada Sportsbook has Nadal as a -110 favorite to win the French Open.

S. San Jose Sharks . On March 15, the Sharks owned the best record in the entire Western Conference. They are now mired in a six-game losing streak that has come completely out of nowhere. Biggest disaster for sharks since Blake Lively ventured out into the water in The Shallows.

T. Turkey vulture . A turkey vulture crashed through a window into Stephen A. Smith's office at ESPN studios on Tuesday. Fortunately for Stephen A., he did "First Take" with Skip Bayless for four years, so he knows how to deal with turkeys.

U. UCF . Duke vs. UCF last weekend embodied everything about March Madness, except-given that it was an early-round game-the underdog winning. It was all right there for Knights to take down the No. 1 overall said, but the Blue Devils came up big late for a 77-76 victory that sent them to the Sweet 16. Duke is a -7 favorite over Virginia Tech on Friday, per BookMaker.

V. Virginia . When Virginia trailed Gardner-Webb-yes, Gardner-Webb-by 14 points in the first half, it looked like déjà vu all over again. Instead, the Wahoos recovered to beat the 16th-seeded Bulldogs 71-56 before taking care of Oklahoma 63-51 in the second round. Virginia is a -140 favorite at BetOnline Sportsbook to win the South Region.

W. Williams, Serena . Serena retired from an Indian Wells third-round match due to illness and then withdrew from a Miami third-rounder citing a knee injury. Until this kind of stuff happens in majors, though, the panic button probably doesn't have to be hit.

X. Denotes clinched playoff berth . The ol' "x" is starting to pop up all over the NBA standings-five in the Western Conference and four (not including one "y") in the East. But there is still plenty for which to play. For example, the Warriors and Nuggets are separated by just a half-game in the race for home-court advantage throughout the West playoffs. 5Dimes Sportsbook has Denver as a +5 underdog at Houston on Thursday.

Y. Young, Trae . For the first of this NBA season, it looked like there would be no Rookie of the Year controversy a la Ben Simmons and Donovan Mitchell in 2017-18. Then Young happened. Mitchell, Kyle Kuzma, and Blake Griffin have recently chimed in on Twitter backing Atlanta's point guard to win the award over Luka Doncic.

Z. Zdeno Chara . Star athletes in Boston appear to have discovered the elixir of life. Whatever the case, Chara-who is 42-years-old-signed an extension with the Bruins last weekend. The 6'9'' defenseman has five goals, eight assists, 55 penalty minutes, and a plus-21 rating this season. My Bookie.ag has Boston at +800 to win the Stanley Cup.
Read more articles by Ricky Dimon