This Week in Sports Betting, A-Z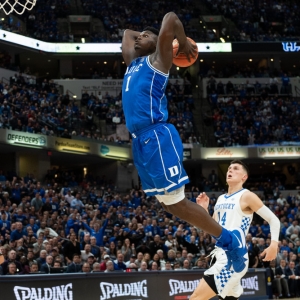 A. Alliance of American Football . It's football season! Yes, the American Alliance of Football kicked off last weekend with wins by the Arizona Hotshots, Orlando Apollos, San Antonio Commanders, and Birmingham Iron. Arizona is a +250 favorite at MyBookie.ag to win the championship.

B. Buzzer-beater . In one of the most entertaining games of the NBA regular season, the Lakers won a wild one at Boston last Thursday on a Rajon Rondo last-second shot. Rondo's dagger at the end of a wild sequence gave Los Angeles a come-from-behind 129-128 victory. 5Dimes Sportsbook has L.A. as a -5 favorite at Atlanta on Tuesday.

C. Carlyle, Randy . In news less surprising than the announcement of Fast and Furious 9, Carlyle was fired as head coach of the Ducks this past weekend. Anaheim lost 12 straight in December in January and have currently lost seven straight-all by at least three goals.

D. Duke . Virginia is 21-2 this season; it is 21-0 against everyone not named Duke and 0-2 against Duke. That's how good these Blue Devils are. After prevailing 72-70 over the Wahoos at home one month ago, the Devils got the job done 81-71 at UVA this past Saturday. Duke is a -6.5 favorite at Louisville on Tuesday, per Bovada Sportsbook.

E. El Clasico . In leg one of their Copa del Ray semifinal last Wed, FC Barcelona and Real Madrid played to a 1-1 draw. Lionel Messi wasn't 100 percent, but he should be for leg two on Feb. 27. That's bad news for Real.

F. Francisco Lindor . The Indians' all-star shortstop will likely be sidelined for two months and miss the start of the regular season due to a strained right calf. Lindor sustained the injury while working out last week in Orlando. In 2018 he batted .277 with 38 home runs, 92 RBIs, 25 stolen bases, and tied the major-league lead with 129 runs scored.

G. Grammys . Lady Gaga performed last weekend, was nominated for both Record of the Year and Song of the Year, and won three other awards. Drake won Best Rap Song, Most Surprising Appearance at the Grammys, Shortest Speech that Got Cut Off, and Biggest Fair-weather Sports Fan. Lady Gaga ("A Star is Born") is +550 at BookMaker to win Best Actress at the Oscars.

H. Hart, Carter . The Flyers were one of the worst teams in the NHL earlier in the season. But they finally called up Hart and the rest is history. Well, it's not quite history yet. Philadelphia hasn't clinched a playoff spot or anything like that (no one has at his point in the season), but it is contention thanks to Hart recently winning eight consecutive starts. The streak finally ended with a 4-1 loss to Pittsburgh on Monday.

I. Injured list . The disabled list is no more. Major League Baseball players who get injured will now go on the…wait for it…injured list. That makes sense…but it sure sounds weird.
J. Justin Fields . Fields, who recently transferred from Georgia to Ohio State, has been ruled eligible by the NCAA and can play immediately for the Buckeyes. The NCAA is pretty darn lenient when it considers "failure to beat out Jake Fromm for the starting job" a hardship.

K. Kyrie Irving . In addition to their loss to the Lakers, the Celtics are dealing with an Irving injury and a disgruntled roster (at least according to Marcus Morris). Irving is day-to-day with a strained right knee. The Celtics are +6 underdogs at Philadelphia on Tuesday, according to BetOnline Sportsbook.

L. Losing streak . The Penguins' skid is over. Winners of two Stanley Cups in the past four seasons, the Pens halted an alarming four-game losing streak by defeating the Flyers and Hart on Monday.

M. Madrid derby . In the latest Madrid derby last weekend, Real disposed of Atletico 3-1. After VAR erased what looked like an equalizer for Atletico, Real's Gareth Bale tacked on an insurance goal for the final margin. With that, Bale's club climbed to second on the table in La Liga. YouWager.eu has Real Madrid as a -115 favorite over Ajax during Champions League action on Wednesday.

N. Nick Foles . The only thing that has dragged on longer than the free agency of Bryce Harper and Manny Machado is the Foles/Carson Wentz/Eagles situation. Foles recently declined his $20 million option for 2019, which means he could accept a franchise tag and then agree to a trade.

O. 0-for-14 . Ben Simmons actually attempted a three-pointer in Philadelphia's 143-120 rout of the Lakers on Sunday. Needless to say, he did not make it. Simmons is now 0-for-3 from the land of plenty this season and 0-for-14 in his career.

P. Phil Mickelson . Mickelson trailed Paul Casey by three shots heading into the final round of last week's AT&T Pebble Beach Pro-Am. The 48-year-old had no trouble erasing it, seizing a three-stroke lead of his own by the time play was suspended due to darkness on the 16th hole. Mickelson coasted the rest of the way on Monday morning for his fifth triumph at Pebble Beach. The five-time major champion is +2200 at XBet.ag to win this week's Genesis Open; Tiger Woods is +2500 and Dustin Johnson is a +900 favorite.


Q. Quarterback . That's what Kyler Murray says he is going to be, and it looks like his decision is final. The Heisman Trophy winner announced his decision to play football instead of baseball by posting on Twitter earlier this week that he is "fully committing [his] life and time to becoming an NFL quarterback." The A's response (probably): "thank u, next."


R. Robinson, Frank . Robinson, a former MLB MVP and the league's first black manager, died at 83 years old last week. R.I.P.

S. Streaks . The NBA's two well-documented current streaks continued in dramatic fashion on Monday. James Harden earned his 30th straight 30-point came by scoring 11 points in a span of less than two minutes late in the fourth quarter of a 120-104 win over Dallas. Russell Westbrook became the first player in NBA history to record 10 consecutive triple-doubles when a flurry of late assists gave him 21, 14, and 11 in a 120-111 defeat of Portland. OKC teammate Hamidou Diallo is +300 at Bovada Sportsbook to win the Slam Dunk Contest.

T. Toronto Raptors . For pretty much the first time since the Mesozoic Era, the Eastern Conference playoffs are going to be more interesting than those in the West. The East arms race heating up in a major way at the trade deadline, primarily thanks to Toronto, Philadelphia, and Milwaukee. The Raptors made their move by acquiring center Marc Gasol from Memphis. GT Bets has Toronto as a +200 favorite to win the East.

U. UFC 234 . Anderson Silva, 43, may be even older than Tom Brady, and he actually plays a sport in which you can get hit. Still, Silva accounted himself well last Saturday night in a UFC 234 bout. He went the distance with up-and-coming star Israel Adesanya (16-0) before losing by unanimous decision.

V. Vick, Lagerald . Kansas won at least a share of the regular-season Big 12 title 14 times in a row. Number 15 may not happen. Big man Udoka Azubuike was lost for the season in early January, sophomore Silvio De Sousa has missed all it because of an NCAA eligibility issue, and now Vick is out indefinitely for personal reasons. The Jayhawks have at least managed to beat Oklahoma State and TCU in succession (the latter in OT on Monday), but they are still just 4-4 in their last eight outings. BetOnline Sportsbook has Kansas at +2500 to win the National Championship; Duke is a +225 favorite.

W. Wall, John . Already out for the season due to a heel injury, Wall is now also out for all of next season. The Wizards' star guard apparently fell in his home last week and ruptured an Achilles' tendon. During his time off, Wall plans to return to school and graduate.

X. XFL . Bob Stoops is back. Well, sort of. He was introduced (by XFL commissioner Oliver Luck, no less) as the new head coach and general manager of the revamped XFL's Dallas franchise. This latest professional football league will begin play in 2020 and feature a 10-game regular season.

Y. Year . What a difference a year makes. In 2018, Ted Potter Jr. was the surprise champion of the A&T Pebble Beach Pro-Am. This time around, Potter was literally in last place after Day 1 following an opening 82 and he ended up missing the cut by a laughable 14 shots. Oh, well; being a one-hit wonder is better than being a no-hit wonder…. Just ask Fountains of Wayne .

Z. Zibanejad, Mika . Zibanejad is lighting up box scores for the Rangers these days. The 25-year-old center has recorded at least one point in five of the past six games (six goals, four assists) and in 10 of the past 12 (11 goals, eight assists). The Rangers are +185 underdogs at Winnipeg on Saturday, as indicated by MyBookie.ag.
Read more articles by Ricky Dimon