Sports Betting Futures Odds: After Just One Round, Already Stanley Cup Chaos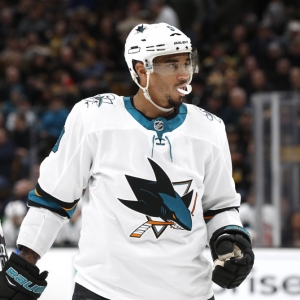 The Lightning were bounced out of the Stanley Cup playoffs in the first round, but they aren't alone in their surprise exit. Defending champion Washington-among others-is also toast. Meanwhile, the NFL Draft is tonight, and action is also heating up on the baseball diamond. The parity in the National League East is unparalleled.


Odds provided by Bovada Sportsbook unless otherwise indicated.

Stanley Cup

Boston Bruins (+390) - The first round of the hockey postseason was almost all about surprises, but at least one series went just about as expected. Boston and Toronto required seven games to be separated, and it was the Bruins who battled back from a 3-2 deficit to prevail. Their reward is a conference semifinal date with Columbus.

San Jose Sharks (+450) - Don't call what Boston did against the Maple Leafs a comeback. But the Sharks vs. Vegas? Now that was a comeback. San Jose trailed 3-0 in the third period of Tuesday's finale before scoring four goals in the span of one five-minute major penalty. The home team ended up triumphing 5-4 in overtime.

St. Louis Blues (+550) - St. Louis did not have too much trouble getting through its opener against Central Division rival Winnipeg. The Blues won the first two games, lost the next two, and then won two more in a row to seal the deal. They are one of five teams with fewer than 100 points in the regular season to remain alive.

New York Islanders (+600) - If defense wins championships, the Islanders certainly have a chance. Led by goalie Robin Lehner, they led the entire NHL in goals against at 2.33 per game. The Penguins averaged much less than that in round one, managing only six goals in the four-game sweep-including three in the last three contests.

NFL Draft second pick (BetOnline Sportsbook)

Nick Bosa (-300) - What happens with Arizona at No. 1 will, of course, impact San Francisco in the second slot. The 49ers have holes all over everywhere and may side with the best player available. Assuming Kyler Murray goes first, that could be Bosa-Ohio State's star defensive end who ended his 2018 season early to prepare.

Quinnen Williams (+375) - San Francisco's glaring need on the defensive front could be solved-at least in part-by either Bosa or Williams. If the Niners want to shore up the interior, Williams would be their guy. As a sophomore at Alabama this past year, the 6'4'', 289-pound tackle recorded eight sacks and 71 total tackles (45 solo).

Kyler Murray (+475) - If the Cardinals end up throwing a wrench into the NFL Draft and pass on Murray, how far will he fall? Well, maybe not far at all. The 49ers have Jimmy Garoppolo returning from an ACL injury, so they don't need Murray, but they could command a king's ransom for the No. 2 pick if Murray is still available.

Josh Allen (+1400) - Yes, there is already another top draft prospect named Josh Allen. This one isn't a quarterback; this one's in the business of sacking quarterbacks. Kentucky's standout defensive end racked up 17 sacks to go along with five forced fumbles in 2018. Bosa may be a safer pick, but Allen arguably has more upside.

National League East

New York Mets (+225) - At any point in any Major League Baseball, it's hard to remember any division being so bunched up-according to the odds-among four teams. The top four (minus Miami, of course) are currently separated by 1.5 games, ranging from the Mets and Phillies at 13-11 to the Nationals at 11-12.

Philadelphia Phillies (+235) - Philadelphia, which was more of a favorite when the season began, is off to an unspectacular start. Four different players have at least four home runs so far, including Rhys Hoskins with seven and Bryce Harper with five. The Phillies' offseason spending spree also included J.T. Realmuto, who is batting .282.

Washington Nationals (+255) - No Harper, no problem? Washington is not exactly setting the world on fire in the early stages of the 2019 campaign, but it is hanging around for now. On paper the Nationals are not as loaded as Philadelphia or Atlanta, and perhaps not even New York. Still, Juan Soto and company cannot be discounted.

Atlanta Braves (+275) - The Braves are a modest 12-11, but it could be worst after they started the season by getting swept in three straight games at Philadelphia. Atlanta is staying afloat even though its bullpen has been terrible, and Mike Foltynewicz remains sidelined. And then there's the Marlins, who are +40000 to win the division.

To rule Westeros at the end of Game of Thrones Season 8 SPOILERS AHEAD

Jon Snow (+225) - The internet almost broke over Arya Stark's tryst with Gendry, but there are matters beyond sex with which to deal in the immediate future. The Battle of Winterfell is coming up, which means death and more death. Jon Snow, though, isn't expected to be among the casualties.

Bran Stark (+325) - Bran is the new three-eyed raven, meaning he can see into the past and also through the present. His supernatural powers certainly come in handy in the Stark family's ongoing war with the White Walkers.

Sansa Stark (+500) - The eldest daughter of Eddard Stark and Catelyn has become hardened by all the cruelty and betrayal suffered by her family over the years. She excelled at being in charge of the North while Jon Snow ventured to Dragonstone.

Daenarys Targaryen (+550) - Will it be a happy ending, with of the main protagonists of the show (such as Daenarys or Jon Snow) sitting on the iron throne when it's all said and done? This field goes 29 deep, so needless to say it will be a fight to the finish.
Read more articles by Ricky Dimon