Sports Betting Futures Odds: Brown Era in Pittsburgh Ends with Trade to Raiders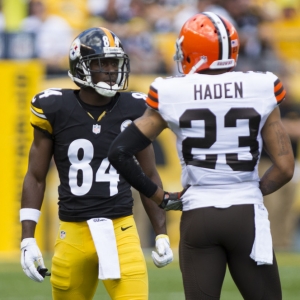 The Cleveland Browns may be stealing the Oakland Raiders' thunder as the NFL offseason gets crazy, but plenty of eyes will still be on the Raiders when they embark on their final go-around in Oakland. As for seasons that are actually in progress, March Madness is in our midst and the PGA Tour is the middle of an intriguing stretch that includes The Players Championship and the Masters.


Odds provided by Bovada Sportsbook unless otherwise indicated.

Oakland Raiders

Antonio Brown over nine receiving TDs in 2019 (-120) - With the Steelers, Brown was catching passes from a future Hall of Famer in Ben Roethlisberger. That won't be the case in Oakland, where quarterback Derek Carr once looked like a future star but has struggled the past two years.

Brown over 1,250 receiving yards in 2019 (Even) - Carr will be a big factor in terms of Brown's chances of racking up numbers at the same pace with which he did in Pittsburgh. Brown has produced at least 1,284 receiving yards and eight touchdowns in each of the last six seasons.

Brown over 105.5 receptions in 2019 (Even) - Brown has made more than 100 receptions in six consecutive years. He has been targeted more than 100 times in eight straight seasons-including at least 155 in each of the last six. Targets won't be an issue with the Raiders, as he will obviously be Carr's primary target.

To win Super Bowl (+8000) - Let's not get carried away…. Well, if you want to get carried away perhaps throw down some money on the Browns to do something crazy like win the Super Bowl. As these odds suggest, Oakland (4-12 last season) still has plenty of work on its plate; but landing Brown is a start.

NBA MVP (MyBookie.ag)

Giannis Antetokounmpo (-175) - As it has been basically the entire 2018-19 campaign, the MVP race remains a two-horse field with just one other outsider in the distant mix. Antetokounmpo has the current edge, in part because his Milwaukee team owns the best record in the NBA-by far-at 51-17.

James Harden (+130) - Even though the Greek Freak is averaging 27.0 ppg, 12.6 rpg, 5.9 apg, 1.4 bpg, and 1.3 spg, Harden is keeping pace. He is pouring in 36.2 ppg to go along with 6.5 rpg, 7.5 rpg, and 2.1 spg while scoring at least 30 points basically every time he takes the court. The Rockets are a decent 42-25.

Paul George (+900) - George's resurgence has been downright awesome, and perhaps in any other season he would have a strong shot at MVP. His problem is simply that Antetokounmpo and Harden are good. George is contributing 28.2 ppg, 8.2 rpg, 4.2 apg, and 2.3 spg for the 41-26 Thunder.

LeBron James (+6600) - Yes, you can laugh. After all, nobody other than Antetokounmpo, Harden, or George is winning this award. The Lakers would have to go undefeated the rest of the way and make the playoffs from out of nowhere in order for LeBron to come out on top. He has missed too much time, and his team stinks.

ACC Tournament

Virginia (+125) - The Cavaliers rolled to the ACC Tournament title last year and what did it get them? Only a first-round loss in the Big Dance despite being a No. 1 seed (the first No. 1 seed, of course, to ever lose to a No. 16 seed). UVA is the top seed in Charlotte this week after going 16-2 in the conference.

Duke (+150) - With or without Zion, the Blue Devils have enough talent to cut down the nets in Charlotte. They generally get up for this event better than anyone, even though six different teams have won the ACC Tournament in the past seven years (only Virginia has won it twice). Duke is still favored to win the national title.

North Carolina (+350) - Unlike Duke, North Carolina rarely peaks for the ACC festivities. The Tar Heels have generally been a regular season and NCAA Tournament kind of team under head coach Roy Williams. They certainly peaked in the regular season this time, with 16-2 ACC record and a sweep of the Devils.

Virginia Tech Hokies (+1600) - There's Virginia; there's Duke; there's UNC; and then there's everyone else. Florida State is actually the fifth choice behind Virginia Tech, but the Seminoles own a double-bye to Thursday's quarterfinals as the No. 4 seed. They are 12-1 in their last 13 games, with a loss only at UNC during this stretch.

The Players Championship

Rory McIlroy (+1200) - McIlroy is due for a win, having turned in four consecutive top-five finishes on the PGA Tour before contending through three days at last week's Arnold Palmer Invitational (finished T6 following a Sunday 72). But the Northern Irishman has never done much at this event and missed the cut last year.

Dustin Johnson (+1200) - Johnson has finished in the top 10 in four of his last five PGA Tour starts, including a title at the WGC-Mexico in his most recent outing. The 34-year-old American as back up to No. 1 in the world after starting the season No. 3. Like McIlroy, Johnson is looking for his first victory at The Players Championship.

Justin Thomas (+1600) - Thomas also has no history of any kind at The Players. He at least managed to finish T11 last spring and should be primed for an even better showing this time around. The fourth-ranked American has five top-10 performances in eight starts this season, including top-threes in Phoenix and at Riviera.

Tiger Woods (+1800) - Unexpectedly, Tiger missed last week's Bay Hill festivities due to a neck issue. By all accounts from Florida so far he is looking good and ready to go for The Players. The 43-year-old has occasionally been better than most at this tournament, winning it twice (2001, 2013) and finishing runner-up once.
Read more articles by Ricky Dimon