Sports Betting Futures Odds: NBA Second Half Begins with Walton on Hot Seat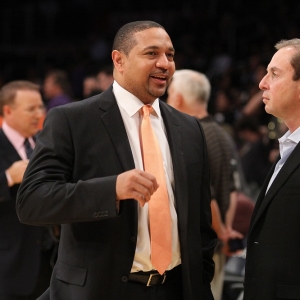 The proverbial second half of the NBA season will soon get underway now that all-star festivities are over. Will the Lakers make the playoffs? Will head coach Luke Walton survive the season-and beyond? Those are questions that will be answered in the coming months. Meanwhile, pitchers and catchers have reported for spring training and the golfers are heading south for a big one down in Mexico.


All odds provided by Bovada Sportsbook .

Head coach of the Lakers for the 2019-20 opener

Jason Kidd (+150) - If Walton exits, will it be Kidd? Or Jackson? Or someone else? In four-plus seasons as an NBA head coach, Kidd has taken his team to the playoffs on three occasions but never past the Eastern Conference semis. The 45-year-old was fired 45 games into the 2017-18 campaign with Milwaukee at 23-22.

Mark Jackson (+210) -Jackson got the Warriors off the ground but not to the heights at which Steve Kerr currently resides. The former all-star point guard (1989), now 53, has been out of coaching and in the commentary booth since Golden State got bounced in round one of the 2013-14 playoffs after compiling a 51-31 record.

Luke Walton (+250) - Walton has been on the hot seat since the beginning of the season. The Lakers didn't start particularly well, and they only got worse when LeBron James missed more than a month with a groin injury. If Los Angeles isn't in the playoffs (it is currently 10th in the Western Conference), Walton certainly won't survive.

Tom Thibodeau (+800) - Thibodeau went five-for-five in playoff appearance with the Bulls, but things did not work out for him in Minnesota. The Timberwolves went 31-51, 47-35, and then 19-21 before he got fired this season. Kevin McHale and Frank Vogel are also +800. Phil Jackson is +1500; LaVar Ball is +50000.

World Series

Boston Red Sox (+600) - The final wave of free agency finally got rolling when Manny Machado signed with San Diego on Tuesday. That means things with Bryce Harper and others will soon be sorted out, perhaps affecting odds. For now, though, defending champion Boston is among the favorites with much of a loaded roster returning.

Houston Astros (+600) - On paper, the American League is loaded with the Red Sox, Astros, Yankees, and perhaps some other legit contenders. Left-handed starter Dallas Keuchel will likely be headed elsewhere, but Justin Verlander is back and Houston still boasts one of the best lineups in baseball.

New York Yankees (+600) - The American League East will most likely be the toughest in baseball once again, as either New York or Boston will be reduced to a one-game playoff for the AL wild card following 162 regular-season games. Will Aaron Judge and Giancarlo Stanton help send C.C. Sabathia out on top?

Los Angeles Dodgers (+700) - Are the Dodgers again the beasts of the NL? They have been to two consecutive World Series, losing both times. Can L.A. get there again-and even win it this time? Machado just bolstered the division and Bryce Harper could make the NL more powerful if he sticks around (perhaps in Philadelphia).

World Golf Championship-Mexico

Justin Thomas (+900) - What's not to like about Thomas' chances this week? He finished runner-up to Phil Mickelson at this event in 2018 and he is coming off a second-place performance last week at Riviera. The fourth-ranked American will be looking to do one better, especially after blowing a four-shot lead to J.B. Holmes this past Sunday.

Dustin Johnson (+1000) - Thomas and Johnson are the two champions of this event since it moved from Florida's Trump National at Doral to Mexico. The latter finished a solid T7 last year, four shots behind Thomas and Mickelson. Johnson hasn't done much this season but he is coming off a decent T9 at Riviera.

Rory McIlroy (+1100) - The logical next step for McIlroy in 2019 is victory. The 29-year-old Northern Irishman has been solid but unspectacular so far this season, going 3-for-3 in top-five finishes despite no top-three results. McIlroy, who was T4 at Riviera with a Friday 63, is making his debut at the WGC-Mexico.

Bryson DeChambeau (+1600) - DeChambeau (T15 at Riviera) was the tour's breakout star in 2018 and he already owns two titles this season-including last month in Dubai. Like McIlroy, the fifth-ranked American is making his first appearance in Mexico. Jon Rahm and Rickie Fowler are also +1600, while Tiger Woods is +1800.

Best Picture

Roma (-330) - This isn't your traditional Best Picture favorite. Roma is a semi-autobiographical film directed by Alfonso Cuaron, set in the early 1970s in the Colonial Roma district of Mexico City. It is obviously even more of a lock to win Best Foreign Language Film and Cuaron is a shoe-in for Best Director.

Green Book (+375) - Green Book won Best Motion Picture-Musical or Comedy at the Golden Globe Awards. It is a biographical comedy-drama, set in 1962, about African-American jazz pianist Don Shirley. Former Oscar winner Mahershala Ali plays Shirley, while Viggo Mortensen also stars in the film.

The Favourite (+1500) - The Favourite had been more of a favorite, but it has since been surpassed in the odds department with room to spare by Roma and Green Brook. Set in 18th century royal England, it was also nominated for Best Picture-Musical or Comedy at the Golden Globes but lost to Green Book.

Bohemian Rhapsody (+2000) - Everyone knows this one-but that obviously doesn't necessarily mean it's going to win. It almost certainly won't, in fact. The story about Freddie Mercury is a great one, and Rami Malek won at the Golden Globes for Best Actor in a Motion Picture-Drama. A Star is Born is a +3000 fifth choice.
Read more articles by Ricky Dimon