Sports Betting Futures Odds: Can Anyone Left Beat the Warriors?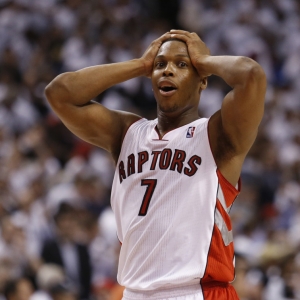 The NBA Playoff field has been whittled down to four, with the Rockets, Nuggets, 76ers, and Celtics having been recently eliminated. Are the Warriors vulnerable without Kevin Durant, or is another title a foregone conclusion? Meanwhile, it's another big week in other sports with both the Preakness and the PGA Championship taking place.


All odds provided by Bovada Sportsbook .

NBA title

Golden State Warriors (-165) - No Kevin Durant, no problem? Without him, the Warriors finished off Game 5 against the Rockets and then won Game 6 in Houston. They are still considerable favorites against the rest of the field to win it all despite Durant's questionable status.

Milwaukee Bucks (+230) - Will Giannis Antetokounmpo be the one to take down Golden State? Well, if he does, it will likely be due to the fact that he has plenty of help. The Greek Freak and company have been blitzing everything in their path so far-namely Detroit and Boston.

Toronto Raptors (+750) - Kawhi Leonard's Game 7 buzzer-beater will live in history no matter what happens the rest of the way. But it would become even more epic Toronto goes on to reach the NBA Finals and/or take the title. The Raptors are making their second-ever conference finals appearance.

Portland Trail Blazers (+1700) - It's a Curry family affair in the Western Conference Finals, with Stephen's Warriors going up against Seth and the Trail Blazers. Portland's run has been a wild one, complete with Damian Lillard's heroics vs. OKC and a great series from start to finish vs. Denver.

2019-20 English Premier League

Manchester City (-150) - The 2018-19 Premier League festivities ended on Sunday, so it's not too early to start looking ahead to next season. Manchester City is now the two-time defending champion, having just triumphed over Liverpool by one point (98-97). The Sky Blues went 32-4-2.

Liverpool (+275) - Liverpool's EPL campaign may have come to an end in unceremonious fashion, but the club still has plenty on its upcoming plate. It is facing EPL rival Tottenham in an improbable Champions League final. The Reds lost only one Premier League match this season.

Tottenham Hotspur (+1200) - Nobody else came close to contending in the 2018-19 Premier League, as second-place Liverpool was a ridiculous 25 points clear of No. 3 Chelsea. Still, Tottenham finished in the top four to secure a return trip to the Champions League in 2019-20.

Manchester United (+1400) - Man United may be the EPL's most storied franchise, but it has fallen upon hard times. Sixth place this year, Man U has not lifted the trophy since 2012-13. The Red Devils' coaching carousel has been out of control since 2013, so stability is lacking.

Preakness Stakes

Improbable (+175) - Omaha Beach, the Kentucky Derby favorite before being a late scratch, went one-two along with Improbable at the Arkansas Derby last month. Improbable placed fourth at the Kentucky Derby, making the first time he finished outside the top two in six races.

War of Will (+275) - While Improbable is related to 1977 Triple Crown campion Seattle Slew and 1992 Belmont Stakes winner A.P. Indy, War of Will comes from the same line as 2000 Kentucky Derby champ Fusaichi Pegasus. War of Will is coming off a seventh-place showing at Churchill Downs.

Alwaysmining (+650) - Among Alwaysmining's not-too-distant ancestors are A.P. Indy and 1990 Kentucky Derby winner Unbridled. Alwaysmining skipped the Run for the Roses and will be well-rested, having not raced since April. He is on a six-race winning streak at the expense of lesser competition.

Bourbon War (+700) - Bourbon War has won two of its last five starts, and its other performances were not exactly shameful. Also related to Unbridled and A.P. Indy, Bourbon War finished fourth at the Florida Derby on March 30 behind Maximum Security, Bodexpress, and Code of Honor.

PGA Championship

Tiger Woods (+700) - Tiger, who is seeking his fifth PGA Championship victory, has not played since winning the Masters. The key point in that statement is not that he hasn't played; it's that he…you know…won the Masters. Tiger triumphed at the 2002 U.S. Open when it was held at Bethpage Black.

Dustin Johnson (+900) - While Tiger is going for No. 5, Johnson is bidding for his first PGA triumph. He was infamously in the mix in 2010, when he missed out on a playoff due to incurring a penalty stroke on the last hole. Johnson's second-place finish at the Masters marked his fifth straight top-10 performance.

Rory McIlroy (+1000) - No one is playing better and more consistent golf than McIlroy right now. The fourth-ranked Northern Irishman has produced eight top-10 results in 10 starts this season, including a victory at The Players Championship. However, McIlroy-PGA winner in 2012 and 2014-struggled at the Masters (T21).

Brooks Koepka (+1000) - Whereas McIlory has been crushing non-majors over the past few seasons, Koepka has emerged as a specialist at the biggest events in the world. The third-ranked American has triumphed in three of his last seven major appearances and was T2 along with Johnson at the Masters.
Read more articles by Ricky Dimon