2020 ACC Basketball Predictions
by Robert Ferringo - 11/24/2020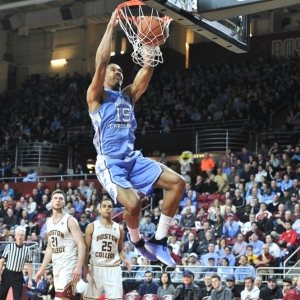 The ACC is still full of high-profile programs, recognizable coaches and some of the most talented recruits in the county. But this league faces just as much uncertainty as any other heading into one of the most unusual college basketball seasons of all-time.
One thing that you can always count on, even in these erratic and insecure times, is that the boys from Tobacco Road will play a heavy hand determining who wins the ACC championship this year. Duke and North Carolina welcome in nine of the Top 50 and 11 of the Top 70 freshmen in the country, with several one-and-done prospects suiting up in their preferred shade of blue.
Virginia, which has won two of the last three ACC regular season titles and the league's most recent National Championship, and last year's regular season champion, Florida State, will also be in the mix. Throw in another half-dozen teams capable of beating – or losing to – any team in the country on any given night, and the ACC should be one of the most unpredictable leagues in the country this year.
Here are Doc's Sports 2020-21 ACC basketball predictions and ACC basketball rankings:
The Favorite: Virginia (+200)
The Cavaliers came up just one game short of making it three straight years with at least a piece of the ACC regular season crown. Even in a 'rebuilding' season, the Cavaliers were a major factor in the league and national races. It's never pretty –Virginia was one of the worst offensive teams in the country last year – but it is effective. And with three starters back, a stud transfer in Sam Hauser, and two top tier freshmen recruits, there's no reason to think Virginia won't be a major player this year, too. Virginia was No. 322 in the country in bench minutes last year, and there are just never many moving parts with this group. That's one of their strengths. Along with crippling defense. It never goes out of style, so the Cavs are the safest bet to win the league.
The Challenger: Duke (+225)
Second verse, same as the first. Duke bid adieu to several highly touted prospects only to reload with a freshman class stacked with six Top 100 recruits. Two holdovers from last year, Wendell Moore and Matt Hurt, will lead the way until the newcomers are ready to make their mark. Jalen Johnson, a 6-8 swingman, is the prize of the incoming class. The usual questions will endure: can the youngsters defend? How will their chemistry be? But talent is talent. And Duke has as much of it as any team in the country.
The Dark Horse: Florida State (+300)
The Seminoles are the defending ACC Champions and continue to carve out a nice niche for themselves in the top tier of this league. The losses from last year's squad, which finished in the Top 5 and was in the mix for a No. 1 seed, are significant. But Leonard Hamilton has built a program that relies more on the strength of the collective than on any one individual player. They were No. 24 in the country in bench minutes last season. And luring the nation's No. 6 recruit, Scottie Barnes, helps take the sting out of losing four of their top eight guys. FSU will not be as good as last year. Yet their overall size and athleticism, along with slick play from M.J. Walker, will make them a major factor in the league again.
The X-Factor: North Carolina (+600)
Last season was an unmitigated disaster for the Tar Heels. North Carolina suffered just its second losing season in over a half-century. UNC doesn't do losing. So expect a major bounce back from this team. Roy Williams built a Top 5 recruiting class that features two intriguing guards and two power pivots. They will join the holdovers to give the Heels a team that's not short on size or scoring ability. Garrison Brooks and Armando Bacot, along with the newcomers, will dominate the post. So UNC's resurgence will rely on improved outside shooting on a team that was No. 306 in the nation in 3-point percentage last year. I don't know if there are many teams in the country as motivated as Roy Williams' Heels heading into this year.
The Disappointment: Louisville (+1200)
Chris Mack did a great job piecing together a top tier winner in Louisville last year. However, the Cardinals lose their entire starting five and six of their top eight players. Given the erratic composition of the offseason, the Cardinals have not had time to fully put the pieces together and establish any kind of chemistry. They are relying heavily on mid-major transfers Charles Minlend and Carlik Jones, and that is simply asking too much. This is a pretty obvious rebuilding season, and this is going to be a team to bet against throughout the campaign.
The Rest:
Miami (+4000) – Miami is a definite sleeper in the ACC. However, they have a Chris Lykes problem. The mercurial senior point guard is one of the top scorers in the league. However, he is a terrible leader and has an awful attitude and it holds this team back. I honestly think they would be better off if he were gone and Isaiah Wong and Harlond Beverly took over. The Hurricanes have a healthy blend of veterans, like Kam McGusty, Rodney Miller and Nysier Brooks, to go with their young prospects. I think that this team is undervalued. And if Lykes shows any maturity at all, this team should play its way into the NCAA Tournament.
Virginia Tech (+10000) – Even finishing .500 last year was a major overachievement in Mike Young's first season at the helm. Things should get worse before they get better in Year 2, though. Freshman Landers Nolley was a stud for them last season. He transferred on to Memphis and leaves a big scoring hole. Tech will try to plug it with transfers Cartier Diarra and Justyn Mutts. The Hokies aren't going to fall off a cliff, and Young has shown that he can coach. But there is a talent deficit with this team that will be tough to overcome.
Syracuse (+5000) – The Orange are going to be a dangerous team for bettors this year. Their quirky 2-3 defense makes them a dangerous underdog. And sharpshooters Joe Girard and Buddy Boeheim can both get hot in a hurry. Syracuse has four starters back from a team that was all over the map last season. They are still light on the interior, though, and the fact is that the Orange haven't been higher than a No. 8 seed in The Big Dance since 2014. Syracuse always seems to perform better when expectations are the lowest. The Orange had to pause all basketball-related activities for the two weeks prior to the start of the season. We will see if that impacts them early, and a slow start could an anchor around this team's season.
North Carolina State (+8000) – The Wolfpack will certainly miss senior starting guards C.J. Bryce and Markell Johnson, both of whom have graduated. They do still have a pair of solid starters in the backcourt with Devon Daniels and Braxton Beverly, as well as improved post performer D.J. Funderburk. That's pretty much it, though. Those are the only three seniors on the roster, as Kevin Keatts brought in a six-man freshman class to begin the rebuilding process in Raleigh.
Clemson (+20000) – Keep an eye on Clemson. They were only 16-15 overall and finished in just ninth place in the ACC last season. Yet they were the only team in the country to beat three teams ranked in the Top 6, taking out Duke, Louisville and Florida State. They had four other losses by four points or less or in OT and really can be a tough out. Clemson has four starters back, including clear go-to guy Aamir Simms. High-scoring transfer Nick Honor is now eligible after sitting out last season, and freshman P.J. Hall is the school's highest-ever recruit. This team might be a year away. But I can see them gumming up the works for top teams this season.
Notre Dame (+4000) – Last season was an emotional year for the Irish, starting with the offseason death of one of their players. They struggled through an up and down campaign but won 20 games and were peaking late in the season. Unfortunately, they lost their two best players, and this year's team really doesn't have any difference makers or high-end talents. This looks like it could be a rare losing season in South Bend.
Wake Forest (+50000) – Wake Forest made a fantastic hire in scooping up former ETSU head coach Steve Forbes. That's a great long-term move. It isn't going to help them in the short term, though. Wake Forest was terrible last year and will be even worse this season. They have just one starter back from a team that went 13-18, and this year's Deacons are going to get their brains beaten in.
Boston College (+50000) – Barring a massive overachievement, this is likely to be Jim Christian's last year in Chestnut Hill. He's just 75-119 with the Eagles over six seasons. Christian does have some pieces to make a last stand, though. Jay Heath, Wynston Tabbs and Steffon Mitchell are a decent core. The fate of this team relies on a plethora of transfers: Fred Scott (Rider), Makai Ashton-Langford (Providence), Rich Kelly (Quinnipiac) and James Karnik (Lehigh). How they gel and what they add is the key to the Eagles' season and Christian's career.
Georgia Tech – With Michael Devoe and Jose Alvarado, the Yellowjackets boast one of the most experienced and talented backcourts in the ACC. Tech will miss center James Banks, who is almost irreplaceable, but wings Jordan Usher and Moses Wright have both shown enough potential that they could take another step forward in their senior seasons. Lack of production from the bench and lack of options in the post are going to be major obstacles for this squad to overcome.
Pittsburgh – Just when Jeff Capel looks like he is starting to get some traction with this program, another key player leaves. This offseason it was the transfer of Trey MGowens, robbing the Panthers of returning all five starters and suiting up one of the best backcourts in the ACC. Pitt's only hope is that the starters continue to show improvement – they won 16 games last year after just 14 the year before – and that one of the freshmen or transfers blows up for this squad. If not, they will stay in the bottom tier.
Projected ACC Standings:
1. Virginia
2. Duke
3. North Carolina
4. Florida State
5. Syracuse
6. Miami
7. Clemson
8. Georgia Tech
9. Louisville
10. N.C. State
11. Boston College
12. Virginia Tech
13. Pittsburgh
14. Notre Dame
15. Wake Forest
Robert Ferringo is a member of the Basketball Writer's Association of America and a professional sports handicapper for Doc's Sports. He is considered one of the best college basketball handicappers in the country and has an unrivaled run of 13 of 14 winning nonconference seasons. Robert's $100-per-Unit clients have banked a remarkable $68,470 in the last 13 years with his nonconference picks (November and December) alone. There is no better moneymaker in the nation and Robert is looking forward to another amazing season. You can sign up for his college basketball picks and get more information here.
Doc's Sports college basketball handicapping team has set some lofty standards worldwide for college basketball handicapping. They normally do their best work at the beginning of the season. Get $60 worth of premium members' picks free. No credit card needed, and you will never deal with a salesman. Also, find out more about Doc's Sports expert handicappers college basketball results here. Get daily free college basketball picks on Doc's Sports NCAA hoops predictions page.
---
Most Recent College Basketball Handicapping