Learn to Bet on NCAA College Basketball: Expert Tips and Advice
by Chris Vasile - 6/2/2018
Aside from the World Cup, there is no tournament on planet earth that can come close to the excitement that March Madness brings on a yearly basis. All season, teams battle to be one of the 68 teams selected to partake in the tournament and have a chance to stun the world and win a National Championship. The tournament format of one-and-done makes each game so intense that it's basically must-see TV. But before we get to that point, take a few minutes and learn how you can possibly make a few bucks by betting on regular-season games.But don't do the homework by yourself as you can rely on College Basketball Expert Picks from Doc's Sports.
Doc's Sports offers free college basketball picks for nearly every game on our free NCAA basketball predictions page.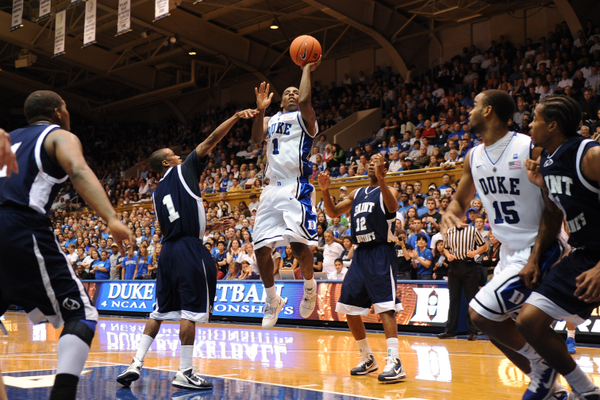 Betting on the College Basketball Moneyline
As a concept, this is the simplest wager you can make on any game in any sport. The moneyline betting option allows you to place a bet on the team you think is simply going to win the game. In college, much like the NBA, this bet includes overtime as there are no tie possibilities.
Example:
Auburn Tigers: +250 ML
Florida Gators: -270 ML
The moneyline betting odds correlate to the listed point spread. In this example, the Gators are the favorites and you must wager $270 dollars to turn a profit of $100. If you are a homer or love betting on the underdog, the Tigers will return you $250 for every $100 you wager on them if they pull off the upset.
Betting on the Point Spread
Regardless of if I am talking about the NFL, NCAA or NBA, the point spread is the most popular wagering option for bettors who love to test their basketball betting skills. The point spread is an indication of which team is the favorite and underdog heading into their matchup.
A negative betting line such as -5.5 indicates that the team is expected to not only win the game outright but win by six or more points. On the flip side, positive betting lines such as +5.5 indicate a team's underdog status. Not only is the underdog expected to lose, but they are expected to lose by at least six points.
When looking over betting options for the NCAA, you will come across lines that look like the following:
Auburn Tigers +5.5 (-110)
Florida Gators -5.5 (-110)
Depending on which side you select, your team must "cover the spread" in order for your wager to be graded a winner.
If you choose to take Auburn +5.5, you will be a winner if either one of these two scenarios play out. The first being Auburn wins the game outright by any score. The second being Auburn loses by five or fewer points, thus "covering" the +5.5-spread.
If you decided to wager on Florida as -5.5-point favorites, they must win by six or more points in order for wager to be graded as a winner.
One thing to keep in mind when betting on the point spread is that the point spread moves up or down depending on how much action a certain side is receiving. If you are able to lock in your bet at -5.5 and the line goes down to -3.5, your ticket would only be a winner if your team won by six or more points. If they won by four, they would have beat the closing spread of -3.5, but your odds are locked in from the time your ticket is printed or you click "place bet".
Betting Game Totals
It should come as no surprise to you that college basketball totals range anywhere from the mid 120s all the way up to 180 on some occasions. Different conferences tend to play different styles of basketball, so it's best to become a specialist in one or two conferences in order to give yourself the best chance at successfully laying down a "totals" bet.
Let's look at an example of a game total:
Auburn Tigers/Florida Gators - "Over" 134.5 -110, "Under" 134.5 -110
If you are to bet the "over" 134.5, there must be a total of 135 points or more scored in the game in order for you to be a winner. If there are 134 or fewer points scored, then those who bet on the "under" will cash their tickets.
If totals are whole numbers such as 133 or 132 and the total happens to land exactly on the number, your bet, regardless whether it's an "over" or "under" bet, will be graded as a "push" and your money will be returned to you.
A futures bet is a wager placed in the time leading up to the start of the event on a team or player that you believe is going to win their respective competition. Heading into the 2018 March Madness Tournament, the futures odds look like this:
NCAA Men's Championship: Michigan State +500, Villanova +500, Virginia +600, Duke +600, Purdue +750, Arizona +2000, Kansas +2000, Cincinnati +2200, Xavier +2200, Oklahoma +2500, etc.
In order for you to successfully cash your ticket, you must correctly choose the team that will win the NCAA Title at the conclusion of the tournament.
College Basketball Betting Strategies
College basketball can be extremely overwhelming for new bettors to bet on. There are more than 300 Division 1 schools, so it's nearly impossible to keep tabs on all of them and handicap every single game. The best betting strategy I would recommend is to stay away from the "marquee" games/conferences and focus your time and energy to specializing in lesser-known conferences like the WCC or Sun Belt or the Horizon League. These conferences may feature less-talented teams, but there is often value to be had in the lines since most of the betting public tends to focus on the ACC or the Big Ten or just any game in general that features a Top-25 team. Sportsbooks tend to put out the sharpest of lines when they know a game is going to be bet on in a big way, so lines from smaller conferences are a little less sharp; and with the right amount of handicapping they could be much more beatable.
Get free college basketball picks on every single game, or if you want our very best bet premium picks by the experts, sign up for your free $60 account with a guarantee.