Free Picks
»
MLB Picks
» 2018 Toronto Blue Jays Expert Predictions and Odds to Win the World Series
2018 Toronto Blue Jays Expert Predictions and Odds to Win the World Series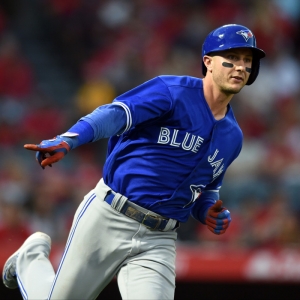 By the end of last season you had to make sure you brought your glove with you if you went to a Jays game because you very well could have ended up pitching. This squad had just horrifying luck on the mound, and it derailed any potential the season could have had. The fanbase demanded changes, and they were largely ignored. The tweaks they made were mostly minor, and it feels like the team doesn't quite know what it is.
Are they hoping that a healthy rotation can sneak this squad into the wild card hunt? Or are they just treading water, waiting to trade away Josh Donaldson at the deadline and then bide time until Vlad Guerrero Jr. and Bo Bichette can come up from the minors to save the team? I don't know, and I'm not entirely convinced that they know, either.
Blue Jays 2018 Projected Lineup
The infield for the Jays just needs to stay healthy. There is no way around that. Last year the three supposed starters were absent for ridiculous amount of time. Josh Donaldson missed 49 games at third, while Troy Tulowitzki played only 66 games and Devon Travis just 50. You can't put out your sub-optimal lineup for as many games as Toronto had to and hope to be okay. And Tulowitzki is on the shelf again, with reports that he could be out until the all-star break. Luckily, that's not as big a deal as it could be because he seems to be on the downward slope of his career curve. The team added Yangervis Solarte and Aledmys Diaz via trade, and both are capable of eating up lots of innings in the middle of the field. Both could easily start out of camp and could keep starting for a while. Neither will be a superstar, but they are capable. And if Justin Smoak at first can come close to replicating last year's breakout season then the infield should be in better shape than last year.
Donaldson is going to be a big focus for everyone on this team. He's entering free agency after this year, though that presents a different reality than it did a year or two ago given his age and how the market has dried up. I would have said he had no chance of returning to Toronto not too long ago, but now I could see him coming back - but only if he is willing to accept less term than he likely dreams of. If things go off the rails early, though, the calls to trade him will be intense. There are a lot of variables here, but what we can be reasonably sure of is that if he is healthy he will put up big numbers.
Kevin Pillar returns in centerfield, but the rest of the outfield has a new look. Jose Bautista had long been a fixture in right, but he's gone. The team signed Curtis Granderson and traded for Randal Grichuk, and they will likely get first shot at the starting jobs. I'm more optimistic about the latter than the former. Teoscar Hernandez had a strong fall for the Jays last year after coming in as part of a deadline deal, and though he might not crack the team out of camp he'll be pushing for a corner outfield job, too. Bautista was so bad last year, and left field so inconsistent, that there is a good chance that the outfield will be more productive than it was. And it absolutely needs to be.
So, when you add up the pieces, and hope that Kendrys Morales has a better year at DH, there is definitely strong reason to believe that this squad will be a real improvement over the team last year which, shockingly, was last in the AL in runs scored. They aren't likely to return to 2015 levels where they outscored every other team in baseball by at least 127 runs, but there is a lot of middle ground, and they should find their way into it.
Blue Jays 2018 Projected Rotation and Closer
There is a lot of uncertainty here. On paper this rotation - Marcus Stroman, Aaron Sanchez, Marco Estrada, J.A. Happ and Jaime Garcia -- has the potential to be one of the better ones in the league. Stroman and Sanchez have very high ceilings, and the others are all as good or better than they need to be in their slot in the rotation. But injuries were a huge problem last year, and already Stroman is dealing with shoulder issues that have limited his spring. If they get the rotation they are hoping to get then they will be a dangerous team. If they get the rotation they had last year then they will be bad. The range on this team based on their pitching is very wide.
Joe Biagini started a lot last year and will likely begin in the pen as a long relief option and first-call starter replacement. And beyond him the team needs some bounce-back seasons. Closer Roberto Osuna is a stud, but he struggled with some mental and physical issues last year and needs to once again find the mojo that made his as good as any in the game in 2016. Aaron Loup can be better than he was last year. Tyler Clippard was just added as a free agent. He's coming off a totally awful year but has been an all-star and can and must be better than he was. Seung Hwan Oh was great in 2016 as a 33-year-old rookie for the Cardinals but far less effective last year. The pieces are here, but they need to collectively improve to lift this team - especially if the rotation can't stay healthy.
Blue Jays Futures Odds
The Blue Jays are a middle-of-the-pack team in the eyes of oddsmakers - BetOnline has them at +4000 to win the World Series, which puts their chances behind 15 other teams. They sit at +1600 to win the American League, which ties them with Seattle behind six other teams. And they are the third choice to win the AL East at +800, which is far behind the Yankees and Red Sox but far ahead of the Rays and Orioles. The season win total sits at 81, with the "under" slightly favored at -115 compared to -105 for the "over". Josh Donaldson sits at +2800 to win the home run title, which puts him well behind the two leaders from the Yankees but in the mix among the second tier of contenders. Justin Smoak is a long shot at +6600.
Blue Jays 2018 Predictions
The range of thought on the team is very wide. I've seen projections of as few as 75 wins, but FanGraphs, which has a reputable and non-subjective criteria, has them at 87 wins. If everything falls into place I think they could be quite solid. They get to feast on Baltimore and Tampa Bay all year, and I'm not quite as bullish on the Yankees and Red Sox as some, so the division is manageable. I think their ceiling is definitely as a wild-card team, and I like the over on the season win total. If they get off to the awful start they did last year, though, all bets are off, and it could be an ugly year full of changes.
Doc's MLB handicappers are offering $60 worth of member's baseball picks free - no obligation, no sales people - Get $60 worth of premium members' picks free. Get free MLB picks daily at Doc's Sports baseball predictions page .
Read more articles by Trevor Whenham
Get all of Today's MLB Picks
Get all of Today's Guaranteed Expert MLB Picks