Free MLB Picks: Best Season Win Total Value Wagers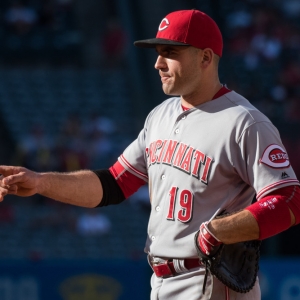 We've looked at the season win totals for every team in baseball this week. It's an exercise that I look forward to every year. And now that we have done that, it makes sense to take the next step. Here we are seeking out the five best value plays on the season win total board. It's coincidental, but still interesting, that four of these five teams are pretty lousy. (Lines are from BetOnline)
Cincinnati Reds - o/u 79.5: The Reds have had an interesting offseason. And I mean interesting in the most complimentary, might-be-a-train wreck-but-it-should-be-fun-to-watch sort of way. They overhauled their pitching staff. They made a big deal with the Dodgers. They think they are onto something. I give them credit for shaking things up after their long-term residency in the cellar of the NL Central. And I like the rotation - or at least the potential of it. But when you are relying on Yasiel Puig as the centerpiece of a transformation, that makes me uneasy. They should take a step forward, but they won only 67 games last year, so this is too much progress to expect. The under looks good here.
Kansas City Royals - o/u 69.5: After their period of success, the Royals have again hit a rough spot. And it's tough to see the road out right now. They won 58 games last year and didn't feel like they were unlucky to land there. And the offseason was very uninspiring unless Billy Hamilton suddenly becomes less one-dimensional, Homer Bailey remembers how to pitch again, and the bullpen exceeds the generally mediocre names that were added. The AL Central is a bit of a mess, and the Royals will be in a fight with the Tigers to finish last in the division, but that won't help Kansas City shine too much. They would have to be 12 wins better to go over this number. That seems wildly optimistic.
Miami Marlins - o/u 63.5: Derek Jeter's latest gem as the CEO of this team was his assurance that fans won't be worried about the scoreboard because the stadium experience will be great. Inspiring. My hatred of him as a player was so intense that I had very low expectations of him as an owner, but somehow, he has found a way to fall far below them. What a pathetic mess. They have traded away everyone with a pulse and replaced them with such up-and-coming gems like Curtis Granderson and Sergio Romo. There isn't a lot of talent here, and there will be even less optimism or joy around the team. It's going to be a grind starting on day one. That's a hard way to survive 162 games. They won 63 games last year, and I find it really hard to believe that they are better. And that division is just brutal. The under stands out here.
St. Louis Cardinals - o/u 88.5: I really like what this team has done. I love the addition of Paul Goldschmidt. They paid a fair price for him. His talent is very impressive. And he fits nicely into this roster. It's the addition I like most this offseason - and that includes Machado and Harper. And the rotation is very talented, and I expect big things from it. This is a balanced and deep roster, and it is going to be tough to play against. The NL Central is very tough up top, and they are in a three-horse race that is going to last for a while. But they get the nod from me as the likely winners of the group. They won 88 games last year, and they have improved solidly. Last year it took 96 wins to win the division, and it should take about the same this year. The over has a whole lot of value in this spot in my eyes.
Toronto Blue Jays - o/u 74.5: It might just be my Canadian bias speaking, but I like the over here. I'm not saying that they will contend, and frankly I don't think that .500 is in the picture, but there is room for them to go over on this one. The top of the rotation with Marcus Stroman and Aaron Sanchez has a lot of upside if both can put their past issues aside and return to their best form. And while the rest of the rotation isn't obviously awesome, there is a combination of veterans and young guys that could be decent at eating up innings if things go well. The roster isn't experienced or particularly great, but there is plenty of upside - led by baseball's No. 1 prospect Vlad Guerrero Jr. and some other young talent. This team won 73 games last year in a season that was ugly in every possible way. There is less obvious, experienced talent, but the atmosphere should be much better, and there is hope - something that there really wasn't last year. They could win 78. I like the over.
Read more articles by Trevor Whenham
Get all of Today's MLB Picks
Get all of Today's Guaranteed Expert MLB Picks