Long Shots Can Be Good Investment in MLB Futures Market
by Wes Clayton - 4/10/2019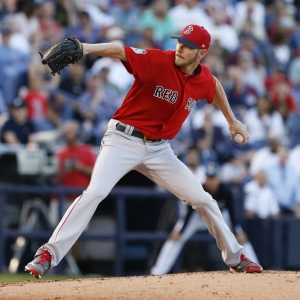 A lot has been made of the Orioles, Royals, and Marlins being the biggest long shots in history to win the World Series. As of April 10, 2019, they are +50000 at Caesars Palace. This means a $100 wager would win you $50,000! Those are definitely a long shot and not a smart thing to "bet the house" on, but not a bad idea to throw some lunch money on it. Since 1985, the biggest long shots to win it all were Josh Beckett's "Florida" Marlins at +7500, and the 1991 Minnesota Twins at +8000 with Jack Morris leading the way. Here is the list of World Series Champions futures odds, as of opening day dating back to 1985.
2018 Red Sox +1150
2017 Astros +1175
2016 Cubs +660
2015 Royals +3300
2014 Giants +2500
2013 Red Sox +2800
2012 Giants +2000
2011 Cardinals +2500
2010 Giants +2500
2009 Yankees +500
2008 Phillies +2000
2007 Red Sox +700
2006 Cardinals +700
2005 White Sox +2200
2004 Red Sox +400
2003 Marlins +7500
2002 Angels +4000
2001 Diamondbacks +1000
2000 Yankees +250
1999 Yankees +200
1998 Yankees +600
1997 Marlins +1000
1996 Yankees +700
1995 Braves +400
1994 -Strike
1993 Blue Jays +600
1992 Blue Jays +700
1991 Twins +8000
1990 Reds +1600
1989 A's +500
1988 Dodgers +800
1987 Twins +5000
1986 Mets +700
1985 Royals +1800
You'll notice that only 15 of the 33 years listed here have favorites of +999 or less. That means more often than not, a team around +1000 wins the World Series. In fact if you add up all the odds from every year it comes to +60435. If you divide that by the 33 years of odds history, the AVERAGE World Series winner is a +1831 favorite!! If that's not a solid reason to take some mid-tier teams I don't know what is!
Here are the current MLB Futures odds as of April 10, 2019 (courtesy of Caesars Palace):
Astros +525
Yankees +560
Dodgers +625
Red Sox +750
Phillies +1200
Brewers +1250
Indians +1400
Cardinals +1800
Nationals +1800
Cubs +2200
Mets +2400
A's +2500
Mariners +2600
Rays +2800
Twins +3000
Braves +3500
Padres +3750
Rockies +5000
Angels +5200
Pirates +5500
Diamondbacks +10000
White Sox +15000
Reds +20000
Blue Jays +22500
Tigers +25000
Giants +27500
Rangers +32500
Royals +50000
Marlins +50000
Orioles +50000
Betting the favorites or an individual's favorite team is usually what the public will wager. However, the favorites do not bring home a huge payday. For example…putting $100 on the Astros, Yankees, Dodgers or Red Sox would not even bring in $1,000. However, taking a long shot like the Detroit Tigers (7-4 currently) for $100 nets $25,000! Am I saying betting Detroit to win it all is a good idea? Not necessarily. However, this is all about finding value. One might think there is not enough value in with the Top 10 favorites, and the likelihood that any of the Bottom 10 teams going all the way is way too unrealistic. Therefore, we will dive into teams 10-20 on the current odds to see which team provides both a realistic shot to win it all, and a pretty nice payday to boot.
10. Colorado Rockies (3-9)
Losers of five straight games, the season sure has gotten off to a "Rocky" start. Charlie Blackmon hasn't looked like himself offensively or defensively. They really could use Daniel Murphy as soon as possible, and he should be back by May. The pitching staff has a bloated 5.52 ERA collectively (pitching at Coors Field doesn't help), and they have hit only eight home runs in 12 games! That's while playing five games at their home launching pad! I look for them to bounce back and play better. However, with the young talented Padres coming on strong, Colorado might not make the playoffs.
9. Pittsburgh Pirates (5-4)
This team won 82 games last year. However, their stats were pretty average across the board. They are 29th in MLB with six home runs. And while the pitching has been a bright spot, having to contend with the likes of the Brewers and Cubs, making the playoffs much less moving on past that seems impossible.
8. Los Angeles Angels (6-6)
Look, I know they've been crushing the ball the last few games, but that's after scoring 13 runs in their first six games. Streaky! Yes, Mike Trout is the best player in the game. However, looking at the division, Oakland is better on paper, and the Astros are a Top 4 team in the league. It'll be tough for the Halos to make the postseason.
7. Atlanta Braves (7-4)
I love the Braves. The future seems bright. They are 10th in the league in OPS and 10th in MLB in opponents team batting average. Again, though, this division is extremely tough having to compete against the Nats, Phillies, and the surging Mets. They'll have a tough time making it to the postseason for the second straight year.
6. San Diego Padres (7-5)
I think the Padres can win the wild card. This is a young, talented team with a true leader in Eric Hosmer, who has nice experience. I love Tatis, and the Machado signing could be the difference maker. They are 11 th in the league in ERA, and Colorado will be their only other competition in the division other than the Dodgers. I think this is the year things finally turn around for the Friars.
5. Minnesota Twins (6-3)
Minnesota could very easily win the division. The Indians are banged up already. The rest of the division is terrible. They are fifth in the league in batting average and 13th in team ERA. If their pitching staff and bullpen can hold up, they have a shot at the division and maybe even a playoff run.
4. Oakland A's (7-8)
Shaky start for the Athletics. They just ended their four-game skid last night, and the bats have seemed to come around. They have offensive guys like Davis and Semien who will put up numbers. However, with the Mariners and Astros ahead of them in the division, I don't know if they will be able to keep up long term.
3. New York Mets (6-4)
The Mets, like the Braves, have to deal with the Nats and Phillies. DeGrom should be the stud he is all year, but will "Thor" stay healthy? Wheeler already looks like the "Wheels" are coming off after finishing last year strong. I don't think Tim Tebow is the answer, either. The Mets will show improvement, but look for them to be on the outside looking in.
2. Tampa Bay Rays (9-3)
I love Kevin Cash. I think he's one of the most underrated managers in baseball. The Rays are already 9-3 and aren't afraid of the Yankees or Red Sox. I wouldn't be surprised to see them make a run and even win the division. They are No. 1 in team ERA at 2.06 and have what you need to make a playoff run, which is a stud ace pitcher in Blake Snell. Look for him to improve on a Cy Young season last year and get a massive contract in the next few years.
And the best futures value on the board…
The Seattle Mariners
Seattle has scored 104 runs in their first 13 games (average of eight per game). That is astounding! Even the mighty Dodgers can't keep up at 87 runs so far! Add this to a decent pitching staff, and a Top 10 bullpen ERA, and you have a recipe for amazing value! This is a team that can give Houston a run for their money in the division and can make some noise in the playoffs. If I were an opposing pitcher, I would want nothing to do with these guys. Whatever Scott Servais and hitting coach Tim Laker are doing, it's working. I can legitimately see the M's making a run here and possibly winning it all!!
Get all of Today's MLB Picks
Get all of Today's Guaranteed Expert MLB Picks