MLB Individual Player Home Run Props with Expert Betting Predictions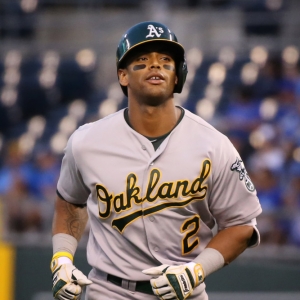 Baseball is almost here. Spring training games are mostly unbettable - and often unwatchable at this point. It's the time when we have to find ways to kill time until the season starts. One good way to do that is to look for ways to exploit our opinion of the coming season through props. And the individual player totals for home runs at BetOnline are juicier than a lot of other options. Here are the numbers that stand out:
Khris Davis, Oakland - over/under 37.5: Davis is an underappreciated hitter who would be a much bigger star in a relevant market. He led the American League in home runs last year by five, after finishing third and then second in the two previous years. And he has averaged 44 home runs per year over that time. He wasn't nearly this productive in Milwaukee, but he's just one of those guys who found his place and has thrived. And he's still only 31, so he has time left in his prime. We got a sneak peek at where he is at because the A's started their season early in Japan against Seattle, and Davis went deep already. Good omen. Easy over.
J.T. Realmuto, Philadelphia - 18.5: Realmuto is not a guy with massive power, but his home run trajectory has been moving in the right direction the last four years - 10,11,17,21. And the 21 last year came in only 125 games. Now he is on a much more competitive team, which means that games will be easier to get up for many days and that he will be more protected in the lineup. I'm cautiously optimistic. Over.
Aaron Judge, New York Yankees - 35.5: Basically, this is just a bet on Judge's health. Two years ago as a rookie he hit 52 home runs in 155 games and seemed like he was the next big thing. Last year he struggled to stay healthy, and had 'only' 27 home runs in 112 games. He hit his 26th home run on July 21, so he was on pace for a strong season before things went off the rails. He's huge and plays violently, so that doesn't help. But he's young enough to be optimistic. I like the over here - but I acknowledge that that is at least in part because baseball is more fun when Judge is sending balls into orbits.
Giancarlo Stanton, New York Yankees - 40.5: Stanton is a great player and one of our best active sluggers. But he has gone over this number just once in his career - the 59-dinger ridiculousness of 2017. Injuries have limited him at times, but he played a full season last year and had only 38. I expect him to be more comfortable this year, so I lean to the over. But it's not nearly the sure thing some people would say it is.
Byron Buxton, Minnesota - 16.5: Last year was an absolute disaster for Buxton - he was banged up, and then was so ineffective he wound up in Triple-A. His career hasn't gone as planned yet, but there is dizzying potential, and he came into this season looking like a new guy after a vigorous offseason program. I feel optimistic - probably more than I should. He had 16 home runs in 140 games in 2017, so I am going to take his body overhaul as a sign of his renewed commitment, and I'll take the over.
Yasiel Puig, Cincinnati - 24.5: Puig had 23 home runs in just 125 games last year. Now he has gotten a fresh start after what wasn't a particularly positive environment in L.A. at times for him. The Reds clearly want him, and he is a centerpiece. He doesn't have to adjust to a new league. If he thrives in his new surroundings, and under much less pressure, he could definitely beat this number.
Josh Donaldson, Atlanta - 24.5: Donaldson is understandably bitter about how his time in Toronto ended and how he didn't get the free agent windfall he was imagining. He has a one-year deal in Atlanta, and if he can prove himself he'll get a couple more years at a fat price somewhere. Last year was a disaster, with just 52 games played between two teams. If he is healthy, though, he will be much better - and it will help to be on a real contender here. He was on pace for 25 homers last year, and that was at less than full strength. I'm bullish on the former MVP.
Shohei Ohtani, L.A. Angels - 22.5: This is an interesting number. Ohtani was one of the most thrilling players in the game until his elbow blew up last year. It has been rebuilt, but he isn't likely to return until May - he isn't even taking BP outdoors yet. He isn't pitching this year, so he will have fewer distractions. Last year he played in 104 games and had 22 home runs. If he's healthy, he should play in about as many games. Can he step his game up? I'll be cheering for it, but I can't bet on it with any confidence.
Read more articles by Trevor Whenham
Get all of Today's Free MLB Picks
Get all of Today's Expert MLB Picks