Free Picks
»
MLB Picks
» MLB Individual Player RBI Totals Props Odds and Expert Betting Predictions
MLB Individual Player RBI Totals Props Odds and Expert Betting Predictions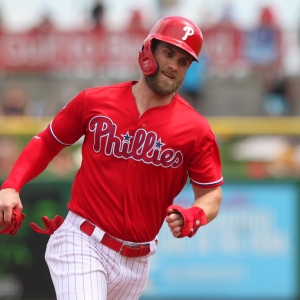 The best way to get paid as a baseball player, as we have seen repeatedly this offseason, is to drive in a whole lot of runs. What we are going to look at here is a list of guys who are going to drive in a whole lot of them. And our job is to figure out just how many they are going to drive in. Here's a look at the most interesting of the individual player totals for RBIs listed at BetOnline:
Bryce Harper, Philadelphia - over/under 100.5: For the amount of money Harper is making, you would expect him to blow past this number. But here's a fact that could come as a surprise to you - Harper has never beaten this number. He came very close last year, winding up at exactly 100 - not coincidentally, in the season in which he played the most games of his career. He's had 99 back in 2015 as well. If he can stay healthy and handle the pressure of the big deal, then he can certainly be in range for this one. He doesn't have to adjust to a new league -- or even a new division. And Philly isn't more hostile to hitters than Washington. I lean over, but not enough to bet it at this number.
Manny Machado, San Diego - 94.5: Since we are on the theme of new teams and big deals, Machado is the next logical stop. Last year he wound up playing a full 162 games between the Orioles and Dodgers, and he wound up with a career high 107 runs batted in. He had 95 and 96, respectively, the two years before that as well. And he is only 26. There is the risk he'll take a while to settle in. However, if you are going to lean towards a side of this one, it has to be the over.
Buster Posey, San Francisco - 74.5: Posey is about to turn 32 years old, which makes me feel extremely old. He only played 105 games last year and has been on a productivity decline the last three years. He might be able to reverse things a bit, but he hasn't gone under this number since 2015. This is going to be a lousy team this year, and that won't help. I lean under here.
Paul Goldschmidt, St. Louis - 100.5: I am very optimistic about Goldschmidt in St. Louis. Really optimistic. It seems like a really great fit for a team that has a high top-side potential. He has had at least 110 RBIs three different times. And those have been in odd numbered years, so he is due this year - if you believe in crazy trends like that. He wasn't as productive last year despite playing a full year, but I'm not too worried about that. He should be happy for a fresh start, and he will be very motivated to earn a last big payday in free agency after this year. I like the over.
Kris Bryant, Chicago Cubs - 94.5: Bryant struggled to stay healthy last year and played in only 102 games. He's only 27 and four years in, but it feels like he needs a reboot to his MVP career. The Cubs should be good, and he is at least starting healthy. He went over this number in the first two of his four seasons, and that is obviously still in him. I like the over here, but not enough to go all in on it.
Jose Abreu, Chicago White Sox - 100.5: Abreu missed 32 games last year and wasn't as effective when he was playing as we had grown used to. And now he is 32-years-old. We have to be a little concerned that he will be on decline. But he has had at least 100 RBIs in each of the four years before this one, so it's not simple to write him off. I lean to the under, but not with any overwhelming conviction.
J.D. Martinez, Boston - 102.5: Martinez is coming off a massive two-year stretch - 130 RBIs last year in Boston, and 104 in just 119 games between Detroit and Arizona in 2017. He's on a team that should be very good again this year, and he's still in his prime. It would be very tough to take the under on this number.
Mike Trout, L.A. Angels - 97.5: Trout, who is about to be a stunningly rich man, has gone over this number twice - 100 in 2016 and 111 in 2014. He hasn't had complete health the last two seasons, but he is healthy now, and motivation should be at a high level. I'm not racing out to bet heavily on the over, but I'm not touching the under, either.
Nolan Arenado, Colorado - 120.5: The theme on this list is guys who have gotten massive pay raises, so it is fitting that we end with Arenado. This is an aggressive number, but he is averaging 126 RBIs per season over the last four, he still plays in a very favorable stadium, and he turns 28 in April. This is the highest number on the board, but it isn't high enough. The over is playable.
Read more articles by Trevor Whenham
Get all of Today's MLB Picks
Get all of Today's Guaranteed Expert MLB Picks