MLB Playoffs Predictions: Teams from Last Season Set to Repeat?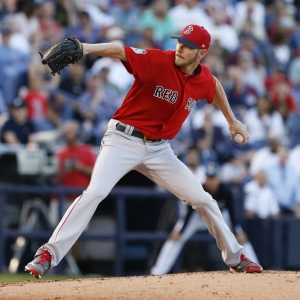 Ten of the 32 teams in baseball will make the playoffs. And history tells us that while some of those 10 teams will be the same ones that made it last year, it won't be the same group. Baseball's postseason is the toughest to make in pro sports, so the margin for error is small, and there are almost always more decent teams than there are spots for them. So, let's do what we do every year at this time and look back at last year's field to see how optimistic we feel about their chances this year. (Odds to win the World Series are from Bovada ):
AL
Boston Red Sox (+600): The defending champions are one of the three co-favorites this year. But defending a championship is very hard, and the other two favorites are in the American League as well so the path to glory is going to be brutal. But the team had a strong roster last year, they didn't need much overachievement last year to win it all, and they largely return the same roster. The only big concern is that Craig Kimbrel is still a free agent, and he had 42 saves last year. That's a concerning hole to fill. Still, this is a very good team that is well coached and will be dangerous. It would be a big upset if Boston didn't make the playoffs.
Cleveland Indians (+1400): This is a very interesting case. The team lost 13 players from the roster they took into the playoffs last year. It wasn't just filler, either - Edwin Encarnacion, Yonder Alonso, Michael Brantley, Yan Gomes, Melky Cabrera, Josh Donaldson and others. That's a big hit, and the only big-name talent they added is Carlos Santana, who they had lost just a year earlier. They aren't starting from scratch with a rebuild, but this is certainly a retrenchment. But the AL Central is almost impossibly bad. Chicago is making some moves forward, but it's slow and they are young. Minnesota is spinning their tires. Detroit is awful. Kansas City is worse. Cleveland will likely win this one and go to the playoffs by default.
Houston Astros (+600): We won't spend much time here because we don't need to - this is a really good team with talent everywhere through the lineup, and their division is set up for them to not just win it but to have it clinched in August. They are my pick to win it all this year.
New York Yankees (+600): It was an odd offseason because there were huge free agents out there, and the Yankees weren't serious players in either of the pursuits. But there is no shortage of talent here, even with Didi Gregorius out for the start of the year. I love James Paxton in the rotation but am far from crazy about the bottom half of the rotation. Still, the bats they have are going to lift them to the playoffs.
Oakland Athletics (+2500): Nope. Their rotation has dealt with injuries and is really questionable to start the season. They lost more than they gained in the offseason. And they really overachieved last year. This team is going to take a big step back - like maybe even 15 games.
NL
Atlanta Braves (+1400): I am probably higher on this team than most people. The Phillies just got Bryce Harper to add to a strong roster. The Mets got aggressive, too. The division is going to be tough. But I really like the young talent, I love the rotation, and I am sneaky optimistic about the Josh Donaldson addition. I'm not mortgaging my house, but when I write my playoff bracket out in pencil the Braves are in it.
Milwaukee Brewers (+1200): I wasn't ever bought into this team last year, and I will admit that I was wrong. But I remain pessimistic this year. The young rotation has a ton of hype, but I am not confident that they will live up to it, and I am not confident that Christian Yelich can match his perfect season of last year. The NL Central is tough, too, so the margin for error is smaller. I am not buying what they are selling.
L.A. Dodgers (+700): The Clayton Kershaw injury really concerns me. And I have been making a practice of being consistently negative about this team for years, and I am not going to change that now. I just don't trust anything about them mentally. And I question the hit to their swagger that they went hard for Bryce Harper and lost out. They'll probably make it because the division isn't great, but I am now a big fan of the Padres just because they aren't the Dodgers.
Chicago Cubs (+1100): I am going to my first Cubs game at Wrigley in July. I want it to be relevant - as relevant as a game on a Monday against the Reds can be, anyway. And I feel pretty good about it. They had a quiet offseason, but still have plenty of upside because of guys like Yu Darvish who could improve this year in a big way. They disappointed last year despite the playoff berth, and there is upside. They win the division in my world.
Colorado Rockies (+2000): Nope. Everything fell together last year. I still like the youth - especially on the mound - but it wasn't the kind of success that repeats itself typically. Great story, and I hope I am wrong, but I am not optimistic. They could be a wild card contender, but I am not convinced they will wind up as the second-best team in their division, and the West certainly isn't providing two wild card teams. Frankly, I don't think they will provide one.
Read more articles by Trevor Whenham
Get all of Today's MLB Picks
Get all of Today's Guaranteed Expert MLB Picks