Two MLB Teams That Should Be the Most Changed After Trade Deadline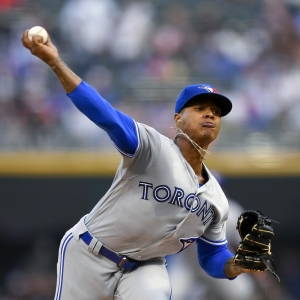 MLB has simplified their trade deadline in a big way this year. Before there was all the waiver and non-waiver mess and it dragged on forever. Now if a player isn't traded by July 31 then he isn't getting traded - period. There is a lot we still don't know about what teams will look like after the deadline. But we have already seen enough to know that some teams will look very different, and that there will be an impact on their betting performance as a result. Here's a look at two teams - one in each league - that are most clearly going to be changed by the deadline, and what it means for bettors. These aren't the only teams that will make several moves, but they are among the ones likely to be most dramatic:
Toronto Blue Jays
The city of Toronto has one title this year now, and it's even clearer than it already was before the season that the Jays won't be adding a second. This is a terrible team. They have gone young, and it is working out okay on that front - Vlad Guerrero Jr. is starting to get really comfortable, and he's not the only one. But they are going nowhere in a hurry, and their schedule only gets tougher. At this point, finishing .400 would be a miracle, never mind .500. It seems like the front office came into this season hoping they could just re-jig instead of having to fully rebuild. But things are bleak in the short term, and it is time to embrace reality. The good news is that they have some pieces that will be valuable.
Marcus Stroman is the big one. He's pitching as much like an ace as you can on a team this bad, and he will be in demand. Aaron Sanchez continues to have various issues with his fingers, but his numbers aren't bad, and will be an in-demand starter at a fairly reasonable price, too. Closer Ken Giles is on the DL right now, but he should be fine, and he has been lights out this season.
At the plate things aren't as rosy. Justin Smoak isn't having a great year, but a team that needs a bit more power could add him, and there is no long-term commitment to him. Veteran second baseman Eric Sogard is having a surprisingly strong year at the plate and could be useful. Shortstop Freddy Galvis isn't hitting great, but as a utility guy he's certainly functional.
The Jays should hang out the for sale sign soon, if they haven't already. And of the guys listed it would be a surprise if at least five aren't gone. The rotation is already a mess - Edwin Jackson and his 10.22 ERA keep getting starts because they have no one else - and it will only get worse without Stroman and Sanchez. Much worse. It's going to be an ugly close to the year - and a good time to bet against them. But it's all about getting mileage for the youngsters, and they will certainly do that.
San Francisco Giants
After two straight underwhelming seasons, it sure seemed like the Giants should have been selling before this season. But it seemed like they thought they could be relevant. They have proven that that was foolish, sitting at 28-38 and 16.5 games out in the NL West. They are playing some of their best baseball right now, but that shouldn't distract them. They have a lot to move, and we should see them being very active.
Madison Bumgarner is the obvious gem. Some team is going to empty the vault for him. And Will Smith will be very much in demand as a closer as well. The pitching market doesn't have to end there if teams are interested, either. Jeff Samardzija is pitching well, and despite his age he could be useful. Drew Pomeranz and Derek Holland could be solid bullpen pieces with the ability to be starters if needed. And Sam Dyson has done a really nice job in relief.
At the plate there are several options, too. Brandon Belt's contract limits things a little, but the first baseman is hitting well and could be useful. Evan Longoria hasn't hit well, but he's Evan Longoria, and a team could want his veteran presence. Brandon Crawford has forgotten how to hit, but he has been better than his current numbers by far, and someone could take a shot. They grabbed Kevin Pillar from Toronto before the season and could look to flip him. And, most interestingly, they could even look at dealing Buster Posey if the price was right, because as good as he has been for them, he's not going to be a part of things by the time the team pulls off a rebuild.
Once Baumgarner moves, we could see the floodgates open. This is a proud team that has seen a lot of recent success, so embracing a big rebuild will be a tough pill to swallow. They have a lot of value to maximize right now, though - especially on the mound - and it's the right thing to do. They haven't been a horrible team to bet on this year -- they have actually shown a very slight profit on the road - but once the shift of this roster happens it is going to get very ugly.
Read more articles by Trevor Whenham
Get all of Today's MLB Picks
Get all of Today's Guaranteed Expert MLB Picks