Twins vs. Eagles Predictions, Picks, Betting Tips 5/26/20
by Jon Bateman - 5/25/2020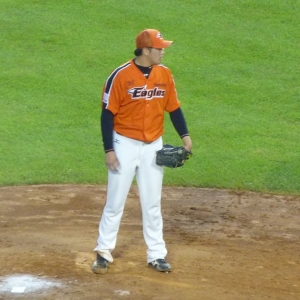 Match Details
League: Korean Baseball Organization League 2020
Match: LG Twins vs. Hanwha Eagles
Date: 26/05/2020
Location: Daejeon Hanbat Baseball Stadium, Daejeon, South Korea
Odds: LG Twins -222, Hanwha Eagles +163; O/U 8.5
The 39th Korean Baseball Organization League, 2020, rolls into the fourth week of action tomorrow. All the ten teams of the league will take to the field to take on each other in a new three-game league series.
In the second match of the league series, the mighty LG Twins will be playing against the eighth place holder, Hanwha Eagles in Danjeon, at the Danjeon Hanbat Baseball Stadium.
Having won eleven matches out to 17 league matches played this season, the LG Twins are comfortably holding the second position of the league table behind the table topper, NC Dinos. Hanwha Eagles are looking to turn the tables and break their two-game losing streak spell at Danjeon tomorrow, as they are in the eighth position with 11 matches that are lost out of 18 league matches played.
In their last league series matches played last week, the LG Twins, running an 11-6 in the regular season squared off against the KT Wiz Suwon and lost only one out of the three-game series. In their last encounter, the LG Twins came on early with four runs scored in the second inning, but the KT Wiz Suwon held it off with equal runs scored in the second inning. However, in the last inning of the game, KT let down their guard and conceded five runs, resulting in a 9-7 loss against the LG.
Hanwha Eagles, with a 7-11 in the regular season, took on the table toppers, NC Dinos. Although they won their first encounter of the three-game series, the NCs were too hot for the Danjeon stars. In their last meeting, the NC Dinos scored a total of nine runs in the fourth to sixth inning to win the match by ten runs to seven.
That being said, Hanwha Eagles will have a slight head to head advantage over the LG Twins as they have won three out of the five previous meetings.
The Hanwha Eagles haven't been really bright this season, and before this game, they have lost two games in a row. In the last two game encounter, they were shutout, and in the previous game, they scored five runs, but the pitching gave up ten runs that led to another disappointing loss.
Tyler Wilson will get the ball for the LG Twins whole Chad Bell will get the start for the Hanwha Eagles, although Wilson hasn't been elite, Hanwha's offense cannot be trusted either. Chad Bell will be making his first appearance of the season and looks to make it a great one.
LG Twins:
Out-Fielder: Lee Chun-woong, Kim Hyun-soo, Chae Eun-sung and Park Yong-taik
In-Fielder are Roberto Ramos, Kim Min-sung, Jeong Keun-woo and Oh Ji-hwan
Catcher: Yoo Kang-nam
Pitcher: Tyler Wilson
Hanwha Eagles:
Out-Fielder : Him Ho-jung, Jared Hoying, Kim Moon-ho and Lee Yong-kyu,
In-Fielders are Jung Eun-wong, Song Kwang-min, Noh Si-hwan and Lee Sung Yeol
Pitcher: Chad Bell
Catcher: Choi Jae hwan
Predictions: Take LG Twins -222
Get all of Today's MLB Picks
Get all of Today's Guaranteed Expert MLB Picks