NCAA Football Betting Advice: Fading the Top 25 Weekly Free Picks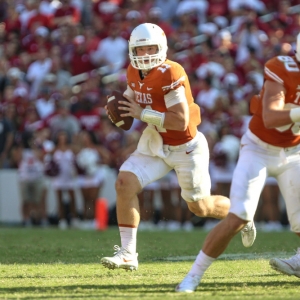 The goal of this article is to track how teams in the weekly Top 25 do against the spread. We're here to look a little deeper than most and figure out how the top-ranked teams do at the betting window. In addition, in this weekly article I'll be taking a look at which Top 25 teams I think are best to fade that particular week. We'll keep track of those selections as well.
Last year, teams in the Top 25 did better than normal covering the number. The Top 25 teams were 153-149-2 against the spread last season That's a cover rate of 49.0 percent fading teams in the Top 25.
The Fade the Top 25 Selections finished last year at 23-23 for +$1,040 with the larger plays helping me turn a profit.
The Top 25 overall went 10-14 ATS last week. So far this year, fading the top teams has been a good strategy.
It was finally a good week for the selections last weekend. Northwestern +14.5 was a five-unit winner. Northwestern led for much of the game, but their offense couldn't do enough to get them the outright win. The defense stood strong and did plenty for the cover. Iowa State +11 was a three-unit winner. They have played some very tight, low-scoring games against TCU in recent matchups. This one went the same way. BTU +17.5 was a two-unit loser. The Cougars never had a chance in that one as Washington just dominated. Texas Tech +3.5 was a one-unit loser. The Red Raiders made a big push late, but they dug too big of a hole early in that contest. The bigger selections won, and I hope it is a sign of more positive things to come.
Play #1- Texas +8 (3 units) Tom Herman's teams have been amazing as underdogs. Though many like to throw in the statistics from when Herman was an offensive coordinator at Ohio State, I think it is fairer to just look at his numbers as a head coach. Those by themselves are tremendous in this role. Herman's teams are 11-1 ATS as an underdog. They have eight outright upsets in those 12 games! This Texas defense is good enough to make Kyler Murray and the Oklahoma offenses more uncomfortable than they have been all year.
The Texas offense isn't all that consistent, but I think this Oklahoma defense is down quite a bit from a year ago. This is a much younger Sooners defense, and Texas is likely going to be able to get some big plays against this group.
I'll take the points with Texas here.
Play #2- Maryland +17.5 (2 units) Maryland's running game has been much better than most people realize. The Terrapins rank sixth in the country averaging 6.19 yards per carry. Maryland's defense has been much better than expected as well. They are 13th in the nation in yards per play allowed.
Michigan clearly has an elite defense, and I do think this will be a low-scoring game. The Wolverines offense hasn't shown the ability to create big gains very often. In a game that projects as low scoring with wind being an issue according to the weather reports, I'll grab the points in this situation.
Play #3- Indiana +25.5 (1 unit) Ohio State had a huge comeback win at Penn State last weekend. Ohio State is clearly a good team, but I think that game said more about James Franklin and his poor in-game decisions than anything else. Penn State outplayed Ohio State for the majority of the game.
Ohio State is very capable of running up the score against weaker opponents, but I see this as a letdown spot. If you are the Buckeyes, you have to be feeling pretty good about yourselves after last week's victory.
Indiana has played Ohio State tough in the last few seasons. This Hoosiers team isn't quite good enough to beat the top teams in the Big Ten, but they have given them tough games routinely in recent seasons. I'll grab the points with Indiana largely based on the situational spot.
Play #4- Iowa State +11 (1 unit) Matt Campbell has been great as an underdog as well. Campbell's teams are 24-12 ATS as an underdog. He continues to be an underrated coach. Iowa State has two solid quarterbacks, and they have proven very capable of giving top teams a great game and even more at times.
Oklahoma State has been inconsistent this year. The Cowboys looked great against Boise State but terrible against Texas Tech. Oklahoma State has played a much weaker schedule than Iowa State, and I think that hurts them here. The Cowboys have been more reliant on the running game this season, and the strength of the Iowa State defense is their run defense.
Play #5- Northwestern +11 (1 unit) Not as big of a play this week, but I'm going back with Northwestern again. The Wildcats are better than they played early this year, and I think they'll stay undervalued for a while because of that terrible start to the season.
Michigan State is banged up in a big way on offense. The Spartans are going to have trouble winning comfortably against solid defenses. Brian Lewerke is a solid quarterback, but the weapons around him simply aren't good enough right now.
The weather is expected to be bad with wind and rain for this game. That has pushed the total lower, and as the total gets lower grabbing more points with the underdog gets even more valuable.
Top 25 ATS Record Last Week: 10 Wins 14 Losses
Cumulative Overall Top 25 ATS Record Year to Date: 56 Wins (46.7%) 63 Losses (52.5%) 1 Tie (0.8%)
Fade the Top 25 Selections Year to Date: 5 Wins 13 Losses (-$1,790)
Read more articles by Aaron Smith
Get all of this Weeks Free College Football Picks
Get all of this Weeks Expert College Football Picks