CFP National Championship Game Expert Predictions and Betting Odds: Alabama vs. Clemson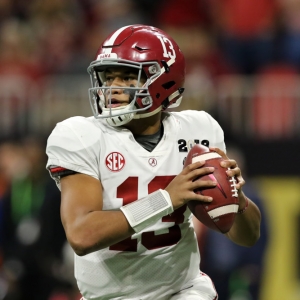 College Football Playoff National Championship Game
Alabama Crimson Tide vs. Clemson Tigers, Monday January 7, 8 p.m. ET
I'm not sure I remember a more anticlimactic finish to a college football season. Back in September, it felt like Alabama and Clemson were, again, the best teams in the country. They were the top two teams in both polls, and between them had all but one first-place vote in each poll. And a few months later we are in the same place - they are clearly the two best teams. And, frustratingly, it was never really close. They were both heavily favored in their semifinals, and both took care of business.
It has been a year without meaningful drama. And a long, inevitable trip to the fourth straight meeting between these teams - the third in a final. Last year's semifinal meeting wasn't great, but the other two games were classics, so it's not that this isn't likely to be a good game. It's just hard to get too excited about this one - especially since both teams are poised to be very good again next year. And the year after. And probably forever.
Alabama vs. Clemson Betting Storylines
While this is far from a new pairing in recent January's, it is new for both starting quarterbacks. Tua Tagovailoa didn't have his emergence until one game after he sat out his team's victory over Clemson. And Trevor Lawrence was just packing to head to Clemson as an early enrollee as his team lost last year. So, while these teams know each other very well, neither of the quarterbacks has ever lined up against the other team. These are arguably the two most important players in the game, and one is likely to decide the outcome, so this is a very notable situation. Both are coming off games in which they were very good, and neither seems at all bothered by intense pressure. And both are freakish, potentially generational talents. Both guys will be playing the toughest tests of their career by a wide margin, and Tagovailoa has done a little more up to this point, but I just can't give either team an edge because of the quarterback play. This is one of those cases where you just hope to be able to sit back and appreciate the matchup we have in front of us.
A challenge from a handicapping perspective in this game is that we really can't learn much of anything about either team from their last games. Clemson played a Notre Dame team that was exposed as a fraud very early on. Their offensive play calling was moronic. Their defense was just not ready. They just weren't anything close to good enough. Clemson took control early, never looked back, and was never even remotely challenged. They have had scrimmages in the week leading up to this game that were a bigger test than that game was. Dexter Lawrence and others were gone as they will be for this game, but we never really saw what it meant - they weren't needed at all. And Alabama opened up an insurmountable lead in the farcical first quarter against Oklahoma. While things got a little tighter later, it was never really in question. And while Tagovailoa had an incredible passing day, it came against a defense that was almost impossibly bad. Clemson will be a dramatically better test. Those semifinal games were almost instantly forgettable in terms of entertainment and may as well not have happened in terms of information.
The other place we always try to look in a big game like this is the coaching matchup. When two teams are good enough to make this game, it could all come down to the game management and final preparations. But we have the two best active coaches in the country here - and it's not even remotely close. Again, not much to choose from.
Alabama vs. Clemson Odds and Betting Trends
The game opened with Alabama favored by 6.5 points. That has now widely fallen to 5.5, with 5 available in some spots . A small majority of bets have been on the Tide, so the movement suggests that sharp money is tilted to the Tigers. The total opened as high as 60.5 and has fallen to 58.
The Tigers are 8-1 ATS in their last nine bowl games and 13-3 ATS in their last 16 neutral-site games. They are 7-2 ATS in their last nine games overall but just 1-5 ATS in their last six nonconference games. The Tide are 7-2 ATS in their last nine against the ACC but just 1-5 ATS in their last six games played in January.
Alabama vs. Clemson Predictions and Picks
I just don't see a whole lot to separate these teams. Both have stellar quarterbacks. Both are dangerous on the ground. Both are deep and effective defensively. Both will be well prepared and ready. If you held a gun to my head, I would probably say that Alabama is a little better, but not so much better that I am willing to give up 5.5 points. Clemson, almost by default, becomes my play in this virtual coin flip of a game.
Read more articles by Trevor Whenham
Get all of this Weeks College Football Picks
Get all of this Weeks guaranteed Expert College Football Picks