College Football AP Preseason Poll: Overrated and Underrated Teams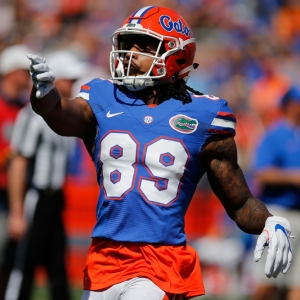 The first AP poll of the college football season came out on Monday. As is always the case with the AP preseason poll, there are some rankings that make lots of sense and others that really, really don't. The whole idea of a poll coming out now before teams have played any games, and with camps mostly closed, making practical knowledge tough to come by, is of course ridiculous. For bettors, though, the polls are at least useful in one regard - the rankings will do a lot to guide the perceptions of public bettors, so getting a sense of which teams are well ranked and which aren't can give you at least a starting point in a search for early value. Here is a look at the three most overrated and two most underrated teams on the list this year:
Overrated
No. 8 Florida: The Gators snuck up on people last year, and this ranking suggests that people don't want to be surprised by them again. They want to get on the bandwagon. But to match the 10 wins of last year or take a step forward, they are going to need to see progress at QB from Feleipe Franks, and I am far from confident that we will see that. They lost four starters on the offensive line, so there is uncertainty there as well. And the defense was really solid last year but may not be at quite the same level again this year. Last year was the first year of the Dan Mullen era in Gainesville. We have seen many times that it is easier for a new coach facing big changes to start off strong than it is to sustain it in the second year. I see a floor of eight or nine wins, so I would have no issue with a top 20 ranking. However, being in the Top 10 feels like too much too soon for the squad.
Related: Florida Gators 2019 Season Win Totals Picks
No. 12 Texas A&M: Again, this is too much, too soon for Jimbo Fisher in his new job. He lost the top rusher in the SEC and is dealing with some injury issues already in camp. And he faces a truly brutal schedule - one of the worst in the country. If everything goes perfectly, then this ranking could easily be achieved - or more. But it just feels too ambitious at this time to expect this kind of ranking from them.
Related: Texas A&M Aggies Odds to Win National Championship
No. 16 Auburn: People love the SEC West so much that Auburn gets a great deal of credit just for coming from the division. If they were from, say the ACC Coastal, they wouldn't rank nearly so well. They faced major expectations coming into last season and totally underwhelmed under the weight of them. Gus Malzahn, the supposed offensive genius, had a disastrous year on that side of the ball and is on a seat that is surely warmer than he would like it to be as a result. And now they have to get the offense rolling again with a true freshman starting under center. Sure, Bo Nix is a very highly-regarded true freshman, but he still hasn't started in college, and he is entering a system that was a long way from overwhelming or dominant last year. And the schedule is a long way from easy - they open against Oregon, play Texas A&M in Week 4, and have Florida, LSU and Alabama later on. It is not tough to look at this roster and this schedule and see a seven- or eight-win team. That does not justify this rating at this point. They could earn their way to this kind of ranking with a strong start, but they don't deserve to be given it out of the gate.
Related: Auburn Tigers 2019 Season Win Totals Picks
Underrated
No. 21 Iowa State: This is only the second time that Iowa State has ever been in the preseason poll. They deserve more respect than that in general, and they deserve more than this ranking this year. They are very well-coached by Matt Campbell and are strong at QB with Brock Purdy. They play Iowa early and should be well positioned to finally get a win over a rival they have struggled against recently. And then after that, their schedule gets soft - really soft - until November. They have a chance to be unbeaten for a long time. And based on that alone, they should be ranked higher than this.
Missouri (unranked): Every year there are a couple of teams that don't make the poll that really deserve to, and the Tigers are most certainly the biggest snub this year - with Memphis not too far behind. I'd say that voters don't like teams name the Tigers, but Auburn is on the overrated list and Clemson is at No. 1. They are not eligible for the postseason, which opens up some concerns about motivation. But they are talented and have good answers at quarterback to replace Drew Lock. And they have a schedule that is incredibly soft - shockingly so for the SEC. There are a couple of games that will be very tough late, but they stand an excellent chance of being unbeaten well into November. That would certainly make them ranked - quite well, in fact. So, not ranking them now is just ignoring the reality of the situation they are in.
Read more articles by Trevor Whenham
Get all of this Weeks College Football Picks
Get all of this Weeks guaranteed Expert College Football Picks