College Football Big Game Lines Released: Early Look and Predictions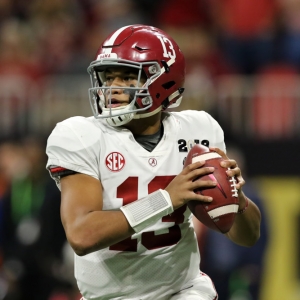 The next college football season is a long way off. Teams haven't even played their spring games yet, seniors haven't graduated, and the draft hasn't happened. But it is never too early to look ahead to what is to come. Odds have been released at several books for many of the highlight games of the upcoming season. Seven stand out as being particularly interesting to me: (Odds are from BetOnline)
Florida (-7.5) at Miami, Aug. 24: Things begin earlier than normal this year, with a rivalry game on a neutral field in Orlando to get us started. But Miami faces a whole lot of changes. Manny Diaz is back at Miami after his long 17-day absence when he was the Temple head coach. But he has to break in a new QB. And while Tate Martell is immediately eligible somehow, he is not necessarily a quick fix. Florida is in better shape and should win this one. But the spread gives the Gators a little more credit than I think they deserve. My first instinct is to pass on this one, though if I took a side it would be Miami.
Florida State (-4.5) vs. Boise State, Aug. 31: This is on a neutral field, but not that neutral - it's in Jacksonville. Florida State is trying to climb back from a disastrous year last year and a couple of years of irrelevance. And they still have work to do. But Boise State is replacing QB Brett Rypien, face some coaching changes, and they have struggled to be at their best in big early-season games. I don't like either team here. At all.
Stanford (+3) at USC, Sept. 7: This one is going to be a measuring stick game in a Pac-12 that has mostly been a mess. USC embarrassed themselves last year with fairly high expectations, and they need to make a statement early this year to prove that they are on track. If they lose here and it's ugly, the heat is going to climb massively for all involved. And while Stanford is largely Stanford, they lacked a little sharpness last year. I lean towards the home team at this price, but I wouldn't lock that in until I see them on the field in their opener against Fresno State.
Oklahoma (-11.5) at UCLA, Sept. 14: Oklahoma will be starting their third QB in three years - and looking for their third straight Heisman. The Sooners have not played great defense, but that shouldn't be a concern here unless Chip Kelly has worked miracles in the offseason. UCLA is not going to be very good. Oklahoma will be looking to prove that they are title contenders. This is a pile of points to give up on the road, but I'm sure not interested in trusting the Bruins with my cash.
Notre Dame (+11.5) at Georgia, Sept. 21: Georgia wasn't quite the team last year that they were the year before, but they are loaded and dangerous and are the third choice to win the title according to futures. Notre Dame, meanwhile, faces a lot of changes and a lot of uncertainty. They were overvalued for much of last year and aren't going to be nearly that caliber this year. I am highly skeptical and lean heavily towards the home team in this one.
LSU (+17) at Alabama, Nov. 9: If it was any team other than Alabama, we would be very concerned about things like a potential hangover from a rough championship game loss or the departure of so many key assistant coaches. But this is Alabama, so we can't make the mistake of assigning them any type of mortality. The Tide will be rolling by this point because their schedule is a farce. And LSU feels like a team that could really see their wheels fall off this year. With the Tide at home and, I suspect, playing angry this year - and with a barely mortal QB with another year of experience under his belt - Alabama is the play despite the big number.
Ohio State (+4.5) at Michigan, Nov. 30: The Urban Meyer era is over. Ryan Day has had some experience, but only as a fill-in. This transition is going to be rough. The Buckeyes grabbed two guys from the Michigan defensive staff to run their own defense. And they seem proud of it. It seemed petty - and besides, they didn't even get the best guys. Michigan, meanwhile, has brought in a new offensive coordinator from Alabama and has given him the keys to run the offense. This team last year was let down by an inept, uncreative offense that let down their defense. This year they should be more productive, and that should make a big difference. Michigan is the play at home.
Read more articles by Trevor Whenham
Get all of this Weeks College Football Picks
Get all of this Weeks guaranteed Expert College Football Picks