Free Picks and Predictions for September 13-15 from Handicapper Doug Upstone
by Doug Upstone - 9/13/2019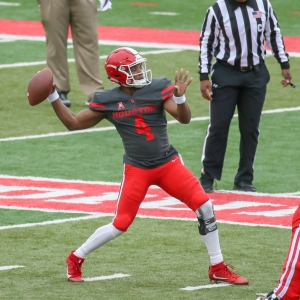 We have a big weekend of football action and have all the biggest line moves covered in college football and in the NFL. Take a minute to review all the betting trends, our free picks and predictions (115-88-3 of late) to see what we are thinking about today. See you back here next week.
CFB - Friday - (107) WASHINGTON STATE vs. (108) HOUSTON 10:15 ET ESPN
Those placing college football picks have decided Washington State is their choice on the road, lifting them from -6.5 to -9. Students from Houston should have no problem getting to the game, as NRG Stadium is five minutes from the university. With the line movement crossing seven points, the advantage from a handicapping perspective favors the Houston Cougars. The Northwest Cougars might have the better defense, but Southwest Cougars can score also. Additionally, the research tells us Mike Leach-coached teams are 0-7 ATS in road games after two contests where they forced three or more turnovers.
Betting Trend - 57% backing Washington State
Doug's Doc's Take - Houston covers
CFB - (109) OHIO STATE at (100) INDIANA 12:00 ET FOX
After mostly quiet in the first part of the week, the Ohio State money began to flow on Thursday and the Buckeyes blew up from -14 to -18. Early concerns involved Ohio State playing their first away game for coach Ryan Day. Clearly, enough Buckeyes backers are confident that will not be a problem and pounded their team. When looking at Indiana, one has to think that they are 7-1 ATS recently against the Scarlet and Gray and with a full house expected (about 50-50 split), the Hoosiers receiving even more points is added value.
Betting Trend - 89% backing Ohio State
Doug's Doc's Take - Lean Indiana
CFB - (135) STANFORD at (136) UCF 3:30 ET ESPN
In the bigger picture, this is a fascinating matchup. Stanford makes the long journey to Orlando and faces a fast and hungry opponent that firmly believes they are not getting the respect they deserve. Central Florida is receiving respect from football bettors versus the college football odds, up from -6 to -8.5. Stanford will look to play power football, and the Knights will want to play fast. Little value in taking UCF. Nonetheless, the Cardinal have not shown much offense, and in the heat and humidity of Florida, Stanford wears down.
Betting Trend - 87% backing UCF
Doug's Doc's Take - Lean UCF
CFB - (159) ARIZONA STATE at (160) MICHIGAN STATE 4:00 ET FOX
Arizona State has tallied only 49 points facing Kent State and Sacramento State. Thus, few are imagining they will do much against a stout Michigan State defense. That is the main reason for the Spartans to climb from -11 to -14.5. Michigan State is also playing with revenge, having given away last year's contest in Tempe 16-13 with fourth-quarter mistakes. If the Spartans offense is crisp, they should win by 20. If not, it's a nail-biter for those with cash on this clash. With Sparty 9-0 ATS at home after gaining 325 or more passing yards, they win by 17 or more.
Betting Trend - 91% backing Michigan State
Doug's Doc's Take - Michigan State
CFB - (177) GEORGIA STATE at (178) WESTERN MICHIGAN 7:00 ET ESPN+
You would think this an under-the-radar matchup, which would not attract much attention. Yet, Western Michigan has slid four points as a home favorite to -8 taking on Georgia State. The Panthers can score, totaling 38 points in Knoxville when they upset the Vols. And down 20-3 to Furman (flat as pancake), they roared back to a 48-42 win. The determining factor will be the Georgia State defense as last year the Broncos hammered them 34-15 at their joint. A modest lean with the home team now in single digits, with the Southern visitors 0-7 ATS after allowing 37 points or more.
Betting Trend - 75% backing Georgia State
Doug's Doc's Take - Lean Western Michigan
NFL - (267) ARIZONA at (268) BALTIMORE 1:00 ET FOX
While there is a lot of discussion about how large the spreads are for Baltimore and New England, it is the totals line moves that is noteworthy for contest in Week 2. This nonconference clash was sent out at 41.5, and it is all the way up to 46 points. The best guess here is with how tremendous Baltimore's offense looked, they should have their way with Arizona's stop troops. While it would seem the Ravens defense will be disruptive against the Cardinals defense, with the Birds are 27-12 "Under" after gaining 300 or more passing yards in last game, I'll side with the lower score.
Betting Trend - 82% backing Over
Doug's Doc's Take - Play Under
NFL - (277) SAN FRANCISCO at (278) CINCINNATI 1:00 ET FOX
We have a flipper! As in the San Francisco 49ers were flipped from -1.5 to +1.5 underdogs. I have no problem supporting this line of thinking for NFL picks. The Niners are starting the season with back to back roadies, and both are in the Eastern Time Zone. Though it was only one game, QB Andy Dalton was very comfortable looking in the new offense, while Jimmy Garoppolo has not come close to looking like the quarterback we saw in 2017 since training camp started. With the Bengals 7-2-1 ATS in Week 2 and 9-3 ATS at home versus teams with a winning away record, take Cincy.
Betting Trend - 61% backing San Francisco
Doug's Doc's Take - Cincinnati covers
NFL - (279) MINNESOTA at (280) GREEN BAY 1:00 ET FOX
By all appearances, the Minnesota Vikings defense is back. They played super the whole month of August, and that continued in their opening game where they held the high-powered Atlanta offense scoreless for the first 50+ minutes before allowing 12 points after building a 28-0 lead. The Green Bay Packers made numerous defensive changes in the offseason and returned a young and talented secondary that was injured extensively last season. The Pack limited Chicago to a mere three points. This has the look of a lower-scoring affair, and football bettors have dropped it two points to 44. With this, look to play Under on teams like Green Bay when the total is between 42.5 and 49 points in a conference clash, after going under the total by more than 28 points in their previous game. This situation is a sparkling 27-7 Under over 35 years.
Betting Trend - 51% backing Under
Doug's Doc's Take - Play Under
Public Consensus Record (2019) - 51% to 79% - 179-166-6 ATS
Public Consensus Record (2019) - 80% or Higher - 53-59-1 ATS
Line Movement Direction Record (2019) - 213-216-7 ATS
Doug Upstone is the newest handicapper at Doc's Sports and he brings years of experience with him. Doug has 21 documented No. 1 titles and finished in the Top Ten 80 other times in a distinguished career. Doug as a professional handicapper/writer, has written for various well-known sports betting websites and several of the football newsletters you have read before.
$$ Doug is coming off big 3-0 NFL Sunday
$$ Doug has 8 Red Hot Plays that include:
5-Unit Winner in College Football Friday
6- Unit Winner in College Football Saturday
6- Unit Winner in NFL Sunday
Check out Doug's Winning Plays! Click Here
Get all of this Weeks Free College Football Picks
Get all of this Weeks Expert College Football Picks