LSU vs. Alabama NCAA Football Picks with Expert Predictions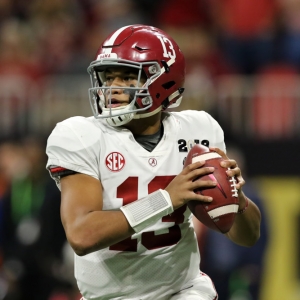 LSU Tigers at Alabama Crimson Tide, Saturday November 9, 3:30 p.m. ET
It doesn't get much better than this. Two bitter rivals playing an undefeated showdown in November with pretty much everything on the line. They are ranked second and third coming into this game. The winner will be in very good shape for a playoff bid. The loser will suffer a major blow and will need a lot of help. If you don't love this kind of game, then you don't love college football. And it goes deeper than that. Alabama is second nationally in points scored this year. LSU is right behind in fourth, and both offenses are jam packed with future NFL talent. And both teams have a Top 25 defense, so it isn't going to devolve into a Big 12-style shootout. Man, this is going to be fun.
LSU at Alabama Betting Storylines
We can't look at this game without talking about the quarterbacks. And what a conversation that is. Tua Tagovailoa has been mostly as good as expected so far this year and hasn't hurt his anticipated draft status at all. But he is coming off an injury in the Tennessee game that saw him miss some action. How healthy is his ankle now? The Tide aren't saying much, but they certainly need him to be ready to go or, with apologies to backup Mac Jones, this game is going to be a problem. I expect him to be ready and dangerous until I hear otherwise. By far the bigger story, though, is Joe Burrow. After what we had seen from him up to this point, no one could have anticipated the season he is having. He is completing 78.8 percent of his passes with 30 touchdowns and just four picks. He is entirely a different guy than we have seen up to this point in his career. He had a very underwhelming year last year against the Alabama defense, but the change in his game from then to now is so incomprehensibly massive that we can't draw too much meaning from that. This is not the prototypical Alabama defense that we have grown used to over the years, and the secondary has been vulnerable - especially later in games. And they haven't seen an offense anything like this. We can expect LSU to have a good offensive day.
While Alabama has been impressive, we can't ignore the fact that their schedule has been a real joke. The smallest spread they have faced is 17 points at Texas A&M. They have been favored by at least 25.5 points in every other game. They just have not played anyone. Given that, it's tough to take either their offense or defense on surface value. The offense plays tougher matchups in practice every day than they have in any game. The defense hasn't looked as good as defenses have in the past for this team, and that is against a collection of very underwhelming units. LSU hasn't played the toughest schedule in the world yet, either, but in Texas, Auburn and Florida, they have already played three teams better than any Alabama has seen. This Tide team has not yet been punched in the mouth. They will at some point in this game in all likelihood. It remains to be seen how well they handle that.
LSU at Alabama Odds and Betting Trends
The game opened with Alabama favored by 5.5 points. It has been on the climb and can be found at 6.5 widely , though it is significant to note that so far it has stayed below the key number of seven. A small majority of bets have been placed on LSU so far, so it feels unlikely barring a development that it will go through that seven-point barrier. The movement going against the number of bets as it has suggests that sharp money has been tilted towards the Tide. The total opened at 65 and has moved downward, with numbers as low as 63 out there to be found.
The Tigers have covered the spread in their last five road games. They are 13-5 ATS in their last 18 conference games and 7-3 ATS in their last 10 games overall. The Tide are 7-2 ATS in their last nine games following a bye week, which they are coming off of now. But they are just 3-7 ATS in their last 10 games following a straight up win. The favorite is 5-1 ATS in the last six meetings between these squads. The Tigers have covered just one spread in that time.
LSU at Alabama Predictions and Picks
Alabama is at home and coming off a bye - two factors that are really significant. But there are cracks around this team, and I struggle with the idea to take them and give up most of a touchdown against a very solid team playing with confidence. Alabama is probably the more likely winner, but this feels like too many points. By a narrow margin, then, LSU has to be the pick.
Get all of this Weeks College Football Picks
Get all of this Weeks guaranteed Expert College Football Picks