NCAA Football Betting Odds: Week 8 Line Movements & Last-Minute News
by Chris Vasile - 10/18/2019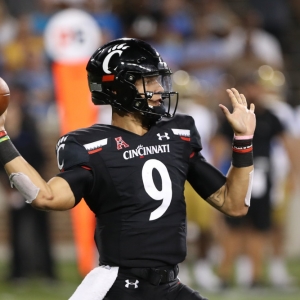 Ladies and gentlemen, it took seven long and exciting weeks, but we finally have some new blood in the top-four of the AP poll. Thanks to their win over Florida last week, the LSU Tigers have leaped three spots from No. 5 all the way to No. 2 in the polls. This is significant because we now have two SEC teams occupying spots in the College Football Playoff, which leaves five other teams who are 6-0 and in three other conferences fighting for the last two spots.
The Tigers don't play Alabama this year and will likely not have a chance to win the SEC West Division as they sit one game behind Alabama for that top spot. This means that two SEC teams could go undefeated, and one of them could not win the SEC Title game but still get into the CFP. If that happens, I suggest we expand the playoffs immediately to at least six teams. But that's an argument for another day.
Here are notes for some of Saturday's games around the country, in no particular order.
Tulsa Golden Hurricane @ No.21 Cincinnati Bearcats (-17.5, 47.5 ): This game is a matchup of first versus worst as the top-seeded Bearcats of the AAC East division take on the last place Golden Hurricane of the AAC West division. This game opened up as Bearcats -13 but has been bet up to -17.5 , with the total dropping three points from 50.5 to 47.5. The Bearcats are one win away from an automatic Bowl Game, but they have their sights set on bigger and better things. If they take anything out of this game - besides the win - they should strive for avenging a 40-37 to this very Tulsa team back in 2016. The Bearcats at home are a great team as shown by their 3-0 home record. The crowd will be into it and the offense will likely hum along like it typically does at home as they average nearly 29 points per game. Tulsa won't be able to keep up with that, and Cincinnati will win this game and cover the spread.
No. 14 Boise State Broncos @ BYU Cougars (+7, 46): Don't look now, but the Boise State Broncos and their smurf-turf appear to be back in business. The Broncos are 14th ranked in the nation and own a 6-0 record on the season. They now get to take on a BYU team that is undecided on who they prefer to start at quarterback because of injuries and poor play. For what it's worth, it doesn't matter which of the three quarterbacks on BYU's roster is under center, because the Broncos are the better team and will smoke the Cougars this week. This line opened up at -1 for the Broncos. And if you were lucky enough to grab them right off the hop, good for you. This line has since been bet up to seven, with the total dropping a whopping eight points from 54 to 46. One has to think that if Boise can run the table (and they have the schedule to do so), they will be the Group of 5's representative in a big Bowl Game this season. As per this game, the Cougars simply won't have the answers on offense to keep pace with the Broncos and their high-scoring offense.
No.6 Wisconsin Badgers @ Illinois Fighting Illini (+31, 51): The Wisconsin Badgers find themselves in a familiar position once again this season as they are highly ranked and sit atop the Big Ten West division. The only difference this year is that they have company in the form of Minnesota, who is also 3-0 in conference and 6-0 overall. Wisconsin should have no problems dispatching of Illinois as the Illini have been brutal this season, losing four straight games on the trot. This line opened up as Badgers -25.5 but has been bet up to -31.5, and with good reason. The Wisconsin defense alone should be able to put up 14 points by themselves, while the offense should move the ball with ease up and down the field. Surprisingly, the total has dropped from 53.5 to 51, but I guess if you get as many shutouts as Wisconsin does (four total and two back-to-back), it takes a lot for one team to score 52 points themselves. Not predicting a third straight shutout, but Illinois likely won't break 10 points.
North Carolina State Wolfpack @ Boston College Eagles (+3, 51.5): The last time we saw Boston College, they were busy chasing Louisville for the majority of the game and ultimately came up two points short. Now the Eagles come into this game off a bye week, and they take on an NC State team who has been a bag of inconsistency despite their 4-2 record. The Wolfpack have alternated wins and losses over their last four games, beating Ball State and Syracuse while losing to Florida State and West Virginia. NC State has had an extra two days to prepare for the Eagles teams, and we believe that's one of the reasons why the line has jumped from its opening of -1 to NC State -3. The other reason is because the Eagles starting QB, Anthony Brown, has been ruled out for the rest of the season with a leg injury he suffered in the second quarter of their loss to Louisville. The Wolfpack remain firmly in control of their own destiny when it comes to getting to six wins and an automatic Bowl game, so we believe the move is justified as they are the better team in this matchup. The total has been bet down drastically from its opening of 58.5 all the way down to 51.5. Defense should be the name of the game as both of these teams have had extra preparation time for one another.
Get all of this Weeks College Football Picks
Get all of this Weeks guaranteed Expert College Football Picks