NCAA Football Predictions: Week 11 Opening Line Report and Picks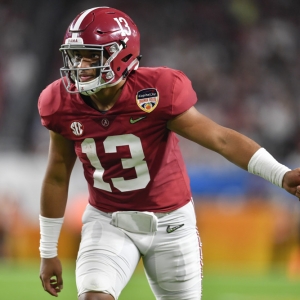 The Associated Press Top 25 is nice and all, but it really doesn't matter in the grand scheme of things. The College Football Playoff Top 25 rankings carry all the weight these days, and the first rankings will be released on Tuesday. So while the clear marquee game around college football in Week 11 is No. 2 Alabama at No. 1 LSU, could be that Ohio State is actually No. 1 in the CFP Top 25. Most projections I have read will have the Buckeyes at the top with LSU at No. 2 and Bama third.
It used to be rare to have an AP Top 25 1 vs. 2 matchup in college football, but the creation of the BCS and then the CFP changed that as it often happens in the National Championship Game now. The last 1 vs. 2 regular-season matchup was in 2011 when No. 1 LSU won at No. 2 Alabama 9-6 in overtime. Those two would play again in the BCS title game, and the Tide won 21-0. That there were two SEC teams in the title game was a big impetus for creating the College Football Playoff as it ticked off the other Power 5 conference commissioners.
Very possible the loser of Saturday's game, if it's close, still gets into the playoff assuming it wins out convincingly. Shoot, the loser might win in a way because then it wouldn't have to face a good Georgia team (presumably) in the SEC title game. Remember, two years ago Alabama lost its regular-season finale at Auburn to hand the West title to the Tigers. They lost to Georgia in the SEC title game and missed the playoff, while Alabama made it and would win the National Championship Game over the Dawgs.
We should have some Heisman clarity here between LSU quarterback Joe Burrow, the current favorite, and Alabama counterpart Tua Tagovailoa - that's if Tua plays. He suffered a high-ankle sprain on Oct. 19 vs. Tennessee, had surgery and missed the next game vs. Arkansas. Nick Saban has called Tua a game-time decision, but I'd be stunned if he doesn't play considering Tua already has returned to practice in a limited capacity. Tua is worth about 3-4 points to this spread according to a few oddsmakers - the Tide are currently -6 . I could see that getting over a TD if Tua plays.
LSU has one injury concern as well, and it's to All-American defensive back Grant Delpit, who will be a very high pick in the 2020 NFL Draft. He injured his ankle in the Tigers' win over Auburn on Oct. 26. All signs point to him playing, but Delpit could be less than 100 percent.
Here are a few other Week 11 opening lines that caught my eye. Games Saturday unless noted. Picks are ATS.
Miami of Ohio at Ohio (-7), Wednesday: It's November, so we have early-week MAC-tion starting! There are two games from the conference on Tuesday night, and then this important game - the Battle of the Bricks -- on ESPN2 from the Mid-American Conference's East Division on Wednesday. The RedHawks (picked by the media to finish second in the division) and Bobcats (picked first) are tied for first in the East at 3-1, so the winner here more than likely represents that division in the MAC title game. Miami was last in that in 2010 and Ohio 2016. You may recognize the last name of Miami's freshman starting quarterback: Gabbert. That would be Brett, who is the younger brother of former first-round NFL bust Blaine Gabbert. The RedHawks were 30-28 winners over the Bobcats last year, but Miami hasn't won in Athens since 2005. Pick: Ohio.
No. 5 Penn State at No. 13 Minnesota (+7): Possible Big Ten title game preview. Former Western Michigan coach PJ Fleck has worked his wonders with the Gophers (rumored as a Florida State candidate) as they are unbeaten and lead the Big Ten West by two games as they come out of the bye week. If it pulls this upset, Minnesota will almost have a hammerlock on the division although it does still have to travel to Iowa (Nov. 16) and host Wisconsin (Nov. 30). Still not sure how good this team is considering it hasn't played a ranked school yet and probably its toughest opponent has been vastly disappointing Nebraska. Minnesota somehow avoided both Michigan schools and Ohio State from the East Division. Penn State is also unbeaten and off its bye but at least has played some decent teams in Iowa, Michigan and Michigan State. PSU's defense is one of the nation's best, allowing more than 13 points just once and only 9.6 ppg. Pick: Minnesota (I'll be waiting or buying up to +7.5).
No. 18 Iowa at No. 16 Wisconsin (-8.5): Both schools here off their bye week, and the loser can essentially kiss the Big Ten West Division goodbye with both already two games back of Minnesota. Iowa's two losses easily could have been victories as they lost by seven at Michigan and by five at home to Penn State in low-scoring affairs. Wisconsin suffered the biggest upset of the season on Oct. 19 at Illinois and then was exposed a bit the next week in a 38-7 loss at Ohio State. That ended Jonathan Taylor's Heisman hopes as he was held to 52 yards. This might have the lowest total of the week with the Hawkeyes allowing 10.1 ppg and the Badgers 11.4. Wisconsin has won six out of the last seven games against Iowa, with the Hawkeyes' only win during their 12-0 regular season in 2015. Pick: Iowa.
Iowa State at No. 9 Oklahoma (-13): Two more off their bye. Oklahoma's stunning 48-41 loss at Kansas State on Oct. 26 didn't kill OU's chances of returning to the College Football Playoff but certainly damaged them in a big way and opened the door for potential other one-loss teams from the Big Ten, SEC and Pac-12 who are now ahead of the Sooners in the AP Top 25. The loss didn't really hurt Jalen Hurts' Heisman chances as he totaled nearly 500 yards of offense and four touchdowns. His Heisman hopes are definitely tied to the LSU-Alabama game. Iowa State enters off a 34-27 home loss to Oklahoma State on Oct. 26 that probably ended ISU's chances of playing in the Big 12 title game. Sophomore QB Brock Purdy is having fine season, throwing for 2,567 yards and 15 touchdowns while rushing for six TDs. The last time OU hosted Iowa State in 2017, the Cyclones pulled the upset of that season, 38-31. It was just Iowa State's second victory against Oklahoma since 1961. Pick: Oklahoma.
Get all of this Weeks College Football Picks
Get all of this Weeks guaranteed Expert College Football Picks