Wyoming Cowboys Football Picks Week 11 vs. Boise State: Specialization Series
by Chris Vasile - 11/6/2019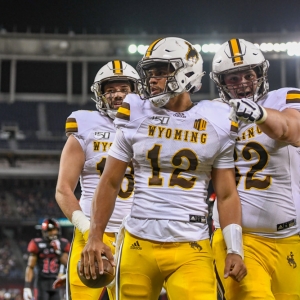 I know the main content of this pieces surrounds the Mountain West Conference. However, with all due respect to it and the rest of the conferences that make up the college football landscape, nothing else matters this week if your not named LSU or Alabama . Every single pair of eyes who enjoys some form of sport will be glued to their television as the No. 1 LSU Tigers travel to Tuscaloosa, Alabama, to tangle with the No. 2 Alabama Crimson Tide.
I touched on it a bit last week in my intro. This week had major implications for not only the two teams involved (division wise), but for teams ranked No. 3 to No. 7 on the AP poll. The SEC could very well have two teams crack the CFP, and the winner of this game will likely decide if that's going to happen or not. This game has the makings of an instant classic, and one can only hope it lives up to the hype.
As far as the Mountain West Conference is concerned, the goal of this weekly article is to help you understand the importance of specializing in one particular conference and/or on one particular team. I understand the fact that every bettor wants to be able to win their bets on the nationally televised games featuring ranked teams, but the truth of the matter is that those lines very rarely have any value left by the time you're able to bet them. Smaller conferences like the MWC may not have as many eyeballs on them as the Big Ten or SEC, but that helps us as bettors because the lines tend to be a little softer than the games featuring publicly backed teams.
Each week this article will take give you a small recap on how the team fared in their last game. You'd be surprised at how many times a team's win/loss outcome was either justified or lucky to happen. The box score may say one thing, but actually watching the game and seeing what's happening is a vital tool in handicapping. At the end of the article, I'll give you a selection in the upcoming game. I use the tried and tested Doc's Sports Unit Betting System for each pick which allows you to gauge how confident I am and track the results.
Last Game
The Wyoming Cowboys had a much-needed bye week last week, and it couldn't have come at a better time in terms of getting healthy for the stretch run of the college football regular season. Prior to that, the Cowboys were able to easily dispatch of Nevada by a final score of 31-3. In that game, Wyoming rode an early 14-3 lead into quarter two before adding another 10 points in the second and a touchdown in the third quarter to put the game beyond reach. If you just look at the final score, you'd be inclined to think Wyoming dominated this game, but in reality, they didn't. Nevada put up 355 yards of offense and converted 50 percent of their third-down tries. They also won the time of possession but were -1 in the turnover battle. This game boiled down to which team could make the most of their chances, and that was, in fact, Wyoming, as they turned three big passing plays into touchdowns - something they hadn't done coming into this one. It was an impressive win and a confidence-boosting win for the Cowboys, who now have two extremely difficult away games in a row, starting with this week at Boise State followed by next week at Utah State.
Week 11 vs Boise State
As of writing this, 5Dimes is the only site with a posted lined on this game. The current line is Wyoming +13 (-110) and the posted total is set at 48.5 (-110). If there was ever a time to take on a ranked opponent on their home field, it would be after a bye week where you have an extra week to get your key guys healthy and have an extra week to game plan for what is one of the best offenses in the country. Wyoming comes into this game needing a win to keep pace with Boise for the top spot in the MWC Mountain division. A loss would end any hopes of catching them and ultimately playing for a championship in the MWC title game. Boise State is ranked No. 21 in the country behind an offense that scores boatloads of points as seen by their last five wins where they put up at least 30 points. If I'm the Wyoming coach this week, I'm hammering home the game plan of running the football - something Wyoming does well - in hopes of keeping the Broncos offense off the field. The Cowboys also need to hit some big chunk plays with the passing attack, or else they won't be able to keep up on the scoreboard. Boise has no reason to have a letdown after last week's 52-42 win over SJ State. They played well throughout, although their defense could step their game up a bit. This game is going to come down to which team will be able to consistently move the football, and we see the Broncos having no issues with that in front of their home crowds.
Series History: This series has been extremely one-sided as the Broncos hold a commanding 12-1 lead in the all-time head-to-head series. The Broncos have won the last two meetings vs the Cowboys, with Wyoming's lone win coming in 2016 - a 30-28 win in Laramie.
Wyoming at Boise State College Football Picks
I hate to go against Wyoming in back-to-back weeks, but Boise State is just one of the most complete teams in the country. They have an underrated defense (outside of last week's performance) and one of the most explosive offenses in the MWC and all of college football. On their home field, laying less than two touchdowns, we believe there is value here, and we are going to be all over it. Wyoming may come into this game riding a two-game winning streak, but they've only beaten Nevada and New Mexico State - both of which aren't great teams. Let's go ahead and lay the points with the Broncos on the smurf turf.
Selection: 3-Unit Play. #156. Take Boise State -13 (-110) over Wyoming (Saturday at 10:10 pm). Record to Date: 1-3-1 -$240.
Get all of this Weeks College Football Picks
Get all of this Weeks guaranteed Expert College Football Picks