Wyoming Cowboys Football Picks Week 8 vs. New Mexico: Specialization Series
by Chris Vasile - 10/15/2019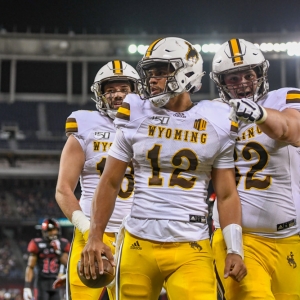 By losing to San Diego State last week on the road, the Wyoming Cowboys put themselves in a bit of a tough spot in terms of the division. They are now 1.5 games behind Boise State, which sits at 3-0 and one game back of Utah State, which is 2-0. After this week's game versus a middling New Mexico team, the Cowboys schedule doesn't get any easier as they have to host Nevada then travel to Boise and Utah State in the following two weeks. It's paramount that the Cowboys string together wins this week and next week to get back into the discussion for the top spot in the MWC's Mountain Division.
The goal of this weekly article is to help you understand the importance of specializing in one particular conference and/or on one particular team. I understand the fact that every bettor wants to be able to win their bets on the nationally televised games featuring ranked teams, but the truth of the matter is that those lines very rarely have any value left by the time you're able to bet them. Smaller conferences like the MWC may not have as many eyeballs on them as the Big Ten or SEC, but that helps us as bettors because the lines tend to be a little softer than the games featuring publicly backed teams.
Each week, this article will take give you a small recap on how the team fared in their last game. You'd be surprised at how many times a team's win/loss outcome was either justified or lucky to happen. The box score may say one thing, but actually watching the game and seeing what's happening is a vital tool in handicapping. At the end of the article, I'll give you a selection on the upcoming game. I'll be using the Doc's Sports Unit Betting System for every pick, which will allow readers to follow along and track the results.
Last Game
Wyoming went on the road to San Diego State and fell short as the Cowboys lost to the Aztecs by a score of 26-22. In that game, the Wyoming offense showed signs of life, posting an early 14-6 lead before completely falling apart and scoring just eight total points in the second half. Quarterback Sean Chambers continued his struggles throwing the ball as he completed just five of 14 pass attempts for 109-yards, a touchdown, and an interception. The rushing attack contributed just 157 yards on the ground with Xazavian Valladay leading the way with 73 yards on 16 carries. It was Chambers who found pay-dirt twice, however, rushing for 49 yards and two scores. Defensively, the Cowboys had a solid game, but it was ultimately not enough as they let the Aztecs get the go-ahead touchdown with just two minutes left in the fourth quarter. They were able to limit the Aztecs to just 329 yards of offense, but the Cowboys offense turned the ball over twice (a fumble and an INT), and that was their undoing. Neither team recorded a sack, while the Cowboys had six penalties for 70 total yards.
Week 8 vs New Mexico
As of writing this, 5Dimes is the only site with a posted lined on this game. The current line is Wyoming -19.5 (-110), and the posted total is set at 49.5 (-110). I have a hard time laying that many points with a team that can't pass the ball effectively and has essentially beaten nobody worth mentioning.
With that said, New Mexico, much like UNLV two weeks ago, may present the Cowboys with the perfect opportunity to get rolling again on both sides of the ball. The Lobos come into this game having lost two straight games by almost identical scores (32-21 to SJ State and 35-21 to Colorado State) after losing to FCS Liberty 17-10. The Lobos have shown no signs of life on offense as they've been held to just 250 yards passing through their last two games. We know how good the Wyoming defense can be at times, and so we feel this is one of those games where Wyoming grabs a couple of interceptions, potentially even a defensive score and gets their confidence back.
Defensively for the Lobos, they've given up a ton of yards, most notable 466 to Liberty and 551 to Colorado State. If Wyoming can't matriculate in the passing game for Week 8 , then they have deeper rooted issues than just facing tough opponents.
Series History: Much like last week's series history vs San Diego State, this week's opponent has given the Cowboys all they can handle. However, Wyoming has won the last two meetings in this series, most recently a 31-3 win. The all-time series is led by the Cowboys and their 37 wins to the Lobos and their 34.
New Mexico at Wyoming College Football Picks
This is one of those games where sooner or later one of these two teams is going to piece it all together and turn in a full 60 minutes of excellent football on both sides of the ball. We'll side with the defenses here as Wyoming has continuously shown its ability to bend but not break and against a Lobos team that isn't the most explosive team on offense, we can see the Cowboys defense shining in this one. Furthermore, we still do not have any trust in the Wyoming offense as the passing attack is seemingly getting worse by the game. If this game plays out how we expect it to, both of these teams are going to run the football consistently and bleed out the clock before 50 points can be tallied.
Selection: 2-Unit Play. #357/#358. Take Under 49 (-110) New Mexico vs Wyoming (Saturday at 3:00 pm). Record to Date: 0-2-1 -220.
Get all of this Weeks Free College Football Picks
Get all of this Weeks Expert College Football Picks