NBA Picks: Chicago Bulls Futures Odds
by Aaron Smith - 9/18/2013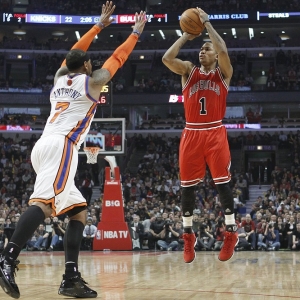 You have to give the Chicago Bulls a ton of credit for what they were able to do last year without Derrick Rose. The Bulls won a playoff series and were competitive against the Heat despite being without several of their top players. Remember, it wasn't just Rose that was out; essentially the Bulls were without three or four of their top-five players for much of the postseason.
This is a team that has established an identity as a bunch of scrappy players who will give it their all on a nightly basis. Chicago is one of those teams that opposing coaches don't want to play because it takes a lot out of their team. The Bulls were never going to win it all last year without their top players. Still, they continued to battle and play as if they had just as good of a chance as everyone else. If they can keep that scrappy style of play and combine that with a healthy roster, there's no doubt that this Bulls team could be very dangerous in the season ahead.
Derrick Rose Health
When the 2013-14 NBA season begins, it will have been more than 18 months since Derrick Rose played in a meaningful game. Rose was cleared to play late last year by the Bulls training staff, but he said he wasn't ready. His absence during the team's playoff run last year definitely made some of his fans turn into critics. One thing we should all remember though is that those same people will be right back on the bandwagon this year if Rose returns and plays at the same elite level he did prior to the injury.
As much as the rest of the roster is very good, Rose is definitely the guy who makes this team go. There is a reason he won the NBA MVP award a couple years ago. How healthy is he right now? Rose said in a recent video, "I think I am 100 percent." He also said he believes his long-range jumper is much improved after working on it a lot in the past 18 months.
Bulls Offseason Moves
As you might expect from a team that is close to the top of the league when healthy, the Bulls made very few big offseason moves. They did lose Nate Robinson and Marco Bellinelli, and both of those guys played a big role in the playoffs last year. Richard Hamilton is gone after missing a ton of games due to injuries in recent years. Their biggest offseason signing was Mike Dunleavy. The Bulls shot just 35.3 percent from three-point range last year, and the front office brought in Dunleavy so the Bulls would have a top-notch shooter. Dunleavy knocked down 42.8 percent from long range last year. He is also a solid passer and defender.
In the 2013 NBA Draft, the Bulls selected Tony Snell with their first pick. Snell is a 6-foot-7 wing with a ridiculous 6-foot-11 wingspan. He is considered both an elite defender as well as a very good outside shooter. Erik Murphy was the team's second-round pick, and Murphy shot 45.3 percent from three-point range last year for the Florida Gators.
Great Coach and Core
Tom Thibodeau has proven himself to be one of the best coaches in the NBA over the last few years. Thibodeau is arguably the best defensive coach in the league today. He has led the Bulls to compete at a very high level even when his best players are out of the lineup. His attitude comes out in his team's play.
This Bulls team is made up of a core of winners. Joakim Noah plays his heart out every single game, and his production can't come close to being measured in statistics alone. Carlos Boozer and Taj Gibson are also great in the frontcourt, and no one in the league can rebound in the frontcourt better than the Bulls. Luol Deng is a scorer who can take over the game when he is healthy. Jimmy Butler is a versatile player who fits extremely well into Coach Thibodeau's system.
NBA Picks: Chicago Bulls Futures
Bovada lists the Chicago Bulls as the fourth favorite at a price of 10/1 to win the 2014 NBA Championship. BetOnline lists the Bulls at +400 to win the Eastern Conference this year. Clearly, the oddsmakers are giving the Bulls plenty of credit heading into the season, and I believe it is completely justified.
If the team that the Bulls were putting out on the floor last year was able to get into the second round of the playoffs and compete with the Heat, this team is going to be extremely dangerous if they stay healthy. The Bulls will be able to dominate almost anyone inside the paint, and their offseason moves give them a lot more outside shooters to stretch the floor. Things are looking up in Chicago as long as the team can stay healthy!
Read more articles by Aaron Smith
Get all of Today's Free NBA Picks
Get all of Today's Expert NBA Picks