NBA Picks: Golden State Warriors Ready for Next Step
by Aaron Smith - 7/24/2013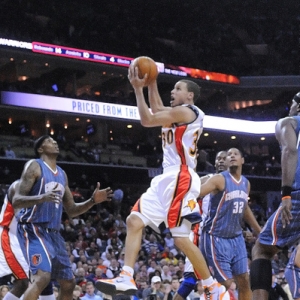 The Golden State Warriors took a big step forward last year by winning their first-round playoff matchup with the Denver Nuggets. Golden State bowed out in the second round to the San Antonio Spurs, but not before putting up a very good fight against the team that ended up being just seconds away from another NBA title.
Golden State doesn't appear to be resting on its laurels from last year at all. The Warriors are getting busy during the offseason and making sure that they continue to move forward. All signs are pointing toward last season's big jump being the start of something special in the Bay Area. Let's take a closer look at a few reasons why I believe the Golden State Warriors are ready for the next step.
Nucleus of Young Stars
How many teams can boast of a nucleus of young stars like the Golden State Warriors have? One could argue that no other team in the NBA is so loaded with young talent. Stephen Curry, Harrison Barnes, and Klay Thompson are all elite scorers who showed just how dangerous they can be in spurts during the 2013 NBA Playoffs. Consistency will come with time for these youngsters. And once they start filling it up consistently the opposition will be very hard-pressed to find answers. Need evidence of how tough this team can be stop when they are on fire? Just watch Game 2 of their series against Denver in the 2013 playoffs when the Golden State Warriors shot 65 percent as a team and put up 131 points!
Curry is already the best shooter in the NBA, and Thompson is probably one of the Top 3 or 4 shooters in the league. Harrison Barnes hasn't proven as much yet, but he has a versatile game that complements these two very well. Draymond Green isn't the player that these other guys are, but he's a cerebral player who can definitely help this team a lot in the future.
Addition of Andre Iguodala
The biggest move of the offseason so far for the Warriors was bringing in veteran Andre Iguodala. While the national media was worried about where Dwight Howard was going, I would argue that Iguodala going to Golden State may be even more important in the long run. It's hard to imagine a better fit than Iguodala in Golden State's system.
The Warriors have improved as a basketball team first and foremost because they are working hard on the defensive end. Golden State finished fourth in the NBA in field goal percentage defense last year despite not having a top veteran perimeter defender. Iguodala may be the best perimeter defender in the league, and he will instantly make this unit much better defensively.
Iguodala biggest strengths are his length, versatility, and quickness on the perimeter. This allows him to guard much smaller players and keep them in front of him. He averages nearly two steals per game, and his ball-handling ability allows him to lead the fast break. Golden State likes to get out in transition off their defense, and Iguodala should make the team much better in this category as well.
Coaching of Mark Jackson
Mark Jackson wasn't a particularly popular hire among many so-called NBA experts when he was announced as the Warriors head coach in 2011. He didn't have any previous experience, and many believed he would be in over his head. Jackson came in saying he was going to turn the Warriors into a defensive-minded team that would push the tempo at every opportunity to get easy baskets.
What has the team done since Jackson has been there? Exactly what he said they would do. Golden State was one of the worst defensive teams in the league on an annual basis before Jackson showed up, and now they are in the Top-5 in field goal defense. Golden State isn't just running and gunning as they have done in the past, but they are still running and looking to get easy scoring opportunities when they present themselves. Jackson has delivered on his promises so far, and he seems to be a great motivator.
NBA Picks: Golden State Warriors Futures
What do the Golden State Warriors futures odds look like for the 2013-2014 NBA season? Bovada lists the Warriors at 18/1 to win the NBA Championship. BetOnline lists the Golden State Warriors at +1,300 to win the Western Conference.
The Golden State Warriors certainly aren't as good on paper as teams like the Spurs, Thunder, Clippers, or Rockets. Still, each of those teams carries quite a bit of risk going into the season. The Spurs are getting much older and can't constantly win 58 or 60 games each year. Oklahoma City missed James Harden in a big way last year, and there is no telling if Russell Westbrook will be completely healthy next season. The Clippers and Rockets both have made significant roster moves, and it's always hard to tell how that will work out in the first year.
Golden State is in a good spot to take the next step and compete for a Western Conference title. The Warriors will be the underdogs when they get in the playoffs, but they have proven they thrive in that role.
Read more articles by Aaron Smith
Get all of Today's Free NBA Picks
Get all of Today's Expert NBA Picks