2014 New York Knicks Predictions and NBA Futures Odds
by George Monroy - 9/29/2014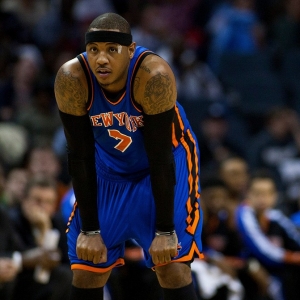 The New York Knicks should be anticipating the upcoming season more than any other in recent memory. Phil Jackson will begin his first full year in charge of basketball operations, which will include molding a rookie coach with charisma and potential in Derek Fisher to go along with the comfort of knowing the team's star player, Carmelo Anthony, is locked up to a long-term contract. Fans have reason to be more optimistic than ever, especially with Jackson's track record and love for the city where he began his basketball career as a player over 40 years ago.
Jackson, however, will have his hands full trying to transform an organization that has been mired in disappointment and dysfunction over the last decade. New York will be saddled with a messy roster situation that does not provide any salary cap relief until next season, and even then that extra space provides no guarantee that marquee free agents are still interested in the Knicks. Let's take a closer look at New York's 2014 futures odds with predictions and analysis.
2014 New York Knicks Betting Story Lines
The biggest story line of the offseason has been the hiring of Fisher as the new head coach of the team. Jackson has openly stated that he wanted a coach with no experience in order to mold and train in the ways of the triangle. Fisher is definitely one of Jackson's "guys" and will probably be a direct line from the 11-time NBA title-winning coach to the players. The squad plans to implement a system style offense, which will incorporate some, if not all, of the Tex Winter's triangle offense that helped Jackson win 11 NBA titles as a coach.
Fisher expects that New York to be a playoff team, which should be a reasonable expectation in a notoriously top-heavy Eastern Conference. Anything above a .500 record will keep the team in solid contention for at least the eighth spot, and just the simple fact that the once-dysfunction Knicks will now have stability in the front office and on the bench should be enough to show an improve from last season's dismal 37-45 team.
2014 New York Knicks Additions and Departures
New York has been shackled by its salary cap number for a few seasons now, and 2014 will be the same. The team does not have the room to make any major additions and spent the summer rounding out its roster with minor pieces. New York added Quincy Acy and Travis Outlaw to help reinforce the team on defense after sending center Tyson Chandler back to Dallas over the summer. The Knicks also received the sharp-shooting Jose Calderon in the deal, who could turn out to be a major piece in the triangle offense.
2014 New York Knicks Futures Odds and Trends
NBA Title Odds : +5000
Eastern Conference Odds : +2500
Division Odds: +200
Carmelo Anthony MVP Odds : +1500
The Knicks are a work in progress at best and another disaster waiting to happen at worst, and even if bettors were to give Jackson the benefit of the doubt, expecting a deep playoff run this season would still be absurd. New York's championship futures odds are long shot numbers with little value for bettors to wager on. The strongest futures bet probably lies in the team's division odds and Anthony's MVP odds.
The Atlantic Division is not stacked by any means, and if for some reason Toronto were to falter it could probably be won with a 45-win season. And, of course, for a player with Anthony's skill set, his MVP odds will always be live. The small forward, however, would probably need to average 30 points and lead New York to 50-something wins in order to be in contention for the award.
2014 New York Knicks Predictions and Futures Odds
Record : 44-38 (sixth in the East)
Playoffs : first-round exit
Division : Second in the Atlantic
New York will probably improve this season and maybe even make the playoffs. The problem for bettors is that there are probably 10 teams that will have more of a shot to win an NBA title. The Jackson-Fisher rebuild project will take a couple of more seasons and a few more quality players before the Knicks and its fans can even begin to think about winning a championship. For gamblers that feel the need to wager on New York, its division odds have value and maybe the taking the team against the spread could be a good spot during 2014. However, do not expect much from New York.
Doc's Sports has established ourselves as the best in the business for well over 40 years. We want you to see why! That is why new clients can get $60 worth of member's picks free by clicking this link for a no-hassle signup.
Read more articles by George Monroy
Get all of Today's Free NBA Picks
Get all of Today's Expert NBA Picks