NBA All-Star MVP Betting Odds and Expert Predictions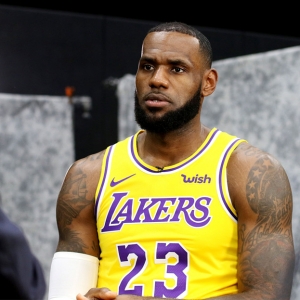 The NBA All-Star game takes place on Sunday. As is usually the case, it will probably be mostly unwatchable - though this format change has helped maybe slightly because of the added competitiveness of the draft. And you can't really justify betting on a game that involves not even a little bit of defensive play. But the one prop that is interesting, and perhaps even bettable, is who will be the MVP. And BetOnline has us taken care of when it comes to those numbers.
Looking back at the past MVP winners, the first thing that stands out is that this is not an award that a relative upstart sneaks through to win. Sure, everyone who is in the game is an all-star and among the best in the league. But there are obvious tiers of players in the game, and the MVP almost always comes from the top tier of players. The last guy who wasn't among the small handful of true superstars in the league to win the award was Glen Rice back in 1997. From 1951 when the game started until 1996 when Michael Jordan won his second of three awards, the only guys who won the MVP and didn't wind up in the Hall of Fame are Tom Chambers in 1987, Randy Smith in 1978, and Adria Smith in 1966. So, 45 of 48 MVP winners in that time went on to make the Hall of Fame. We aren't talking about fringe all-stars here. So, with all due respect to them and their play, picking guys like first timers Nikola Vucevic, D'Angelo Russell, and Khris Middleton probably isn't a great idea.
Here is how the true contenders stack up:
Giannis Antetokounmpo (+600): The Freak is appearing in his third game, so he will be comfortable. And by this point it doesn't feel like there is anyone who doesn't realize just how great he is. He may not be the best player in the league, but if he isn't, the gap between him and the best isn't big. And he is still new enough to this experience that he should be more motivated than the guys who have been here many more times. He is a very justifiable favorite, and this price seems more than fair.
Kevin Durant (+600): Durant is making his 10th appearance in the game. He has won the award just once in 2012. That alone makes this price questionable. And it really seems like Durant is having trouble caring about much besides winning games with the Warriors this year. He's never been all sunshine and rainbows, but he feels particularly grumpy this year. I just can't imagine him caring enough about this totally meaningless spectacle to come out on top.
LeBron James (+600): The King is appearing in his 15th game. He has won this prize three times. The last one was last year, but that was his first win since 2008. He's not entirely healthy right now, and there is still some rust from his long absence. And surely he will be more concerned with recruiting players to the Lakers on the bench than shining on the court. This price is a long, long way from attractive in my eyes.
Steph Curry (+700): Steph has not won the MVP before, which might be surprising on the surface. But he is making only his sixth appearance, so the sample size isn't as big as others. And his style of play is less likely to make highlight reels than some other players - freakish three-point shooting and ball movement aren't exactly the focus of this game. The price here isn't great.
Kemba Walker (+800): Walker is a starter and is in his third appearance. He wouldn't be totally out of place as a winner. But his playmaking and game control are as much of a strength as his scoring, and there is no controlling this mess of a game. He doesn't fit this style of game - which is a big compliment to him.
Anthony Davis (+1000): If you can get inside Davis' head and figure out what he will be thinking heading into this game, then you are better than me. He won the award two years ago, and could again, but he brings in so much baggage to this game that he'll need his own locker room. I'll pass.
James Harden (+1000): Harden is on a profound offensive plane this year - he is averaging more than 36 points per game. It has been incredible. But a big reason he is so effective is that in the Houston system he pretty much takes every shot. That's a bit of an exaggeration, but only a bit - he is so much more about volume than efficiency. And there is only one ball in this game, and there's far more than one guy who is ball dominant. I mean, he's on a team with LeBron James and Russell Westbrook. The price would need to be a little higher.
Russell Westbrook (+1200): Westbrook has won the award twice - in 2015 and 2016. He obviously likes the game and knows what it takes to shine in it. But his offensive numbers are down this year, and his assists are up. He's not nearly as much of a me-first player as he was when he won the award. This price is reasonable enough, but not quite as attractive as it seemed at first glance.
Read more articles by Trevor Whenham
Get all of Today's NBA Picks
Get all of Today's Guaranteed Expert NBA Picks