Free Picks
»
NBA Picks
» Boston Celtics vs. Milwaukee Bucks Expert Betting Picks with Odds and Predictions
Boston Celtics vs. Milwaukee Bucks Expert Betting Picks with Odds and Predictions
by Wes Clayton - 4/24/2019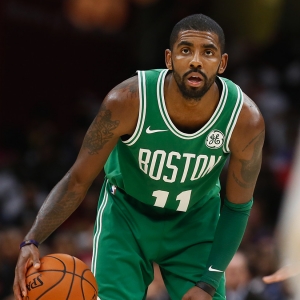 Odds to win series: Bucks -280, Celtics +230
The 2019 NBA conference semifinals begin at Fiserv Forum in Milwaukee on Sunday, April 28, at 1 P.M. EST. The games will air on ESPN, TNT, ABC, and NBA TV throughout the series. Milwaukee comes in off a four-game sweep of the Detroit Pistons. Boston will also have plenty of rest fresh off a four-game sweep of the Indiana Pacers. Both teams benefitted from the other side's star players being injured (Blake Griffin for Detroit and Victor Oladipo for Indiana).
This is the second straight year the two teams will face off in the playoffs. They met in the first round last year as the seventh-seeded Bucks gave the Celtics all they could handle with the series going seven games, and Boston pulling it out. That was a different Celtics team, however, as Kyrie Irving and Gordon Hayward were both injured. This series should be much more interesting with Boston at full strength.
Milwaukee won two of the three games between the two during the regular season. Boston, however, covered the spread in two of the three. The "over" hit in the first two games, and the "under" finally paid off in the final matchup.
Facts about the Celtics
The Celtics were supposed to be one of the best teams in the league this year. Some might say they were a disappointment even at 49-33, coming in third in the Atlantic Division. They shoot 39.8 percent from three-point range and covered all four games against Indiana ATS. Their ATS record for the season was a disappointing 38-42-2. However, they were a sensational over team at 47-35 O/U.
Marcus Morris will get the almost impossible task of guarding Giannis Antetokounmpo. Giannis scored 93 points combined in all three games against the Celtics this year, so slowing him down will be imperative to Boston's defense.
Kyrie Irving knows how to win in the postseason. He won a title with LeBron in Cleveland and brings all that experience with him.
Gordon Hayward also stepped up in the Indiana series with some great play. The word on the street is that he finally feels 100 percent after that horrific injury from 2017. He will need to continue that strong effort against a terrific Bucks defense that ranks first in defensive rebounding and FG percentage allowed.
Facts about the Bucks
Milwaukee had a sensational record ATS at 47-31-4. They were 41-41 O/U. They covered all four games vs. the Pistons ATS, and after the first game went under the total, the next three went over.
Antetokounmpo will probably be the NBA MVP this season. Some say if he can develop an outside shot, he will be undefendable. He averaged 27.7 points, 12.5 rebounds, 5.9 assists and his PER (Player Efficiency Rating) was first in the league at 30.95. Unbelievable numbers for sure, and he will need to continue that in this series.
The Bucks shoot 47.73 percent from the floor and 35.32 percent from downtown. They will need Eric Bledsoe, Khris Middleton, and George Hill to keep doing their thing as they all play important roles around Antetokounmpo.
Head Coaches
Brad Stevens is an incredible basketball coach. He has made it to the conference finals two years in a row and doesn't plan on stopping now. He will preach defensive intensity in this series and come up with schemes to try and slow down Giannis.
Mike Budenholzer will have his Bucks ready. He won the 2019 Michael H. Goldberg NBCA Coach of the Year Award, which was well deserved. He is from the Gregg Popovich coaching tree and coached the Atlanta Hawks for five seasons before coming to Milwaukee.
Injuries
Marcus Smart is still dealing with an oblique injury, which is a big loss for the Celtics. As evidenced, Boston didn't really need him for the Indiana series. However, he brings an element of toughness to the Celtics that will be missed against Milwaukee.
Pau Gasol, Tony Snell, Nikola Mirotic, and Malcom Brogdon are all still out indefinitely for the Bucks.
Handicapping the series
This will be an interesting series both from a betting perspective and a casual fan. I expect to see very sharp lines from the oddsmakers as they have plenty of time to crunch the numbers since both teams come off sweeps. I like the underdogs to do very well here. Maybe watch for the road teams to steal some games also. As stated before, the Celtics played well to the over all year. I would expect to see the same here as some of these games may well go to overtime helping over tickets cash.
The Pick
Celtics in seven. The Celtics playoff experience from last year will come in handy. Kyrie will want to rally the troops as this may be his last year in Boston. Milwaukee has had a fantastic season. However, this feels like a different Celtics team than the regular season. At some point when you get Kyrie, Gordon Hayward at 100 percent, and all of Boston's other moving parts, they've got to be who we thought they were going to be. Look for the youngsters Jayson Tatum, Jaylen Brown, and Terry Rozier to rely on their playoff experience from last year. I don't think the Celtics "Fear the Deer" in this series. I think they shock the Bucks in a close Game 7.
Get all of Today's Free NBA Picks
Get all of Today's Expert NBA Picks