Free Picks
»
NBA Picks
» 2020 Chicago Bulls Odds to win NBA Championship with Expert Predictions
2020 Bulls Championship Odds: Chicago Could be Poised for Breakout Season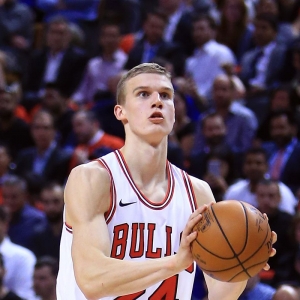 Chicago Bulls Betting Storylines
The Chicago Bulls in 2019 remind me a bit of the Orlando Magic in 2018. Quite a bit, actually. The Magic had spent years stockpiling young talent, and with maturity, a coaching change, and some luck, they leapt from 25 win all the way to 42 and a playoff spot last year . The Bulls won only 22 games last year, and their coaching change happened during the season instead of after the season was over. But they have a lot of young guys who could turn into something - and a couple who could really turn into something this year. And if everything comes together, then the team could make a step forward in a way similar to Orlando last year. But this is the Bulls, and it has been since Derrick Rose was vintage Derrick Rose that this team was able to get out of their own way, so even if you are highly optimistic, you'll still want to exhibit more than a little caution.
Chicago Bulls Additions and Departures
The Bulls added a couple of veterans to favorable deals that work well for what the team wants to do. Thaddeus Young is 31, so he's nearer to the end than the beginning. But he's entering his 14th year in the league, and he has always been useful and responsible, and we can expect the same here. He can do a lot of things, he does it with calm and coolness, and he has seen it all, so he can really help guide these young guys. It's a strong addition. On the younger end, the team added fourth-year guard and wing Tomas Satoransky in a sign and trade from the Wizards . He's probably more of a wing than anything, but he played the point last year when John Wall was injured, and he was very efficient in doing so. He'll likely play the bulk of his minutes there - at least early in the season. He could be the top playmaker the team has right out of the gate, and as that changes it is his versatility that will be useful. He was very good in the World Cup this summer playing for his native Czech Republic, and the confidence gained there will only help.
The team lost Robin Lopez in free agency - he went to Milwaukee to play with his brother, Brook. Lopez had a good run in Chicago, but he was losing his starting role to Wendell Carter, Jr., and the team obviously was happy to make more room for their budding young star. The team also drafted big man Daniel Gafford from Arkansas early in the second round to add some depth in the middle. Early indications are that they think he can play, so he'll get opportunities.
Gafford wasn't the big story at the Draft for the Bulls, though. The team had the luck to grab what could turn out to be the steal of the draft. In the eyes of many, point guard Coby White from North Carolina should have gone fourth overall. He absolutely shouldn't have made it past fifth, and it was criminal that he wasn't picked sixth. The Bulls surely didn't waste a second's thought in making the pick - they needed a point guard for the future, and a very good one dropped into their laps. He'll take some time to find his game, but with Satoransky and Kris Dunn on board, he can come along at his own pace. It's an easy pick to get excited about.
Chicago Bulls Futures Odds and Trends
Chicago Bulls Futures Odds
NBA title odds : +15000
Eastern Conference title odds : +6600
Central Division title odds: +5000
Season win total: 32.5
Will the Chicago Bulls make the playoffs: Yes +255, No -310
The bad news is that the Bulls were a mess at the betting window, tying as the second worst team to bet on in the league at 35-46-1 ATS. The good news, or at least the odd news, is that they were in good company, because the team they were tied with was none other than the perennial Western Conference champions, the Warriors. The Bulls went under the total 41 times, and over 38, so no real long-term profits were to be had there.
Chicago Bulls Predictions and Futures Odds Picks
The team needs some injury luck, because too many of their key pieces are injury prone. But man, is there some upside on this team. Otto Porter Jr. played really strong ball after joining the team last year and is talented and capable of more. Zach LaVine, who is incredibly still only 24 years old despite seemingly having been in the league for a decade, has all-star potential as an offensive threat and could be poised for a big year if he stays healthy. Lauri Markkanen is the team's all-around best player already, and if he takes a jump in his third year like he did between years one and two - and he can stay healthy as well - then he could be an all-star, too. Carter also was hurt, but the half a season he played showed a lot of potential. White is all about the upside. Gafford is promising. Young and Satoransky are nice additions. Denzel Valentine lost last year to injury but showed plenty of promise. Chandler Hutchison showed some spark last year as a rookie when he wasn't out with injury. There are lots of teams out there that are not the sum of their parts. But if this team can stay on the court, stay on message, and move forward, there is plenty of room for improvement. I like the over on the season win total and think there is a fair bit of value in it.
Read more articles by Trevor Whenham
Get all of Today's NBA Picks
Get all of Today's Guaranteed Expert NBA Picks