Handicapping the Early NBA Finals Series Odds: Expert Predictions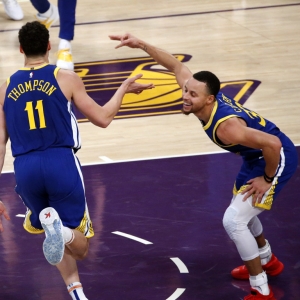 Since the playoffs started this year, and especially since the Warriors have shown signs of mortality at times in both of their playoff series, I have been intrigued this year by the NBA Finals early line that is available. BetOnline has the Western Conference Champion at -185 to win it all, compared to the Eastern champ at +150. The -185 price is less costly than it has been for the West along the way, and the East is deeper right now than it has been in a very long while.
The obvious question, then, is whether we can justify a bet on the East at +150. Is there value here? Or is the value on the other side? We are going to look at things from a few different angles to see what we can find:
The West winner: You would have to look pretty far and wide to find anyone outside of Portland who thinks that the Blazers have a real chance here. Golden State is at -520 to win the series, and it just doesn't seem like it is that close, really. You could argue there could be a little value in Golden State. Portland has been impressive getting here, and have been very fun to watch, but it has been a tough path against teams not nearly as good as they one they are going to face. Golden State is massively more experienced, not to mention deeper, more talented, better coached - it goes on and on. It's not going to be close. So, unless you see things differently than I do, then betting on the West here is essentially betting on Golden State. And if you think that way, then you can bet on the Warriors at -150 to win the title. So, by betting on the West here instead of just betting on the Warriors you are essentially hedging that the Blazers both could upset the Warriors and then could beat whichever formidable team comes out of the East. Neither thing seems particularly likely, so I'm not interested in this side of the bet.
What does -185 mean?: This isn't unique to this bet, obviously, but it is always good to actually think what these prices mean when we bet them. If the remainder of the playoffs were played out six times, and you bet the West each time at -185, you would have to win four of the six times to turn a very small profit - at $100 units you would wind up with just a $30 profit after risking $1110. That is not the kind of ROI that changes lives. So even though this price is down significantly from the gaudy heights it was at earlier, it still suggests that the West - the Warriors - are very strong favorites to win it all. When you bet a prop like this, then, the question isn't which team you like better, but if you like the favorite enough to pay the price. On the flip side, with the East at +150, you need them to win 40 percent of the time to break even, and more than that to turn a profit. It is very easy to like a whole lot about both the Raptors and the Bucks. And it is far from impossible to see them winning the title. But can they, combined, beat the Warriors more than 40 percent of the time? That's a really, really big thing to ask of two teams that have never been there before.
The Hall of Famers debate: Both Giannis Antetokounmpo and Kawhi Leonard have work left to do, but it says here that both will wind up in the Hall of Fame by the time they are done. They are profound talents. But while both have good rosters around them, there is no other guy on either team who has any chance of getting to that same level in all likelihood barring a massive step forward. And that's where the problem is.
For the Warriors, Curry and Durant are already in, and Klay Thompson and Draymond Green are on a path to get their as well for their bodies of work and the roles they have played in this success. And while Andre Iguodala isn't getting in, he is on track to win his fourth title, he was the MVP in the 2015 finals, he's been a first team all-NBA defender, he has gold medals in the Olympics and the World Championship, and at 35 he is playing inspired basketball. He has a better chance than any other guy on the Eastern teams - and he ranks fifth on the Warriors.
Hall of Fame credentials don't win titles, but in this case they represent the mismatch in experience here that makes it so tough to justify betting the East. The Warriors never have to be without at least one - and typically several - generational talents capable of carrying their team in a key moment without wilting under the glare of the situation. It's what makes them unlike any team we have ever seen. And what sadly makes the East unbettable at this current price.
Read more articles by Trevor Whenham
Get all of Today's Free NBA Picks
Get all of Today's Expert NBA Picks