2020 Heat Championship Odds: Aggressive Summer and Increased Expectations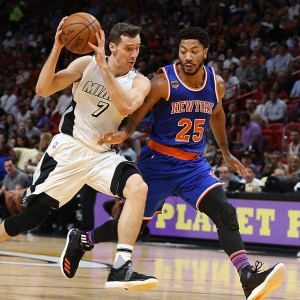 Miami Heat Betting Storylines
The Miami Heat got cold at the wrong time. They wound up missing the postseason by just two games despite their 39-43 record. But they limped to the finish line, losing five of their last six to kill any playoff chances they had. It didn't really matter - they would have been rolled over by Milwaukee or Toronto if they had made it anyway. But it would have been progress, and teams in their situation can use all the progress they can get. The team obviously didn't like how things ended last year, because they had an aggressive summer. But have they done enough to become relevant? That's easier to do in the East than in the West, but things are still crowded. And keeping Jimmy Butler happy is not something that teams have been very good at of late. Will this year be any different? It sure needs to be, or the team will be dreaming of the days when they only missed the playoffs by two games.
Miami Heat Additions and Departures
Butler was obviously the big splash of this offseason. Butler has wanted to be the top dog on a team for a long time, and now he is unquestionably that. He is the superstar in an attractive market - the new king of South Beach. The fit makes sense on the court. He is a natural scorer, and his new team has scored ineffectively of late - they ranked 26th in scoring last year. And the team is designed well to execute the pick and roll, which is what Butler really shines at. It could be a strong fit - if Butler decides that he wants to play well with others and wants to act like the leader that he has been cast as. It's up to him - and that scares me a little. Butler certainly can't complain about money - he was signed for $142 million over four years.
Butler was added to the team in a frenzy of signing and trading. In total, five players were traded between four teams. Joining Butler in Miami is Meyers Leonard from Portland , signed to a one-year deal for $11 million. Miami sent Hassan Whiteside to Portland, and Josh Richardson to Philadelphia. And Maurice Harkless went to the Clippers , who gained more than they lost. The Clippers also got a Euro and a protected first-rounder in 2023 from Miami and sent some cash back to the Heat.
Beyond the Butler deal, the big news was the retirement of Dwyane Wade, which officially ends an era in Miami. His departure paves the way for Butler to fully take charge. He'll be missed more as a figure at this point than he was as a player.
Beyond that, there was just a whole lot of shuffling of second-round picks. They acquired the draft rights to big center Bol Bol, the 44th pick in the draft, from the Hawks for a 2024 second-rounder and some cash on June 19, and then flipped him to Denver the next day for a 2022 second-rounder and some cash. Then they got KZ Okpala, the 32nd pick this year, from Phoenix . They were obviously high on Okpala, because they sent three second-rounders to Indiana as their part of the deal.
With their first-round pick in the draft, which went off the board 13th, the Heat selected shooting guard Tyler Herro from Kentucky. He was the SEC rookie of the year last year, and the only player to start every game for the Wildcats. He was excellent in Summer League action and should find useful time off the bench - time that could grow as the year goes along.
2019 Miami Heat Futures Odds and Trends
Miami Heat Futures Odds
NBA title odds : +5000
Eastern Conference title odds : +1400
Southeast Division title odds: -125
Jimmy Butler MVP Odds : +6600
Season win total: 44.5
Will the Miami Heat make the playoffs: Yes -280, No +240
The Heat weren't a great team by any means last year, but they were good enough to provide committed bettors a small profit on the year. Okay, a very small profit - they went 43-38-1 ATS. They went over the total 42 times last year and under 40 times.
2019 Miami Heat Predictions and Futures Odds Picks
There is some talent on this team. Butler will help them score, and they can play defense from a lot of angles. They could win their division, though I like the Magic a little better . But what is interesting is not where they are at now, but where they could be. They didn't acquire Butler to make him the only star on a team in a league where stars come in bulk. They have a couple of attractive expiring contracts in Goran Dragic and Meyers Leonard, who are worth more than $30 million combined. Bradley Beal is a guy who is unhappy in Washington and reportedly eyeing Miami longingly. It's a move that could make some sense. This feels like a transitional year. It may or may not end up as a playoff year - though it feels more likely that it will than that it won't - but that's not what this is about. This is about getting ready to be good in a year or two.
Read more articles by Trevor Whenham
Get all of Today's NBA Picks
Get all of Today's Guaranteed Expert NBA Picks