2019 NBA MVP Odds with Expert Betting Predictions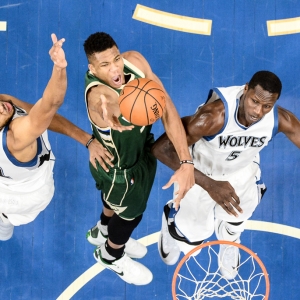 There is still a lot of regular-season basketball left to play, but at this point it seems like the MVP race has been reduced to just three players - with one clearly in the driver's seat. And while none of the players in the race have come from nowhere - and James Harden is the defending winner - it is a race that lacks some of the names like James, Durant or Curry that we have grown used to seeing in the battle. Those guys have all been good, but three others have just been better. Let's break down the odds from BetOnline to see if any value can be found, shall we?
The Big Three
Giannis Antetokounmpo, Milwaukee, -225: The most impressive part of this is that I spelled his last name correctly without having to look it up. There is a first time for everything. The Greek Freak has really broken through this year and is in the driver's seat to win his first of what could be several MVP awards. There are a lot of things leading to the success of the Bucks - a great coaching change, a well-constructed roster, and so on - but this team would not have anywhere near the best record in the league without the Freak. He has reached new highs in all statistical categories, has dialed in his outside shooting in a way that must terrify opponents, and is just playing great basketball. If Milwaukee has the league's best record after being expected to be fighting for fourth in the East heading into the season, then it would be extremely hard to keep the award out of his hands. It's the most valuable player, and no player is driving their team to crazy heights more than this one.
James Harden, Houston, +150: The reigning MVP's season got off to a weak start when the team limped out of the gate. But then Harden decided that he had had enough and set out to basically singlehandedly outscore opponents. He had 32 straight 30-point games, which only Wilt Chamberlain has eclipsed. It was incredibly impressive, and there is no doubt that he is the top offensive player in the league right now. But while Houston has climbed right back into the playoff race thanks to Harden, they don't feel nearly as scary as they have in the past. As the face of the team, Harden has to take some responsibility for that. He is certainly within striking distance if he and his team finish strong and the Bucks falter as the games start getting bigger and reality sets in a bit. But at this point Harden's value, in an overall sense, isn't quite the best in the league in my eyes.
Paul George, Oklahoma City, +800: George obviously knew what he was doing when he skipped all free agency meetings and shockingly re-upped with the Thunder. He was good last year with the team but has really upped his game this year. And, at the same time, it seems like Russell Westbrook has been able to relax and play a more complete game because he doesn't have to feel like no one will score if he doesn't on every touch. George is outscoring his previous best by more than five points per game, while at the same time being in contention for defensive player of the year. That's just not a combination you ever see. He is hurt by playing on a team that doesn't feel like a major contender despite sitting in third, but he probably deserves more credit than this price suggests, so there is at least a little value here.
And The Rest
Joel Embiid, Philadelphia, +5000: Embiid is putting up numbers, but his case feels doomed this year. There has been the uncertainty around roles in Philly as they have overhauled their roster and added players, and the perceived lack of team unity that has come with that. And then there is the fact that they sit only fourth in the East and don't really feel like a true threat to win the conference. With this much talent around him, a guy like Embiid would have to be on a better team than this to win the hardware in a race like this.
Kevin Durant, Golden State, +5000: The Warriors are only focused on winning another title. The regular season means little. And Durant seems increasingly focused on winning another title before leaving town in a hurry. He's been very good, and so has his team, but there is nothing to get excited enough about here to earn him a trophy. We've seen him be better than this, and we know he will be better in the playoffs, so there is nothing to rally around. There is no value at all here despite the big price.
LeBron James, L.A. Lakers, +5000: You have to be kidding me! He has been hurt a lot this year. And while his numbers have been fine while he has played, he is far from his best. And his team is just awful - not helped by the triple play of him undermining his coach, kneecapping his young teammates, and hand-picking old guys who he is comfortable with who can't carry the team. I will admit that I have always respected his play far more than I have respected the guy, but this season has been a total embarrassment. There would be no value here at +500000.
Nikola Jokic, Denver, +5000: Denver's emergence has been a remarkable story this year, and Jokic probably deserves more attention than he gets. But he has a few things going against him. He doesn't play in a major basketball market, so he doesn't get as much national attention, or as many eyeballs, as other guys. He's a European in a league in which no Euro has won MVP. That obviously isn't insurmountable - a Euro is favored here. But Jokic doesn't have the profile or swagger to break through. And people just don't know how to deal with what Jokic does - how many point centers are there out there? I wish I could say there is value at this price, and there should be, but there isn't.
Read more articles by Trevor Whenham
Get all of Today's NBA Picks
Get all of Today's Guaranteed Expert NBA Picks